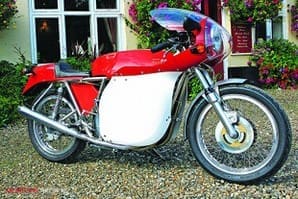 Built-in-period Rickman Triumph café racers are few and far between – and this one boasts a particularly unusual story. It has been in the caring custody of Norfolk man George Blackburn since 2001, as he explained:
"I've always loved the style of the 60s Café Racer, it's what I was weaned on, so when I was offered the chance to build a Rickman Triumph for a friend who wanted loads of old British bike stuff cleared out, I jumped at it." All the other machines and spares in the collection went to the Norfolk Motor Cycle Museum in North Walsham to fund the project, and so George began to sort through what he had. And what a remarkable cache of parts he found at his disposal.
There was a Rickman Metisse frame, Dunstall front forks and wheel with twin discs, rear wheel with disc, a Weslake 700 eight-valve cylinder head, Triumph crankcases and crank, a Quaife close ratio five-speed gearbox, glass fibre fuel tank and seat unit, full road race fairing, clip-ons, footrests… and so the list went on… and on. "I found all this stored in the loft where it was put when bought new in the late 1960s and early 70s," remembers George. Yep, that's right, what he had was basically a brand-new, genuine, period, complete kit to build a café racer, as a would-be enthusiast could have acquired circa 1970.
"The Quaife gearbox was still wrapped, in its original box, as it had been delivered, while the frame was still exactly as supplied by the Rickmans," says George. "The Dunstall discs were all there too, as were the wheels with tyres on – but they were showing signs of the time they'd been there. All the glass fibre work is still original, it just needed a good clean, but we've had to have all the plating redone as it had lost its sheen, having been stored for so long."
The eight-valve top end was another item still brand new and untouched in its original box, though George remembers having particular difficulty with the rear wheel… "It was a nightmare! I slowly cleaned it on a drill, then finished it on a buffing wheel… all the alloy had suffered from being covered in a lacquer that had gone yellow and set rock-hard – eventually, after lots of hard work, the aluminium would emerge." George reckons that he spent hundreds of hours painstakingly polishing and cleaning parts.
Although most of the required bits were there, as George went about the reassembly, it became apparent that there were a few bits missing and that there were a few problems too… "The normal clip-ons were so uncomfortable that I made new ones to fit higher up, but this meant that the front brake master cylinder reservoir (which came from a Honda of some kind) fouled the fairing… so, I reshaped the brackets to raise the fairing slightly and clear the higher container. I also made brackets for the clock mounts and made the mirror supports too, which I wanted to hide inside the fairing."
It's all very neat and tidy and as George says: "I love detail work, I spent hours and hours doing little bits." It shows! Indeed, there's a story that goes with the mirrors… "In my mind's eye, I knew what I wanted but hadn't seen anything and then, one day, I saw a Suzuki ride past and thought, 'They're the ones I want' so I chased him down and found out what the model was!" George reckons that they 'sort of match the indicators at the back', which is something that can't be argued with. Indeed, the fitting of indicators is a boon and allied with the slightly higher bars is another factor in making this surprisingly usable for a café racer.
Also, as George explained: "It's quite low geared, to make first gear worthwhile, and make riding in town easier; it still has the capability to do over 100mph but it's comfortable at the speed limit with plenty in reserve."
Providing that urge is the Triumph-based engine, the putting together of which was not without its problems. "I stripped it four times and used all sorts of sealers to try and stop a leak from the pushrod tube," remembers George, despairing at the memory. "Eventually, I called Dave Nourish. It turned out, the problem was I'd used the original kit, with extensions on the Triumph pushrod tubes… Dave said we haven't used them for over 30 years!"
Having to keep stripping the engine, though, had meant new gaskets every time and proved expensive, plus the constant leak and necessary wadding to soak up the unwanted lubricant had led the Rickman to be tagged as 'having a nappy on' by some of George's pals!
The top-end engine kit was originally developed by Weslake at the behest of the Rickmans in 1968, in tandem with a big-bore kit for the single cylinder unit BSA single, then popular as the motor of choice in Rickman scramblers, but as standard just 441cc – the Weslake kit pushed capacity nearer 500cc.
The engine in this machine was originally a SAINT (as supplied to the police) motor – favoured for an additional oil feed – but now with the Weslake eight-valve top-end. The front forks are Norton – with a Dunstall bottom yoke. "They'd all gone yellow too," winced George, obviously remembering another cleaning and polishing marathon. Wheel rims are Borrani, while the Dunstall front brake caused problems.
"Eventually I found a little place in Norwich who could make me some pads up…" comments the restorer. The frame had to be rechromed and though it was originally oil bearing, it no longer is. "I reckoned that as it had slight rust on the outside, it would've done similar on the inside, as it'd never had oil in it," George tells me. To this end he sourced and fitted a new central-filling oil tank, reasoning it better to be safe than sorry.
The Street Metisse – for that is what this machine is – was unveiled at the 1966 Earls Court Show, with the first Bonneville-powered machine bought by Motor Cycle News and offered as a competition prize. It was clearly no cheap lash-up special – indeed, it was reckoned that price would be around the £500 mark (a brand new Bonneville was listed at £326-13-3) and there were 10,000 entries for MCN's competition – it was a desirable machine to have!
What made it so wanted was the fact that it had such pedigree behind it – though the literal translation of Metisse is mongrel, this was mongrel in a totally non-disparaging way. Rather than a mixture of parts to hand, Metisse machines were a carefully chosen collection of bits best suited to the job – selective breeding if you like.
Having excelled initially off-road in the hands of the founding Rickman bothers, by the mid-60s the Rickman Metisse was well known and well respected. Indeed, success had spread on to the race track too (with the likes of Geoff Monty and Paul Dunstall now running Metisse frames for their riders, with a variety of engines) so there was evidence of the handling pedigree on the hard stuff as well. Such was the level of excellence offered by the Street Metisse that when Giacomo Agostini, the Italian, MV Agusta-riding racing superstar, wanted a road machine, he opted for a Street Metisse. You can't buy advertising like that!
This Street Metisse Rickman looks complete and well-settled as it is, but there have been other incarnations too, as George also has an alloy tank plus he has different (higher) handlebars etc, which means that the fairing can be removed and the Metisse built into another format, in double-quick time, meaning it's more than one machine if its rider demands.
The Rickman came into George's hands in 2001 and was on the road by 2003 – indeed, it was September 2003 when it was MoT'd for the first time, George's reckoning being that it was worth using the end of summer/autumn 2003 as a period to sort out any niggles, prior to having a full season in 2004.
As it had never been registered, getting it on the road was a somewhat laborious process, though George praises the help of Old Bike Mart's Mike Worthington-Williams who, armed with all the original receipts and paperwork (yes, that's all there too!) was able to secure a 1972 manufacturing date and a K-plate registration number.
George grew up in the café racer era and has always been a fan of the style. His first motorcycle on the road was a Cotton Continental, which he was buzzing about on aged 16 in 1965. However, he suffered a serious accident in 1967 when he hit a combine harvester while riding his BSA Shooting Star. While lying in hospital – where he was for some time – George dreamed about a replacement mount, thoughts that came to fruition in 1968 when he bought a Rocket Gold Star motor and started putting together his ideal café racer. He owned the resultant special for a few years – "Beautiful, it went like stink!" he reflects – before selling it on in the early 1970s and thinking little more about it.
'That was until he rode on the Rickman to a Friday bike night, to a place called Heydon (near Cawston, Norfolk) and fell into a conversation with a chap – who it transpired not only knew of George's old RGS special, but owned it!'
That was until he rode on the Rickman to a Friday bike night, to a place called Heydon (near Cawston, Norfolk) and fell into a conversation with a chap – who it transpired not only knew of George's old RGS special, but owned it! The Beesa – which was featured in British Bike magazine – was now in remarkably similar trim to when George first built it in the late 60s. A reunion was arranged and the accompanying picture taken of the two café racers together.
With talking over, it was now time for me to take a turn in the Rickman Triumph's saddle. First impressions were of how small it felt – low, with the footrest to seat distance close to ideal, providing a comfortable but sporting posture. The slightly higher clip-ons were appreciated too, as was the provision of mirrors and indeed indicators. It is undoubtedly one of the problems of riding a low slung café racer – that of taking a hand off the bar for hand signals and the resulting weight transference – but there's none of that with the Rickman thanks to the indicators. Well positioned mirrors make a difference too – meaning there's less of the exaggerated looks behind needed as on a café racer bereft of mirrors.
The Quaife five-speed gearbox snicks into and out of gear precisely – of course, it's all still relatively new – and the clutch is fine too. The only minor problem I encountered was on stopping and putting my feet down, I inadvertently found that I flicked the foldable footrest up as I pulled away again – but having gone for the rest once and finding it not there, after every other stop I remembered to double-check it was in place on setting off each time after that.
The front brake, though, proved itself to be impressive – being on a par with many of the 70s discs, in my opinion. Perhaps that is in part due to the diligence George has shown in carefully setting it up – which is true of the whole machine. The engine is lively and acceleration impressively rapid – helped by the gearing one suspects – and although there is a bit of vibration, at no point is it particularly obtrusive; especially not at a steady 65-70mph cruising speed.
Though this is a café racer in the traditional style, I'm sure it would prove itself much easier to live with than any of the highly strung single cylinder offerings of the same period – and this is a particularly tasty example.