AJS of Wolverhampton
Published in 1994, Steve Mills' book, with its handsome black and gold cover echoing the finish worn by the most successful AJSs of the early to mid-1920s, is a fascinating, invaluable publication, detailing the full history of the company known as AJS.
Formed by the Stevens family, AJS was a hugely successful enterprise, barrelling into the 1920s on a seemingly ever-upward trajectory, diversifying and expanding from motorcycles into cars, commercial vehicles and radios.
Alas, the expansion (and investment) was too rapid, plus some unfortunate choices and the worldwide recession, meant AJS (the motorcycle part anyway) was bought by rival maker Matchless in 1931, thus ending the Wolverhampton period.
Mills' book isn't just about the motorcycles, but they figure prominently. There's lots of superb archive photography – including a lovely picture of Mille Stevens' 1930 marriage to Tommy Spann, with one Murray Walker as pageboy – as well as pictures of restored machinery.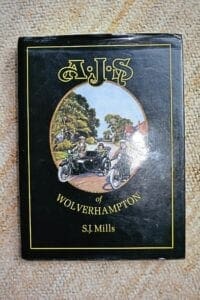 The chapter on the famous overhead valve Big Ports, for example, is invaluable to anyone with an interest in vintage sporting models, while the chance to compare and contrast 1927 and 1928 (H6 and K6) on consecutive pages is interesting and revealing.
The chapter details year-on-year model changes as well as special Big Port versions; for example in 1926 there was the standard G6, the G7 Special Sports and the GR7, the latter pair (still ohv) having roller and ball bearings for mainshafts and timing gear, the GR7 being an all-out racer with specification to suit the purchaser's aspirations – and pocket!
When checking, there was one copy for sale on eBay at £95, though issues do sporadically appear for sale. If you're interested in vintage Ajays, it's frankly a must-have purchase.
James Robinson.
If anyone wants to recommend a read please email [email protected] About 300-350 words, please, and a picture of the cover if possible.
Read more Letters, Opinion, News and Features at www.classicmotorcyle.co.uk and in the August 2020 issue of The Classic Motorcycle – on sale now!
---
Advert

Enjoy more The Classic MotorCycle reading in the monthly magazine. Click here to subscribe.
---