Although some of us may be able to start getting out and about for a few rides, there's no likelihood of big congregations or events anytime soon. To keep you entertained, here's a bit more suggested reading.
Words: JAMES ROBINSON
Benelli GP racers:The 250cc singles
Raymond Ainscoe, is a committed Italiaphile, and has compiled many books on the racing motorcycles from his preferred country. In collaboration with Paul Ingham – himself an authority on old racers, who has written several books too – they've come up with this slim and interesting volume on what could be best described as a 'niche' product: Benelli 250cc racing singles.
Though it's a very small number of motorcycles Raymond is talking about, it's an interesting read, nonetheless. It's not a hefty tome that's going to take ages to get through and, indeed, can be read in one helping – similar to Raymond's other recent offerings I've enjoyed, Paton GP racers and Bob McIntyre's 350 Bianchi.
Brilliant illustrations help 'Benelli' with Raymond's work and there are great little anecdotes to be picked up, including how when British aces Cecil Sandford and Bill Lomas went to try the Benellis in Italy, Lomas ran off the (public) road at 110mph avoiding a dog, while Cecil ended up in a prison cell after a misunderstanding and the police suspecting he'd stolen a Benelli.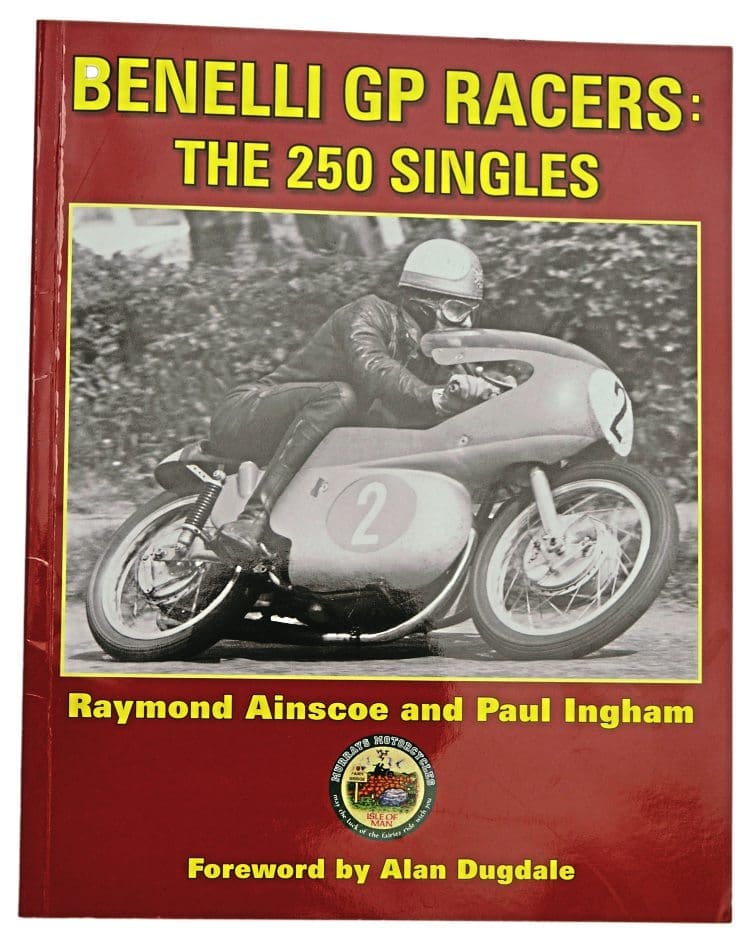 Neither ever raced for the firm… Plus, we also learn race aces Ted Mellors (1939 250cc TT winner on a Benelli) and Fergus Anderson's were on Hitler's infamous 'race ace' list possibly due to their friendship with Gaston Barbe, a Belgian Benelli rider who raced under the name 'Dickwell.'
There's so few of the machines remaining, Raymond has done a sterling job of trying to work out what is where and precisely what is actually what – lots of engine swaps and such has gone on, with well-known examples (including the Barbe bike) going through multiple incarnations, including its original frame buried in an English garden at least twice!
For a copy, at £18 (UK postage free), send a cheque payable to Raymond Ainscoe, 3 Mendip House Gardens, Curly Hill, Ilkley LS29 0DD.
80 years of Moto Guzzi Motorcycles
There's nothing as influential as other people's infectious enthusiasms, which is how I come to have been reading Mario Colombo's book, 80 years of Moto Guzzi Motorcycles, inspired by a friend who has bought a prewar Guzzi and likes it so much, he's already bought a second, while a couple of other friends have bought them too.
With those glowing endorsements in mind, I decided I needed to learn more about the marque. I had a rough idea of what went where and in what timescale with regards the models made and so on, but my knowledge was sketchy at best.
A few years ago, I'd become all fired up with Guzzis after a visit to the factory and its museum – well worth a trip – but hadn't really gone any further than that. Time to do some reading.
This book looks to be one of the most detailed investigations and explanations on Moto Guzzi. Though it's out of print, I paid about £40 for a copy, from Amazon I think it was.
There's multiple versions, with the one shown the 2000 published third English edition, the first English one in 1990, the second 1997.
Guzzi's period which I find of most interest is the earlier days, so pre-Second World War, though the models had me well and truly confused, but the book does offer some explanation.
For example, the 250cc versions started in 1932 – as a 175cc initially, with a 250cc version added in 1934. These were Model Ps; there were also PE (with sprung frame) and the sporty PES, plus the PL (with pressed forks) and sports PLS.
Some of the translation is a little hard to follow, and there's odd anomalies, but it has made me realise that the model I want (like everyone else…) is a Condor, the 500cc racer-on-the-road… There's some lovely pictures, black and white and colour, within too.
Read more Reviews, Letters, Opinion, News and Features at www.classicmotorcyle.co.uk and in the July 2020 issue of The Classic Motorcycle – on sale now!