The old motorcycle scene in general is a club of sorts and 'club' members help each other out if they can.
Words and photographs: Tim Britton
It's a fair bet anyone reading this has moved house/workshop a time or two.
You know the drill – stuff is packed in boxes, and what's in the box is written on the outside in marker pen so there's some idea of what's where… at least, that's the theory.
For some reason, though, stuff never seems to be in the box we thought it was in.
So for the past few months, I've been racking my memory cells for a few bits which I knew I packed.
Boxes of bits have been sorted through several times, then re-checked, much head scratching has taken place too, as has ignoring the still taped up box with 'sideboard contents, mixing bowls, large utensils' written on it.
I really should have known… so inside that box was the rear number plate for my 650cc Triumph, three carburettors, a rear mudguard stay from a unit 650, some nice blue fork gators, plus a box of wooden chisel handles.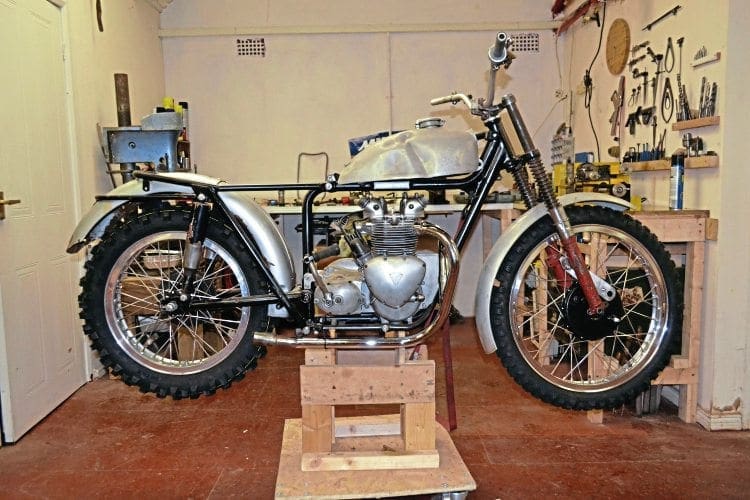 As an exercise in using up what I have rather than flinging a wodge of cash at it, this project has, at times, been both frighteningly easily and ridiculously hard.
Some things I expected to be frustratingly awkward went easily, while others, seemingly simple, caused delays.
One such bit was the difference in front spindle lengths and their threads – this is currently awaiting the attention of someone with more lathe skill than I have, as cutting a left-hand cycle thread is beyond my screw-cutting abilities at the moment.
At first, I thought this would be an easy bit, after all, I'm using BSA forks, wheel and yokes…
One problem with doing something like this rebuild is the length of time some tasks take and their relative importance in moving the project along. It's all well and good assembling an engine as the bits are big and it doesn't seem to take all that long, so it looks as if a lot has been accomplished.
However, we're at the stage where all those little tasks which need doing and are important but don't look like they're achieving any progress, actually need doing. I've been putting these off for a while.
Read more and view more images in the November 2019 issue of TCM – on sale now!