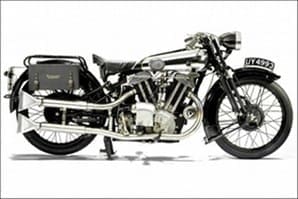 Estimated at £270,000-320,000, the Alpine Grand Sports is one of two exciting motorcycles set to feature in the upcoming auction.
The Brough's namesake, the Alpine Trial, was a famously grueling reliability run started in 1910. Taking in vast mountain peaks, chilling temperatures, and the twists and turns of Austria, Croatia, Slovenia and the infamous Stelvio Pass, it was a great test of endurance and skill – and not just for four-wheels alone.
George Brough – founder of the motorcycle marque – undertook the Trial in 1925 on an SS100, resulting in the award of six cups, including one for 'Best Performance'. The design of the Brough Superior Alpine Grand Sports took inspiration from its founder's achievement, and was introduced to the market in 1925 for the 1926 season with a lower compression ratio (making it suitable for touring), a small fly-screen and a pair of tool boxes as standard – perfect for thundering through the Alps.
Ben Walker, Director for Bonhams Motorcycle Department said: "Brough Superior is a legendary marque in the motorcycle world. Coined the 'Rolls-Royce' of motorcycles, their distinguished status is well earned, with Brough products of the highest quality and engineering excellence, admired by all and highly sought-after – almost 100 years after the Haydn Road Works first opened their doors.
"The most charismatic of the marque's stable is unquestionably the SS100 and we are delighted to be offering the model in its ultimate guise, a Vintage example in Alpine Grand Sports specification, boasting matching registration, frame and engine numbers – designed to honour the legendary Alpine Trial – the most arduous motoring test of its time."
Also speeding into the sale, the 1950 Vincent 998cc Series C Black Shadow. With matching registration, frame and engine numbers, the bike carries an estimate of £70,000-90,000.
Bonhams Bond Street Sale takes place at Bonhams London headquarters on November 30th.