For a number of years I have been researching in the Nottingham Archives for information on Raleigh motorcycles and cars, with a view to writing a book on the subject.
As is usual with research, I have come across a number of loose ends, as the archives are by no means complete, and wonder if any readers can help with any behind-the-scenes information.
In 1898/9, Raleigh were disposing of their Paris cycle depot and warehouse due to poor sales, and initially negotiated with a Mr Bertrand and then Mr Rousseau to buy all the cycles and stock.
There is much mention of motors from Barraquand &Marre. Tantalisingly, there are listed '243 pairs of tyres on m/cs' and later'58 m/cs' which were not returned.
Could these be Raleigh cycles with engines fitted in France, as Raleigh didn't officially enter the motorcycle market until 1901, with a front wheel drive model?
Is this reference to 'm/cs' actually motorcycles, or just a typo?
They then produced motorcycles, three-wheelers (Raleighette) and a prototype car until 1906/7. In 1913/14, they made a lightweight car, which might have gone into production just before the First World War, as I have come across adverts from dealers selling these in 1915.
Raleigh returned to motorcycle production in 1921 with a flat twin and then various models ranging from a 174cc unit construction Model 17 up to a V-twin, until 1933.
There was a Model 18 listed in 1928 using many parts from the Model 17, but with a separate 174cc sv engine and gearbox.
We know prototypes were made and listed in the 1928 catalogue, but they were not sold in this country.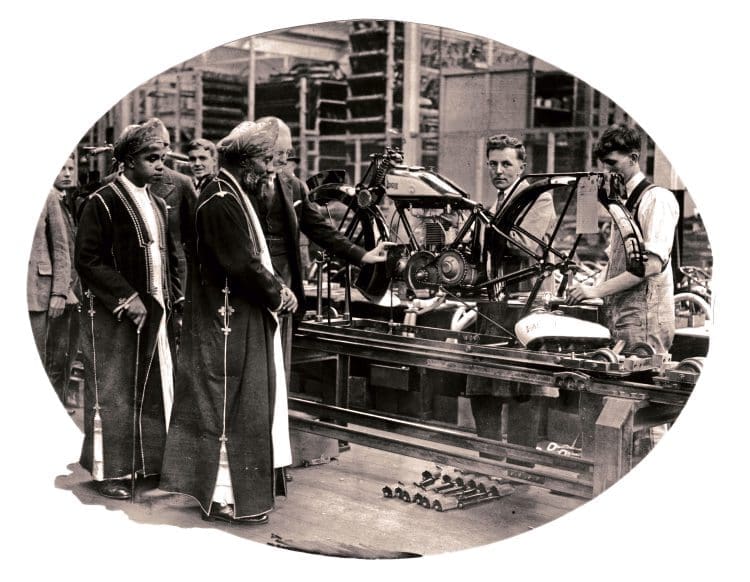 The story goes that kits of parts were sold to a French manufacturer, who produced their own version with a different tank and larger engine. Is this correct? And has anyone seen one?
From 1931 to 1935/6, Raleigh produced various three-wheelers, mainly vans, but also a Safety Seven Car. When production ceased at the end of 1935, some of the workforce left and started Reliant.
Raleigh then came back into motorised transport in 1958 with their range of mopeds and scooters, mainly made under licence until 1971.
There are gaps in their model numbering system from RM1 to RM12 i.e. RM7 and RM10. I believe the RM7 was the Wisp, although I have a photo of an R16 Poweride, which looks the same as a Wisp.
I also have a photo of the RM10 which seems to have the Mobylette engine with a smaller frame and wheels, but did not go into production. Maybe someone who worked in the design department might be able to help?
Over my years of research, I have come across mention of two, three and four-cylinder models in the late 1920s, a Villiers-engined lightweight in 1931, none of which reached production. Maybe they were only design exercises?
So, if anyone can fill in some of the gaps or has any other information, or better still worked at Raleigh in the 1960s and had experience of the motorised side of their business, I would be delighted to hear from you. Please contact me on dcomber @btinternet.com.
Dave Comber, via email.
Read more Letters, Opinion, News and Features in the March 2020 issue of The Classic Motorcycle – on sale now!