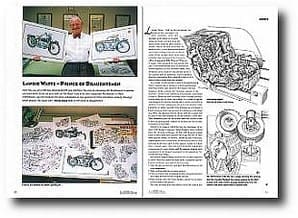 Lawrie Watts, 'Loll' to his intimates, so shunned the limelight, (or "…been shunned from the limelight" as he's likely to remark) tongue in cheek, is a back room boy about whom relatively little is public – indeed, this is his first interview. Yet without him, a vital dimension would have been missing from the technical press. When, 12 days short of his 22nd birthday, Lawrie joined the Coventry office of Associated-Iliffe Press at 9:15am on 8 August 1949, technical art was usually still just a one-dimensional view of machinery drawn expertly (or not, in some cases). But during the seven years he had already spent in the aviation and car industries, Lawrie had been drawing components that required a high level of skill in order to show how they worked.
Skill in draughtsmanship
As a result, he had evolved a skill in draughtsmanship which enabled him to produce a three dimensional drawing which also showed the major internal features of the vehicle via 'cutaway' panels in the drawing — learnt from childhood experiments embedding things in Plasticine and revealing them through partially cutting away the top layer. As a result, at 16 years of age he was sitting in the Daimler drawing office, close to his home in Radford, Coventry, styling parts for post-war Daimlers while hundreds of Allied aircraft were forming up overhead to bomb Germany. Such was the level of confidence in the Allied war effort, that planning that far ahead while the country had its back to the wall fighting for its life seemed a good idea and it was also how Daimler came to have its 'sloping back' radiator on its first post-war models, courtesy of young Watts.
Daimler's 3-D shapes, which became the forerunner of today's CAD design (Computer Aided Design), were evolved from the '10 lines technique.' In this, 30ft drawing boards made of alloy sheet were sprayed duck egg blue and 10 lines were placed every 10 inches, drawn in ink vertically. Superimposed over these were 10 horizontal lines at 10in intervals, to provide a grid of 10in squares, similar to a giant sheet of graph paper. Onto this were drawn the various key components of a new design and the squares allowed each component to be located accurately to its position in the overall full scale design.
So much for original design, but how was an artist supposed to show what was under the skin of the completed article? Lawrie's technique was based on four precepts;
1. Visit the site (or factory) and gain full information on all vital components.
2. Make working sketches to assist memory.
3. Find out exactly how everything worked, using the sketches as an aide memoire for the complete picture.
4. Back at base (his own home studio), spend two to three weeks putting it all together. The only deviation from this pattern was if the project was still in the course of completion. Drawings for a new motorcycle often had to be completed simultaneously with the launch.
Look closely at any Watts pen and ink drawing of a sectioned engine and you will see subtle vertical, hatched and circular shading lines. Maybe it's never occurred to you before, but the vertical ones indicate the direction of travel (such as on a piston), the circular shading shows revolving parts (for example a rotary disc) and the hatched lines provide texture — for instance, on transfer ports. After some years, and with the increasing availability of colour reproduction, Lawrie became more ambitious and introduced colour, for the first time, in technical drawings. Instead of a pen, a hard pencil (to avoid smudging) was used to draw the subject which was then water coloured on dry paper. Over the dry painting, details were added and 'knife worked' for highlights.
That's the theory, but let's hear from the master himself…
(DD) "Here's a beautiful drawing of the Triumph Bandit. Any idea why they made it a 350 instead of, say, a 500?"
(LW) "I really don't know. They were a nice little machine and could have been developed into something which could have sold in greater volume than the Tridents. Maybe there was a 500 version overtaken by events within the Group.
"Here's another 350, remember the KRM? Technically more interesting, it never even got into production. Designed by Jack Williams for Kingstons of Hull, the Kingston Racing Motors engine was an air cooled, twin cylinder, four-stroke with a 360 degree crank. An unusual feature was additional cooling air ducted through passages in the engine, around the sides and to the rear of the cylinder. It also featured high domed pistons with long skirts and three rings, instead of the more normal slipper race pistons with two rings. Two valves per cylinder were operated by twin camshafts, one of which was driven off the end of the other, similar to the 350cc Jawa of the early Sixties. So far as I'm aware, this was the first attempt to use a fairing working with air ducting directly into and around the engine – as distinct from adding a fairing after manufacturing the engine."
(DD) "This one's highly unusual, a stepped piston V-four (above). What's the story?"
(LW) "The late Bernard Hooper designed this as a static diesel engine for Villiers. It's an injected diesel with transfer ports! The trick was to use the bottom, stepped part, of the piston to compress the incoming gas for the other cylinder, hence the transfer port – a rather complicated way of supercharging. Very compact, quiet in operation it must have been a nightmare to make. It was difficult for me to even understand how the damned thing worked. Then I had to draw it! Some of it was extremely difficult, requiring many sketches to get it right, especially those convoluted transfer ports. When Bernard fell ill, I think the project was bought out and shipped to the States, which was a great shame. It was a very clever design with great potential and Bernard, who was an extremely nice man, never got his due recognition as a designer."
(DD) "I remember years ago, when you, photographer Geoff Riden and I visited Hondas at the Nursery Hotel in the Isle of Man and gained a world scoop – that they were using four valves per cylinder…"
(LW) "Yes, a great moment, one of many in the Island…"
Indeed it was. And in part two, Lawrie shares some of experiences in search of the material for those drawings.
View original article