OMG Racing have announced a partnership with the National Motorcycle Museum which will see current race winners riding legendary bikes.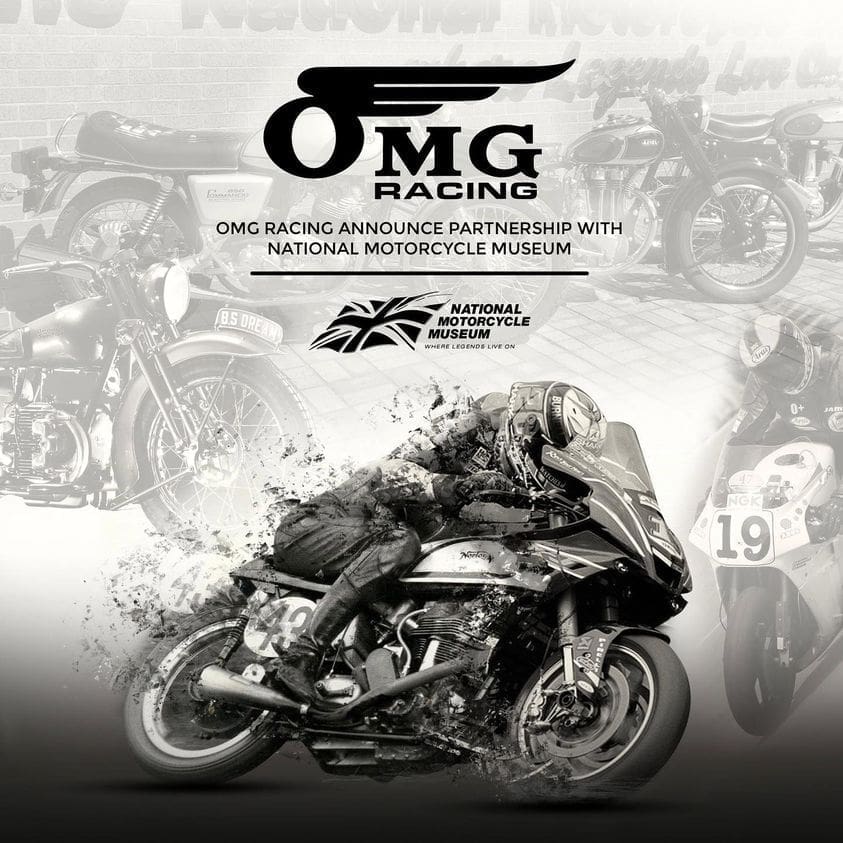 OMG Racing's riders & team will work closely with the Birmingham-based museum to create exciting content that mixes old technology & legendary race bikes with current race winning riders from the world of both track & road racing.
Alan Gardner, OMG Racing Team Owner, said: "This partnership with the National Motorcycle Museum is something that I'm genuinely excited for – it's impossible to walk around any of their 5 huge halls without marvelling at just what is in the collection. What makes it really exciting, though, and genuinely different to other museums is the fact that most of the bikes are ready to be used, and that James [Hewing, Museum Director] actively encourages them to be used for exactly what they're designed for, giving "Friends of The Museum" members the opportunity to ride their dream machines both on the road and on-track. Both James and I are incredibly excited to see these bikes being ridden at race pace by OMG Racing riders."
The National Motorcycle Museum houses more than 1,000 British-made motorcycles, and much of the collection is still in use, regularly taking to the roads around the site, as well as taking on the hill at the legendary Goodwood Festival of Speed.
James Hewing, National Motorcycle Museum Director, said: "It's essential that we demonstrate that The National Motorcycle Museum is unlike any other in the world, and that we reach a new audience with that message.
"That's why we are so thrilled to partner with Alan Gardner's OMG Racing. What better way to reach a new generation of motorcycle enthusiast, than with the current British Superbike Championship winning team."
Kay Johnson, OMG Racing Head of Partnerships, said: "Having been a big fan of the National Motorcycle Museum for many years, I couldn't be more excited about this partnership. As a team, OMG Racing are always looking to find ways of entertaining & engaging the incredible fanbase that support us, and giving people the opportunity to not only experience, but also learn about the history of the sport we all love is really important to both the NMM and us, and I couldn't think of a better way to do this than working with James and his team."
OMG Racing are the reigning Bennetts British Superbike champions, with Bradley Ray securing both the Riders' and Teams' titles in the 2022 Championship with two races left to go. Formed in 2018, the team is owned by Alan Gardner, with experienced motorcycle racer and tuner Paul Curran acting as Team Principal.
In 2023 the team continue with Kyle Ryde, who finished sixth overall in the championship in 2022, with former Junior Superstock Champion Ryan Vickers joining the team for the season. Former Isle of Man TT winner James Hillier remains the team's road rider for the season.