If only motorcycles could tell stories then this Indian would surely have plenty to tell, quite possibly from battlefield to silver screen.
Words and photographs: James Adam Bolton
Approximately one hour and 32 minutes into the epic 1977 war film 'A Bridge Too Far' (a staple Saturday afternoon film for Second World War-obsessed kids of my generation) a US Willys Jeep speeds into view and pulls up outside a large and elegant house.
A caption on the screen sets the scene as being 'U.S. 82nd H.Q south of Nijmegen', and just before the Jeep stops, and seen fleetingly afterwards, is a large green motorcycle with brown saddlebags and wide bars, parked up on its sidestand and waiting for its next orders.
It is historical fact that 7250 battle-toughened paratroopers of the 82nd Airborne Division parachuted into Holland on September 17, 1944, as part of the infamous and ill-fated Market Garden operation to take German held bridges over the Rhine, led by example by Major General James M Gavin who jumped with his men.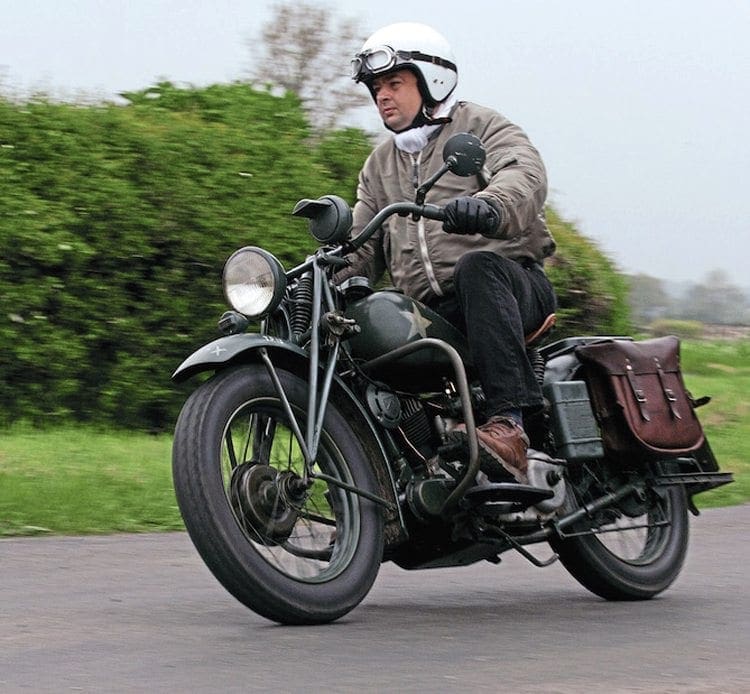 By late afternoon, General James was driving around in a Willys Jeep and setting up a HQ, from which to make his rounds of the divisions of the 82nd. Jeeps, artillery pieces, and other vital supplies were landed in one of 1000 Horsa or Waco gliders, or C-47 transport planes. And, according to the producers of 'A Bridge Too Far,' motorcycles too.
And could it be that this side-valve 1942 Indian 741-B I've just been riding in the green and placid lanes of Oxfordshire could have been the one parked outside the HQ in the film back in 1977, or even in real life in 1944?
The Indian's current guardian is Wayne Johnson, and you may recognise him as I've covered several of his Indians for TCM before now, from the small but elegant Brave, to his stylish Sport Scout and mighty Chief.
I say guardian as Wayne admits that it was his sister Donna who is actually the owner of the 741-B.
Sadly, Wayne and Donna's father Eric passed away last autumn – he was the originator of the passion for Indians that runs deep in the Johnson family.
It was Wayne however, who, by pure chance, got to hear about a 741-B for sale.
Read more and view more images in the September 2019 issue of TCM – on sale now!
Above: