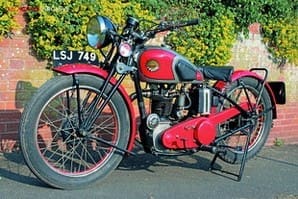 Although 'Flying Cloud' sounds like an early Japanese model, Birmingham manufacturer OK Supreme gave the name to a 245cc motorcycle in 1933. The original recipient was a famous sailing clipper of the 1850s, whose graceful lines and lightweight construction are echoed in the single-cylinder machine, built in 1939, which enthusiast David Beer acquired a decade ago.
"I had a BSA Golden Flash, which was getting a bit too heavy for me to manoeuvre around," recalls David. "Then I saw an OK Supreme advertised with a dealer in the north of England and I liked the look of it, besides the fact that there weren't many around, so we more or less did a straight swap."
The smaller bike required only minor modifications to bring it to period authenticity, David replacing the rear light and both number plates with correct items sourced from autojumbles, although he has retained the brass tap beneath the oil tank, which is a later modification to shut off oil flow and prevent wet-sumping. The Flying Cloud soon began making appearances at local shows and steam rallies in Devon, and it was at one of these where it caught the attention of a spectator with a unique interest.
David tells the story, "I was approached by a woman who said her father used to work for the company. His neighbours would tease him about it, as OK Supreme sounds like quite an unlikely name and none of them had ever seen one of its products. She put us in touch and I received a nice letter in the post along with a sales brochure, so I decided to visit him, taking the bike along as a surprise. The man's delight was obvious as soon as he saw it, and his neighbours were definitely impressed, but no one was more surprised than me when I found out who he was."
The elderly enthusiast turned out to be Trevor Hampton, who had been the OK Supreme works manager during the 1930s. Now in his mid-eighties, he was a fund of stories about the business and its history. Founded as a bicycle fittings manufacturer in 1882, Ernest (Ernie) Humphries changed the company name after co-founder Charles Dawes left to set up his own cycle business in 1927. Previously, the partners had been among the most innovative pioneers of motorcycle engineering in Birmingham, utilising a wide range of power units in machines marketed under the OK trademark. Thereafter, the OK Supreme firm was family run, with Ernie as chairman and managing director, his daughters Freida and Alie as sales director and finance director respectively, and his son John as competitions director.
OK Supreme competed in the Isle of Man most years from 1912 onwards, Frank Longman providing the marque with its only TT win in 1928, having led from start to finish in a Lightweight race that saw three other top 10 finishers on similar mounts. Trevor Hampton was racing New Imperials in the island during the late 1920s and joined OK Supreme upon completion of his apprenticeship with Austin Motors in the early 1930s.
The story of his interview reveals much about the pragmatic nature of management within the firm. Applying for a job as a draughtsman, Trevor was handed a sheet of paper and a pen by Ernie, who demanded that he draw something on the spot. Understandably, Trevor's mind went blank and Ernie, who was notoriously short-tempered, muttered he would be no use in the drawing office if he couldn't draw. But Trevor persisted, following the guv'nor around the factory while proclaiming he could at least ride a bike well, until he was given a job as a road tester. By the time he was aged 25, in 1937, he was more or less running daily operations at the factory in Warwick Road, Greet.
Trevor Hampton's racing experience sat well in a hierarchy that saw both John Humphries and technical manager Pat MacIver riding in regular competitions on the firm's machinery, while Ernie had always been a race supporter. Yet, a lack of sustainable racing success at the highest level meant that its roadsters had to sell on their own terms. The G33 Flying Cloud first appeared for 1933 with a three-speed gearbox, the de Luxe version having four speeds and enclosed engine cases. Model designations had been incremented annually since 1931, their derivatives being denoted by a prefix, such as in the case of the G2/34 sports version of 1934. The frame was modified after a year to move the engine forward, which allowed fitment of the dynamo below the magneto at the rear of the crankcases. The following year an economy version, the V35 Dauntless with coil ignition, catered for post-Depression austerity and the 245cc range grew to five models for 1936, all with new JAP engines that retained total-loss oil systems. An expanded range was seen as a path to prosperity and so basic, de Luxe and sports variants of the Flying Cloud were listed for 1937, along with a new JAP side-valver of identical capacity.
Blacklisted by being placed on the Cycle Trade Union's 'Stop List', for undercutting prices and supplying non-approved dealers, the company was forced to publish a public apology in The Motor Cycle and pay a substantial fine in 1938, in order to regain access to vital markets. The 1939 range comprised some 14 single-cylinder models, of varying sizes from 148cc up to 600cc, which the sales brochure described as being the best ever produced by the factory. Due to problems with the supply of certain JAP engines, Matchless units powered most of the larger models, although there was also an overhead-cam design that derived from the company's own racing efforts, and a 750cc side-valve JAP V-twin would be listed from November. The overhead-valve Flying Cloud was the biggest seller and its three variants boasted new JAP engines with full valve gear enclosure, new colours and lower prices. Retailing for less money than the equivalent offerings from Triumph and Velocette, the Flying Cloud could barely have been a profitable machine to manufacture, given the cut-price competitiveness of the 250cc domestic market during the 1930s.
Although the lightweight range may have echoed the engineering diversity of near-neighbour Velocette, to whom OK Supreme had sold its former York Road premises in 1927, profit margins remained very small, partly because its overhead-valve and side-valve engines were bought-in. There was little money available for investment in development and only good financial husbandry by the Humphries family, the individual members of which never took more out of the business than they earned in salaries and dividends, kept it operating at a profit. All four versions of the Flying Cloud were manufactured up to 1940, at which time John Humphries enlisted with the armed forces and the Warwick Road premises were put up for sale. John resumed small-scale production of alcohol-fuelled grass track racers until his accidental death in 1946, with Ernie's demise soon afterwards bringing the OK Supreme story to a close.
David's machine presents an attractive appearance, fuel and oil tanks plus both wheel rims being finished in silver and red paint, with liberal use of chrome and cadmium plating elsewhere. Undoubtedly, it would have brightened up the domestic transport scene during the late 1930s. Two stands are fitted, along with an electric horn, full lighting and a Smiths 80mph speedometer with trip meter. Additionally, each new motorcycle would have been supplied with a tool kit, grease gun and tyre pump.
The bike was previously fitted with an overhead-cam engine and was used in this form for sprinting by a previous owner, but it now has the JAP Sports motor of the G70/39. Starting the engine is simplicity itself, thanks to a modest cylinder capacity. I don't even trouble to use the valve lifter or ignition control – just a tickle and a swing, and we're off. Despite compact dimensions and a low seat height, the bike accommodates my six-foot frame without undue cramping and offers a surprising level of comfort. The Terry saddle is well sprung and the friction-damped Webb girder forks are capable of soaking up most of the surface variations as I head into the Devon countryside surrounding Exeter. The four-speed lightweight Burman gearbox has a pleasant action, although the foot-change pedal is rather high in relation to the offside footrest, but what really impresses me is the sturdy pulling power of the overhead-valve JAP unit, which remains responsive to the throttle even after top gear has been selected. The bike's single-downtube frame uses both front engine plates as stressed members, yet the chassis exhibits no obvious flexing and the brakes are quite adequate at top-gear speeds, despite a convoluted rod linkage that passes beneath the dynamo on its way to the rear drum. A deep resonant note from the exhaust helps to create a satisfying ride at all speeds.
Despite its small size, the Flying Cloud has the presence and performance of some larger contemporaries, with just a hint of racing pedigree. Parked in a picture-postcard village scene, the bike's red and silver colour scheme contrasts nicely with the lime-washed white walls of vernacular dwellings under a clear blue sky. Vibrant red tones exude from mudguards, wheel rims, chainguard and primary chaincase covers, while the coach-lined panel design on the fuel tank sides recurs on the oil tank, which carries its own, unique transfer logo. Not the cheapest of its type on the market, the OK Supreme lightweight would bestow long-term economic benefit on its owner from sound engineering, use of quality materials and a factory policy of road-testing each machine before despatch, the whole machine being assembled with something of a flourish from its eight-and-a-half-inch headlamp to its lightly upswept silencer.
David works for a vehicle rental firm as a delivery driver and has lived all his life in the same 17th century thatched cottage on the outskirts of Exeter, where he once watched his father load an Ariel Red Hunter into the back of a Humber estate car after selling it during the 1960s (he has since tracked down the bike in question, still locally owned, and hopes to acquire it one day.) Ironically, the Flying Cloud's compact size with a low seat height is now limiting David's ability to ride it, as he is suffering the early stages of rheumatoid arthritis in both knees, but he intends to keep the bike for the enjoyment of owning and exhibiting a rarely seen example of Britain's rich two-wheeled heritage. "My father had motorcycles all his life and they have been my main interest for most of my 53 years," he says. "After all, you never know who might come along with a personal story or some connection from the past!"