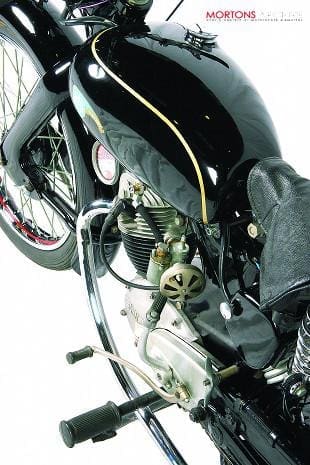 Chuck Jackson has owned this 98cc rarity for 46 years – and was given it in the first place. "The bloke I was an apprentice with gave it to me… when the tax ran out in 1967 I then took it all apart and put it in the loft," explains Chuck. That accounts for the remarkably low, genuine mileage of just 3700. "Everything on it is original," says Chuck, "Even the tyres!" It has though all been repainted and replated, as it had deteriorated over its years of storage, while some bearings and seals had also suffered in the interim too – with replacements sourced from Germany.
The Anglo-German alliance of NSU and Vincent may at first glance appear a strange one, but on closer inspection it starts to make a whole lot more sense. Though its products were undoubtedly top-drawer, Vincent as a concern was not making much money. So, other avenues for keeping the firm solvent had to be examined. Vincent had already tried its hand at an end of the market previously unfamiliar to the concern, with the 48cc Firefly cycle attachment, before progressing to distributing the NSU Quickly. So, links had been established with the Neckarsulum-based concern – and a progression of that relationship was that Vincent decided to market an 'Anglicised' version of four of NSU's popular lightweight models.
The Anglicisation wasn't just to establish a brand identity separate to that of NSU but also to take advantage of the Commonwealth Preferential Tariff – basically 51 per cent of the NSU-Vincent had to be British made to qualify for a tax break. NSU supplied the engine, gearbox, frame and front forks while Vincent sourced all the other components from British proprietary manufacturers. The 'British' NSUs were fitted with Amal carburettor, Lycett saddle, Avon tyres, plus English-made mudguards and a special petrol tank – finished in Vincent colours of black-and-gold. Although something of a mongrel, the finished articles looked impressive enough – and they were also well-made.
The 98cc Fox was joined in the line-up by 125cc two-stroke Fox, the 200cc two-stroke Lux and the Max, a 250cc overhead camshaft model. The 98cc and 125cc models had identical cycleparts, likewise the proposed 200 and 250cc models. However, the two bigger machines never made it to production, though a 250cc prototype was shown at Earl's Court in 1953. Though the 98 and 125 models did make it into production, there weren't many made at all, with figures reckoned to be about 200 in total, with the majority (140) being the larger two-stroke. Taking into account the time elapsed, that makes Chuck's loft-stored example all the rarer.
---
Advert

Enjoy more The Classic MotorCycle reading in the monthly magazine. Click here to subscribe.
---