The brand new November issue of The Classic MotorCycle magazine offers a lavishly illustrated celebration of legendary machines, riders and races, and news, reviews and rare period images from the golden age of motorcycling.
Drawing on an archive stretching back to 1903, The Classic MotorCycle provides an unparalleled insight into more than a century of motorcycle design, development, riding, racing and much more.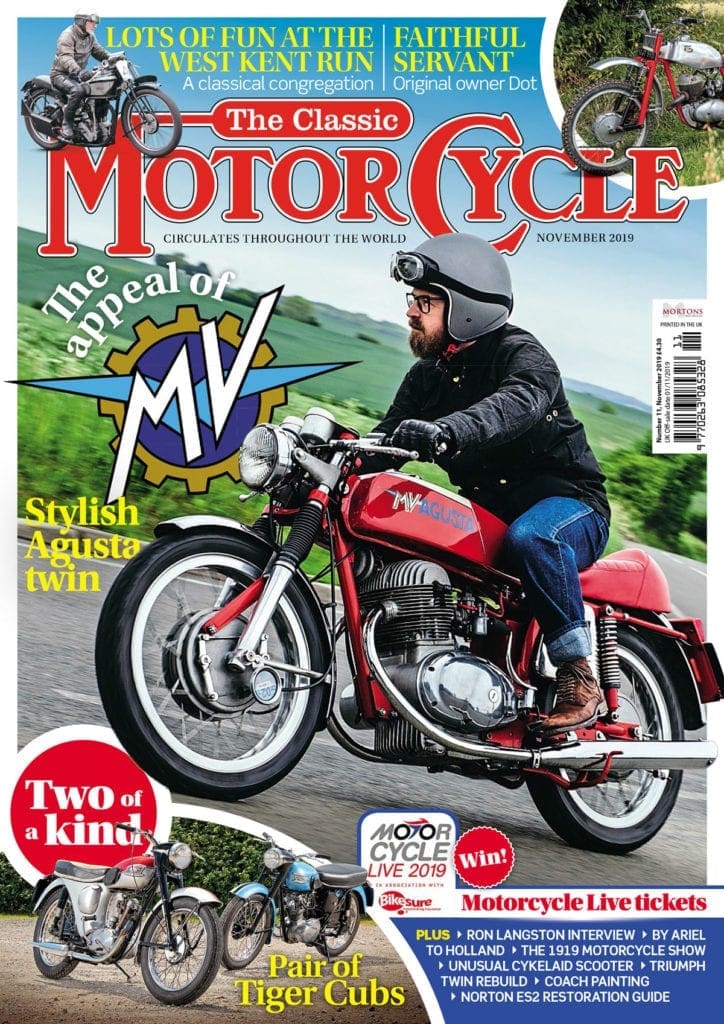 This month's issue includes:
MV Agusta 350S: Sometimes a specification sheet can give the totally wrong impression of a bike. The MV Agusta 350S might just be the best example of such a phenomenon…
T20 Tiger Cubs: These two pretty T20 Tiger Cubs from 1960/1961 display the strengths and weaknesses of Edward Turner's best shot at the lightweight market.
Men who mattered… He was known as Sir Tyrell, in a light-hearted recognition of his elevated social background.
A subscription means you can enjoy all of this, plus plenty of other benefits such as making a major saving on the cover price and FREE postage.
It's quick and easy to sign up and, whether you do it online or over the phone, our team is ready and waiting to get your new deal under way or extend your current package.
Favourite motorcycle of all time?
What's your favourite motorcycle of all time? And by what criteria would you judge or base it? Would you go for something that you're sentimentally attached to – or something you've always aspired to and never attained? A dream machine or a dream realised?
As usual in such instances, I think of people I know. We were talking last weekend of a guy, Brian (who taught my brother at engineering college 20-plus years ago), who has had his same Venom since circa 1960 and which he still uses, though it's now fitted with an electric start, in deference to his advancing years.
He's tried different, lighter, lower, smaller machines, but, actually, it's the Venom he feels most comfortable on. As a friend pointed out: "He can practically ride it with his eyes shut." But is it his dream machine? Well, to have had it nigh on 60 years, then he must rate it pretty highly!
Others commission people to build the machine of their dreams, while others still will build it themselves – I'm thinking of Chelsea who we've featured of late (see our November 2018 and June 2019 issues) with her Rickman Metisse Triumph; it's literally her dream machine, and will always be her favourite.
Me? I don't really know what my favourite of all time is. The Rex-Acme I'd wanted since I was a boy and was lucky enough to acquire over a decade ago comes close, but – say it quietly – I actually like riding my scruffy Longstroke Sunbeam more, while the bike I've always wanted was the ex-Bob Lowe Model 90 Bullnose, so that might get close to being my favourite.
But then there's my dad's 1928 ohv AJS, an unashamed mongrel of a motorcycle acquired by father for £5 in 1968 or so, which will always hold a special place in my affections.        
Though then I go against type and, as last Sunday, take something different for a day out. So after 120 miles on the 1967 D10 Sports (pictured), by the time I'd got home, I'd pretty much decided that everything else could go and I'm just going to ride Bantams forever.
In fact, my enthusiasm is such that several of the others in our office – a mixed cross-section of motorcyclists – have all said: "Well, I'd quite like a Bantam too," so now we're on the lookout for a job lot of Bantams! Will they become anyone's favourite of all time? Well, you never know.
---
Advert

Enjoy more The Classic MotorCycle reading in the monthly magazine. Click here to subscribe.
---