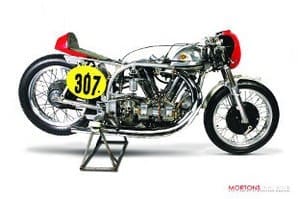 Legendary Norse hammer-carrier Thor lends his name to this machine (and incidentally also to the 'new' JAP V-twin powered beastie built by Alec Card and Cameron Engineering) – it's an apt title for a thundering V-twin.
The original Thor (the one featured here) was built by sprint star Francis Williams using a 1952-54 period 350cc Manx Norton as the basis. Most of the Manx rolling chassis has been retained – forks, brakes and the like – though the Norton engine is long gone, in its place a rorty V-twin JAP motor. The engine is itself rather special – it has a crankcase of the sort usually employed on 1100cc racing cars, which is sturdier than the 8/80 type usually favoured for motorcycle applications. Gearbox is an earlier, pre-Featherbed type Norton item.
It was the engine that led current owner Derek Fox (on the right in the picture) to buy the machine. Thor came up at auction in 1997 and Derek – who had made an attempt to buy it before it went to the sale rooms – had heard that it was being sought by some members of the car racing fraternity, the intention being to buy the machine and take the engine out and use it in a car. Derek, an arch Norton enthusiast really but one with a keen sense of history, went to the sale with the intention of buying Thor but having just worked a 12-hour shift he wasn't, in his own words, 'with it' and Thor went through without reaching its reserve. Realising what had happened, Derek was able to make a post-sale sealed bid higher than the car boys (ironically significantly lower than his pre-sale offer) and secured the machine.
Now in Derek's stewardship, Thor is still campaigned, either by Derek or if he's busy elsewhere, by staunch sprint enthusiast Chris Illman (left in the gallery picture). It's no slouch either – Chris has recorded times of about 12.1 for the quarter mile, while Derek has himself notched about 12.2, which compares well with what it did in its heyday, though it did record 11.5-ish though that was on nitro. The old warrior is indeed an historically important machine, but it's far from a static museum exhibit.
---
Advert

Enjoy more The Classic MotorCycle reading in the monthly magazine. Click here to subscribe.
---