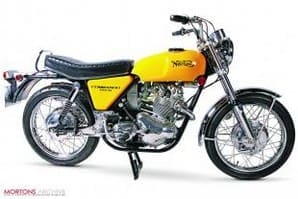 Former sidecar motocross racer Peter Weait has owned this S Type for six years, having bought it after it returned from America and comprehensively restored it. Though the Commando was complete when he acquired it, there was plenty for the Reading-based man to do.
But he's not one to hang around – it took retired Peter nine months to complete the project from start to finish, doing most of the work himself, including wheel building and all engine and gearbox work. Interestingly, Peter chose to retain the original Triplex primary chain, rather than switch to a belt drive set-up.
Peter, who has been riding for 48 years, used to race a Dutch EML sidecar outfit, powered by a Commando engine. So, of course, he's had plenty of dealings with the Commando engine but he specifically wanted an S Type, explaining it simply by saying: "I just like the style of them." It seems that someone else likes this one in particular too, as Peter has already agreed to sell, though he held on to it long enough to bring to Stafford and scoop the Best Classic award at the April show before passing the machine on to its new owner.
Asked who helped him, Peter praises both Norvil and Andover Norton for their parts supply, while he is also a member of the Norton Owners' Club, which has proved useful. However he doesn't want to think about how much money he's ploughed into the restoration – simply saying "Loads!" – but asked for any advice to would-be restorers he says there's no real secrets, though it helps (as in the case here) to buy a complete machine.
Street Scrambler P11
The Commando S Type was revealed in March 1969, in essence as a replacement for the popular – especially in America – street scrambler P11, of which production had stopped in autumn 1968. The S Type was styled similarly to the P11, but used the Isolastic frame. Main differences between the S and the 'normal' Commando were the use of a different fuel tank, seat and tail unit, high-rise exhaust pipes, motocross-style handlebars and skimpier side-panels. There were other detail differences too, mainly making fitments and fixtures 'briefer' to enhance the muscular, scrambler-style look of the machine – however, despite this apparent 'off-road potential' tyres were road only.
Article continues below…
Advert
Though it proved relatively popular, the S Type didn't last long, dropped from Norton's range in mid-1970, to be briefly followed by a more radical SS version in 1971. However, for 1970 Norton had introduced the Roadster (when the S Type joined the range, the only other Commando model was the Fastback) and the new introduction was to prove popular, to the detriment of S Type appeal.
See also 1968 Norton Commando
---
Advert

Enjoy more The Classic MotorCycle reading in the monthly magazine. Click here to subscribe.
---