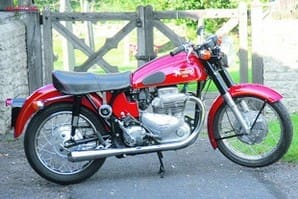 "I think there's a tendency to go for something you're familiar with," says David Pitchford, who returned to motorcycling in 2002 after a 35-year layoff. "I learned to ride on Ariels, when I studied engineering as an aeronautical apprentice, so I know how to take them apart and put them back together again."
The straightforward route would have probably taken him to a newly restored Red Hunter, the single-cylinder model he rode to Rome and back when aged 20. However, he had his eye on a more complex configuration.
"I've always wanted a Square Four, but could never afford one when I was younger," he confides, "so when I saw this 'special' advertised by a classic dealer, I thought it would provide me with the best of both worlds."
Those two worlds twinned the easy power of Ariel's 997cc four-cylinder motor with Norton's fine-handling wideline 'Featherbed' chassis. "It's what Ariel should have done, put it in a swinging-arm frame," avers David, showing me early photographs of the bike he bought as an unfinished project. Now, anyone who has ever taken on an unfinished project knows that the first question to ask is always, 'Why is it unfinished?'
The answer is not always apparent on the surface of things. "Most of the major components looked to be there, and the fuel tank and mudguards had been repainted, so I thought I'd easily manage the rest of it," says David, who nevertheless posted a note on the Ariel Owners' Club website chatroom, as soon as he got the bike home.
"I announced proudly that I'd bought this special bike with a reconditioned engine and asked what I should check first," he recalls. "Well, I very quickly began receiving emails in capital letters saying FOR GOD'S SAKE DON'T START THIS ENGINE! I soon began to hear tales of Square Four motors going bang for all manner of reasons, so I reluctantly decided to have a look inside the cases."
This turned out to be rather a good idea, because the engine lacked an oil pump. "Thinking back, that probably explains the lack of a kickstart," muses David, who by now was already taking the timing chain off. "That was when I noticed that the rear crankshaft was moving in and out. There was no thrust washer fitted, so the crank web had churned pieces out of the inner crankcase."
Heart sinking, and camera in hand, David proceeded to document defects as he stripped the engine right down. Most of the problems that he found were due to poor assembly techniques, such as cementing the cylinder head gasket to both faces and omitting to clean the crankshaft 'sludge traps'.
To his great relief, however, the major reconditioning work proved to have been done to professional standards. All four pistons were brand new and their respective barrels newly rebored, while both cranks had been reground with white metal shells in the conrods and new bearings installed. The quality of engineering modifications was similarly impressive, and included bronze inserts for the cylinder head studs and relocation of the distributor in an upright position to clear the oil tank, plus realignment of the transmission.
This latter modification is the main hurdle to installing a Square Four motor in a Featherbed frame. In the case of this project, the engine had been mounted with three-quarters of an inch offset to the nearside, so that the rear part of its primary case cleared the adjacent frame loop flange, a pair of split engine plates facilitating its attachment to the AMC Norton gearbox. At the same time, the inner primary casing had been widened to house an AMC clutch, which also required the chrome outer cover to be made permanently oil-tight. The alternative to offsetting the engine by this means would have been to cut the frame rails and extend them by one-and-a-half inches, which besides making the fuel tank and seat location difficult, is not something that most enthusiasts would want to do to a perfectly good frame.
The trouble with taking on an unfinished project is the risk of reaching exactly the position in which David now found himself. "Someone had gone to all the trouble and expense of reconditioning most of the things that wear, but had completely failed to put it all together properly," he sighs, remembering the dilemma of whether to cut his losses by reselling it as a non-runner or to commit himself to a thorough rebuild of this complex engine. He chose to proceed, albeit cautiously, his first job being to clean everything thoroughly, to remove all traces of swarf and gasket compound from the internals. He measured every component and clearance carefully, the camshaft proving to be one of very few items that was worn beyond tolerance. He replaced it with a Mk II camshaft with quietening ramps, setting the cam timing using a home-made degree wheel and pointer.
This 1952 motor was from the last year of Mk I production, before detachable exhaust manifolds on the Mk II provided a separate outlet for each pipe, and so the fact that both rear exhausts exited forwards meant that the front cylinders could be prone to overheating at slow speeds. Hence David chose to install a high-flow Morgo rotary oil pump instead of the twin-plunger standard item, to ensure maximum cooling for the cylinder block and head. A central oil tank increased the oil capacity, while a screw-on cartridge filter under the gearbox guaranteed its purity. Armours (01202 519409) provided a new exhaust system, while David cleaned up the remedial welding on the cooling fins using lollipop sticks and emery cloth. Mk I Square Fours also have a tendency to blow head gaskets, so a pair of 'Otto gaskets' from the owners' club made sure that there would be no need for jointing cement.
The next job to tackle was the wiring, and David used two looms that came with the bike to create a new harness, which incorporated electronic ignition and an electronic tachometer. This required a Hawker Electrical (01454 323434) 'black box' conversion to 12v electrics, with a positive-earth dry-cell battery. The upright position of the distributor left no room for the standard Solex carburettor, so Draganfly (01986 894798) supplied a new Amal Concentric, complete with Square Four fittings. Last, but not least, the standard eight-inch front drum brake was uprated to a John Tickle twin leading-shoe unit, to retard the extra mass of the Ariel motor within the Norton chassis. All-alloy construction of the 997cc Mark I, from 1949 onwards, saved over 30lb compared to the original 1936 4G, but twin crank assemblies and four sets of valve gear mean that this is still a heavy engine.
Reassembly took two years, but once running, the bike was plagued with over-lubrication as its high-volume oil pump saturated the valve gear, causing pressure leaks. David restricted the diameter of the oil feed pipe and drilled breather holes into the rocker-boxes, but still had problems with the spark plugs oiling up. Eventually, he cut a chamfer into each rocker arm, to direct excess oil away from its valve and into the central pushrod tunnel. He also applied the manufacturer's later modification of a length of copper pipe fitted to the breather outlet within the timing case, to route oil mist away from the timing chain. An Ariel OC member supplied the pipe and David has had no further oiling problems since he installed it last year.
The machine appears commendably oil-tight and no drips befoul the pavement outside Compton Dando village hall in North Somerset as I warm the engine for my road test. Across a meadow lies the church of St Mary, which bears a date of 1735 on its chancel but has evidently been remodelled in the Victorian gothic style. This 'Noriel' hybrid has, arguably, a more harmonious blend of styles and I trust riding it will verify my long-held belief that, if something looks right, then it generally is right.
The engine emits a churning noise at tickover from the outboard coupling gears that connect its twin counter-rotating crankshafts, but there is little of the distinctive Square Four twittering from the pair of replica Dunstall chromed silencers, which rumble at low revs and positively bellow under hard acceleration. Fortunately for the tranquility of the Chew Valley, the engine pulls cleanly from as little as 15mph, which equates to just 1000rpm on the electronic tachometer. Throttle response via the Amal carburettor is quite sharp up to 50mph at 2500rpm, even on raised gearing. A slight harshness appears just short of 60mph at around 3000rpm, which unfortunately coincides with the rev limit that David has asked me to observe on this tight engine, which has recorded just 569 miles since its rebuild.
A Triumph headlamp shell and Norton Commando handlebars crown the Roadholder front forks, while the Tickle front brake, although still 'bedding in', is a great improvement over the original AMC unit. BSA A10 rear dampers add an inch of ride height for two-up touring and David has reduced the rear wheel size to 18in in compensation for this. Because of a forward weight bias, the bike tends to tip into over-steer in slow corners, but the additional mass cannot unbalance the firm-handling chassis at touring speeds, even in twisty country lanes. Although the speed range and level of rider comfort mirror those of a twin-cylinder Norton Dominator, the power characteristics are uniquely those of an Ariel Square Four, with huge torque reserves on tap from very low revs.
I ask David if he thinks it was worth all his time and trouble to rectify the problems and bring the bike to completion. Tellingly, his first answer relates to the process rather than the outcome. "It's a work in progress and so there are still improvements I'd like to make, such as a belt primary drive and Norton Commando dry clutch," he says. Yes, but now that it's actually running, what does he think of it?
"Oh, I'm delighted," he exclaims. "It lets me keep up with traffic at up to 60mph in total comfort and is something unique to take on club runs. Although it's not been the easiest machine to work on, I feel I've created, not just the bike Ariel should have built, but the result the original builder of this 'special' had in mind, too. It won a Highly Commended award at the 2009 Bristol Show before I'd fully sorted the engine's problems, so it has definitely been worth it, even at this stage, when I'm still running it in. It's just a good job that I didn't try to start the engine when I bought it!"