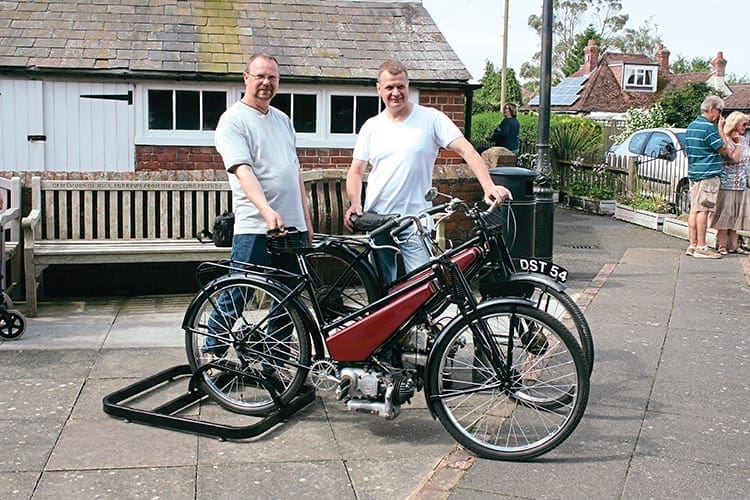 Closing in 1961, ending 40 years of production in Ashford, Norman Cycles Ltd was Kent's only major manufacturer. A number of Norman motorcycles can still be seen at Dover Transport Museum, while at Willesborough Windmill in Ashford, the barn (now serving as a cafe) also has a collection of Norman bicycles.
The restored windmill at Willesborough is the established venue for the twice-yearly gathering of Norman enthusiasts, the latest being on May 27.
There were examples of several landmark models at the event.
As a manufacturer, Norman was always looking to improve its products. Like so many others, it fitted bought-in engines, mostly from Villiers. Off-road competition success established the brand and as the road bikes became neatly styled and brightly finished, sales numbers were impressive.
Andy Johns had ridden in on his Lido. Andy admitted to "quite a collection of Normans." He had recently acquired the moped, a German design, which was also offered in slightly altered form as the Norman Nippy, a hugely successful model. Frances Germiney claimed her Nippy had been 'repatriated' from Essex. With her local history interest, it seemed a logical step to add the moped to her modest collection of Norman bicycles.
Willesborough visitor Ron Wilson told her that, as a 15-year-old trainee, welding the sheet metal on Nippys was how he learned his craft.
Former road racer Ken Whorlow is a keen club supporter and regularly attends club events. In recent months his presence attracts attention as he rides one of the few surviving bikes that has a British Anzani engine.
Busy taking in every last detail were Gary and Elspeth Osborne. Gary was initially puzzled when he acquired a Norman near his home on the Gold Coast in Australia. Internet research led him to the Norman club and his itinerary of a tour of Britain included a visit to Willesborough. Like all the attendees, he had a good day.