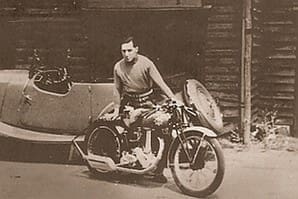 Seventy-one immucaulate bikes from a private collection. One marque. One lot. That's the tag line for Mecum's amazing MV auction, to be held on August 16-18 at Monterey. For information contact Gavin Trippe on (001) 262 275 5050 or g[email protected] or visit www.mecum.com/mvagusta You must view the image gallery!
• The 2012 Rod Gibson Memorial Run, on June 23, will depart from three different places and converge at the venue for the National Youthbike Finals weekend bike show.
The departure places will be the White Hart, Tetford, the Lincs Bikes and Trikes shop in Grimsby and the Lincoln Grandstand car park. Entry is £2 which will be shared between the National Youth bike charity and the National Association for Bikers with Disabilities.
For more information about the event contact Tony Nightingale on 01507 527835.
• This year's VMCC Founders day is at Stanford Hall on July 22.
For all trade stands, contact Chris Grundy on 0116 288 8265, and for machine displays and all other enquiries, Mark Wills is your man on 07709 798369.
Stanford Hall is situated just a few minutes from Junction 20 of the M1 motorway. Visit the Taverners website for more details www.thetaverners.co.uk
• The Egham Royal Show is on August 25-26, at Whitehall Lane, Egham, Surrey.
Vehicles expected range from the 1920s to the late 1970s and include cars, motorcycles and commercials. Each entrant gets a brass commemorative plaque.
To find out more about the show visit www.eghamroyalshow.org.uk
• Gold Star day at Brooklands Museum on June 30, the immortal 'Goldie' will be celebrated 75 years after Wal Handley's efforts to establish the model's name. The aim of the day is simple – to assemble the most BSA Gold Stars in one place at one time.
Gold Star Day runs from 10am to 5pm. All other riders of any make of machine will pay £10 for rider and bike, or £15 for rider, bike and pillion passenger, with tickets available at the gate.
Clubs can pre-book group-visit tickets or club stand space by contacting Michael Sands at [email protected] or by writing to him at Brooklands Museum, Brooklands Road, Weybridge KT13 0QN.
• Entrants are invited to exhibit at this year's North Lincolnshire-based Epworth show on August 27. Vehicles expected include vintage and classic cars, motorcycles, commercials and agricultural tractors.
For further information and entry forms please visit www.epworthshow.org or telephone Simon Beveridge on 07754 270198.
• ITV4's motorcycling programme returns on June 4, at 8pm & June 5 at 8pm, before the TT highlights at 9pm. Among the featured machines is the new Brough Superior.