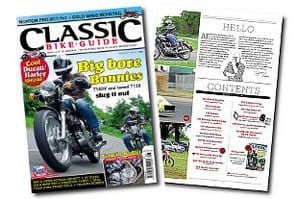 The November issue of The Classic MotorCycle, on sale October 5, will come with a free reprint of The Motor Cycle from April 1908.
Why that particular week? Well, that was the week the 1908 London Olympics began, adding a neat symmetry with 2012, when of course the Olympics returned to our capital city. And why print this fantastic value supplement in this edition? As unlike the recent two-week version, the 1908 Olympic Games lasted over several months, ending on October 31…
We hope you enjoy the reprint.
Vintage Motorcyclists' Workshop reissue
First published in 1986, The Vintage Motorcyclists' Workshop book has become regarded as a classic and is being reissued by Haynes to meet popular demand.
Presented in the format of a Haynes Manual, The Vintage Motorcyclists' Workshop is aimed at the amateur who is encouraged to attempt almost every aspect of restoration work himself, within the confines of
the home workshop.
It is packed with detailed practical information and illustration and compiled by highly respected motorcycle restorer 'Radco.'
Details from 0044(0)1963 442030 or www.haynes.co.uk, ISBN is 9780854294725, priced at £25.
Still time to go Live
Advance tickets for Motorcycle Live 2012 are on sale, costing £16 per adult, £10 for seniors and £6 per child.
The all-inclusive ticket gives access to five exhibition halls crammed with all the latest bikes, clothing and accessories, plus custom, touring and classic zones, six opportunities to ride a motorcycle and entry into the stunt display in the Ramp'd Up Freestyle Motocross Arena.
Motorcycle Live 2012 takes place at the NEC, Birmingham from November 24 to December 2. As the thousands of visitors have come to expect, the show also boasts all the major motorcycle manufacturers as well as a daily dose of famous faces and legendary racers to keep the crowds entertained.
Call 0844 581 2345 or visit www.motorcyclelive.co.uk
Mick Farrant
The proprietor of Alloy Polishing Services (APS) Mick Farrant passed away suddenly recently.
Well known on the autojumble scene, as well as within the sidecar racing community, Mick, based in Fiskerton, Lincolnshire, will be fondly remembered for his exacting standards and attention to details.