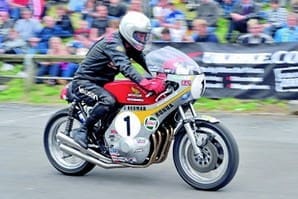 Older engines could benefit from the unique properties of this restorative oil developed in the US nearly 30 years ago, so the distributors are keen to point out.
Ametech Engine Restore Oil boasts a range of beneficial qualities and properties which apparently include an ability to cure blue exhaust smoke, quieten noisy engines, reduce oil burning and restore engine performance and power.
Its makers also claim it can promote better fuel economy and prolong engine life.
• Bremen to include motorcycle exhibition
There will be more than 600 exhibitors for the Bremen Classic Motor Show in Germany, with an ecletic mix of vehicles promised.
The show, which usually attracts around 40,000 visitors from all over Europe and even further afield, features classic and vintage cars, motor sports, automobiles and motorcycles.
It fills seven halls of the Bremen Exhibition and Conference Centre from Friday to Sunday, February 1-3, 2013.
A special exhibition at the event will focus on racing and record-breaking machines and will include historic motorcycles, with NSU and BMW represented.
• Thundering ahead
Six-times TT winner Jim Redman will be riding Clive Brooker's Honda CR750 at the 2013 Thundersprint, to be held at Anglesey on April 21.
The racer, who has appeared at the last 14 Thundersprints, said he was looking forward to the show on April 21.
For more information contact event organiser Frank Melling on 01928 740498 or e-mail [email protected]