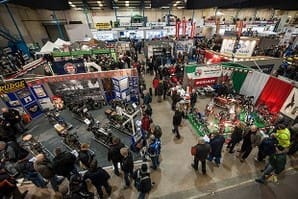 Taking place on Sunday, February 8, the auction is to be a new addition to the Carole Nash Bristol Classic MotorCycle Show, held annually at the Royal Bath and West in Somerset.
Matthew Whitney, an associate partner as Charterhouse, said: "We've been conducting classic and vintage vehicle auctions for nearly 15 years and now we are looking ahead with great anticipation to our first dedicated motorcycle sale.
"We are working with Classic Bike Shows and its team to put together some exciting plans and we look forward to seeing them come to life early next year."
The event's exhibition manager, Nick Mowbray, said: "Auctions are a big draw for any motorcycle event and we're delighted to be working with Charterhouse at our Bristol show."
Viewing of the auction lots will be open to all showgoers on Saturday, February 7, at no additional charge on the price of entry while admission to the Sunday sale is by catalogue only and will cost £10, a fee that will give entry to two people.
With details confirmed, Charterhouse will turn its attention to finalising consignments.
Matthew added: "Classic machines of all ages, makes and models are welcome, from pioneer bikes of the early 1900s through to the modern classics of the late 1980s.
"And it's not just motorcycles; we are interested in rare parts, spares and memorabilia too."
Anyone interested in selling at the auction should contact Matthew Whitney via email at [email protected] or by calling 01935 812277.
And for information on the Carole Nash Bristol Classic MotorCycle Show, visit www.classicbikeshows.com