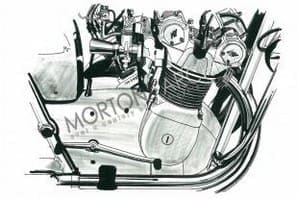 If there's one thing that's difficult to dis­cover about the MV Four, it's hard facts. One might imagine that such things as bore and stroke measurements were fairly easy to ascertain, yet look in any two books on the subject and you are likely to find two different sets of dimensions. Undoubtedly, this is one of the less positive aspects of a bike that touches on the legendary, for most people simply will not be in a position to check the truth of any statement. However, it can be said with certainty that the famous four cylinder engine was designed by Ing. Pietro Remor in or about 1949. Ing. Remor was also the designer of the Gilera four, and there is an obvious and unsurprising similarity between the two motors. (As a historical aside, early pre­production examples of the Kawasaki four cylinder powerplant bear an uncanny external resemblance to Remor's handiwork – a small world indeed!)
Count Domenico Agusta had head­hunted Ing.Remor in an effort to broaden MV's racing equipe. Already successful in the smaller classes, and especially the 125cc category, MV needed a machine to take them into the more prestigious 500cc class, and what could be more prestigious than a double overhead cam, shaft-driven, unit-construction four? Especially when most of the opposition was knocking around on singles!
The exact format of the first four appears to be open to some conjecture. One source claims it had dimensions of 54 bore x 54 stroke (which seems a little modern), while another seems more likely when quoting 52 x 58mm. Power output varies between 50 and 52bhp, which is achieved between 9,500 or 10,000rpm. The number of gears, which is variously given as four or five, but I think we can safely say it was the former.
The prototype, which had two carburet­tors only, was worked on by Ing. Remor and Arturo Magni, who had also joined MV from Gilera. Magni, of course, was to go on to become factory race chief, and virtually kept the name alive single-handedly. He is still active, making Magni frames, and has put his name to many accessories and per­formance parts.
While the engine was fairly satisfactory (it was changed slightly in 1952, to 53mm bore by 56mm stroke) the frame was found to be in need of development. The front end was suspended on girder forks with blade, rather than tubular, members, while the rear end rose and fell on parallel motion arms, both ends relying on torsion bars for springing.
Les Graham was signed up to ride for MV, and set about the task of improving the machine. First the front forks were changed for telescopics, then Earles-type. The rear end remained parallel arm until 1952, when it was fitted with a conventional tubular fork, but it lost the torsion springing early on, spring/damper units being preferred.
Machine's handling
Graham did a great deal to improve the machine's handling, but tragically he was killed at the bottom of Dray Hill in the 1953 Senior TT. Ray Amm took his place, but he too lost his life, at Imola in 1955. The MV was by then a very competitive machine, and it needed only a rider of the first water to take it to the success it deserved. That rider was John Surtees, and he gave the factory its first 500cc World Championship in 1956.
The engine was taken back to 52mm by 58mm, but it had been developed to give 65 bh p at 10,500rpnn. In this form it proved good enough to give Gary Hocking, Mike Hailwood and Giacomo Agostini a host of championships.
So far, there had been no spin-off into road bikes. Undoubtedly this was partly because the MV was such an expensive machine to make, but it is also likely that there had been no intention of making a road going motor cycle, with all the mod­ification which that entails, from what had been designed purely as a racing flagship. However, in 1965 the Roadster was launched. Of 590cc, the engine dimen­sions were 58mm by 56mm, compression ratio was 9.3:1, two 24mm Dell'Orto carbs were fitted and it gave 50bhp at 8,200rpm, driving through a five-speed gearbox. (The alternative "facts" are 56mm by 60mm, two 29mm carbs, and 52bhp at 8,000rpm!)
The following year, 1966, a new three-cylinder racing engine was introduced, and this has a separate development his­tory from the original four, which continued in the road-going versions. The three even­tually evolved into a four, but that engine was only used in the racing machines, and does not really concern us here.
By 1969, the Roadster, which was not, in all fairness, the world's most beautiful motor cycle, was restyled and given a bigger engine. Now with 750cc and four carburettors, it began to cash in on the renown of the racers, something which the original bulbous version singularly failed to do. Then, in September 1975, came what must surely be the best known of the MV road-going bikes, the America. With 86bhp on tap from the 790cc engine, and with styling aimed to keep the sporting image well to the fore, the America remains firmly in the pantheon of Most Desirable motor cycles.
But, as is the way of commerce, this zenith was over-reached by the next development, the Monza. Bigger still (862cc from 70mm bore by 56mm stroke), the Monza was produced from July 1977 to February 1979, and its demise coincided with the end of motor cycle manufacture at the Gallarate factory. It was not the end of the MV Four story, however, for there are two more strands to be picked up.
The first is a development which occured at the factory, and it must surely have been the ultimate four cylinder road-going MV, the Ago. Stretched to 955cc (70mm by 62mm) with four 30mm carburettors, the Ago was claimed to pack 99bhp at 10,200rpm. The frame was also changed to cope with the extra power but very few of these models were completed.
Arturo Magni
The other strand emanated from race chief Arturo Magni, who developed his own big bore kit. New cylinders, cast in pairs rather than separately as had been the practice at the factory, took the capacity to 862cc, and various other tuning mod­ifications ensured that the bike remained competitively sporty, and the MV Monza Magni is still a very exciting and satisfying bike to ride – providing, of course, that it has been properly set up!
It is also worth mentioning two projects which never saw the light of day (or cer­tainly, never came anywhere near produc­tion). The first was undertaken in 1956, when the factory made an experimental 'straight' six cylinder engine. This theme was later taken up by Benelli, and later still Honda and Kawasaki, and it must be yet another "if only they had" episode. The second con­cerns a completely new generation of fours, announced in 1977, but not brought to fruition. It was to have been a design capable of being stretched from 750cc to 1,200cc, similar in many ways to the old four, but with chain-driven camshafts and chain final drive. Like the six, it could have been a tremendously exciting motor cycle, but perhaps it would have been unfair to have expected any more excitement from MV. After all, they had already provided more than their fair share.