Test of skill – and nerve – during two-wheeled competition at Brands Hatch, Kent.
Photograph: MORTONS ARCHIVE
During the August 1963 contest to find RoSPA's (Royal Society for the Prevention of Accidents) motorcyclist of the year, M Swift balances his 600cc AJS twin on the start-finish straight at Brands Hatch.
Alas, Mr Swift wasn't among the award winners in what was the fifth running of the event; that honour went to 21-year-old Mike Pitson, who ran out overall top performer. Pitson had been the winner of the 250cc class in the event's first year, but after a five year hiatus, he came back and this time took overall victory, aboard his 250cc BSA C15.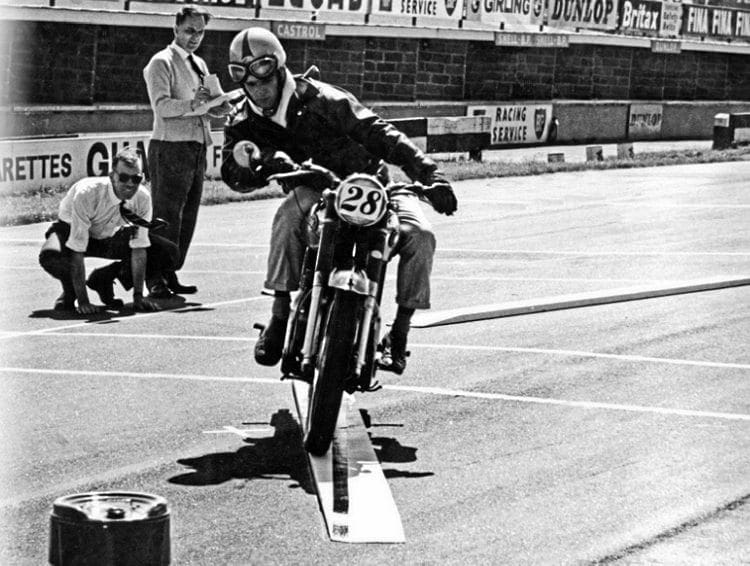 The event's conclusion saw 143 finalists congregated, with 36 preliminary heats having already weeded out a lot of the early contenders. They used a great variety of machines too, with even a number of bright red post office BSA Bantams among their number.
Originally the event had been restricted to the south-east but, for 1963, riders had come from far and wide, though it was the locals who did best. The day panned out thus: a 32-mile observed road run, before the afternoon being devoted to 'field events.' It played on riders' nerves, with a 50-second time limit covering six tests of balance, braking and steering.
But Mike Pitson held his nerve best of all, the next best scorer accruing more than a third more marks.
John Morris, who'd won the year before, had to settle for second in the over-250cc class, while best RAC-ACU Training scheme pupil and best woman rider titles were both won by Sheila Grey, on her 150cc Lambretta.
Read more News and Features in the June issue of TCM – on sale now!