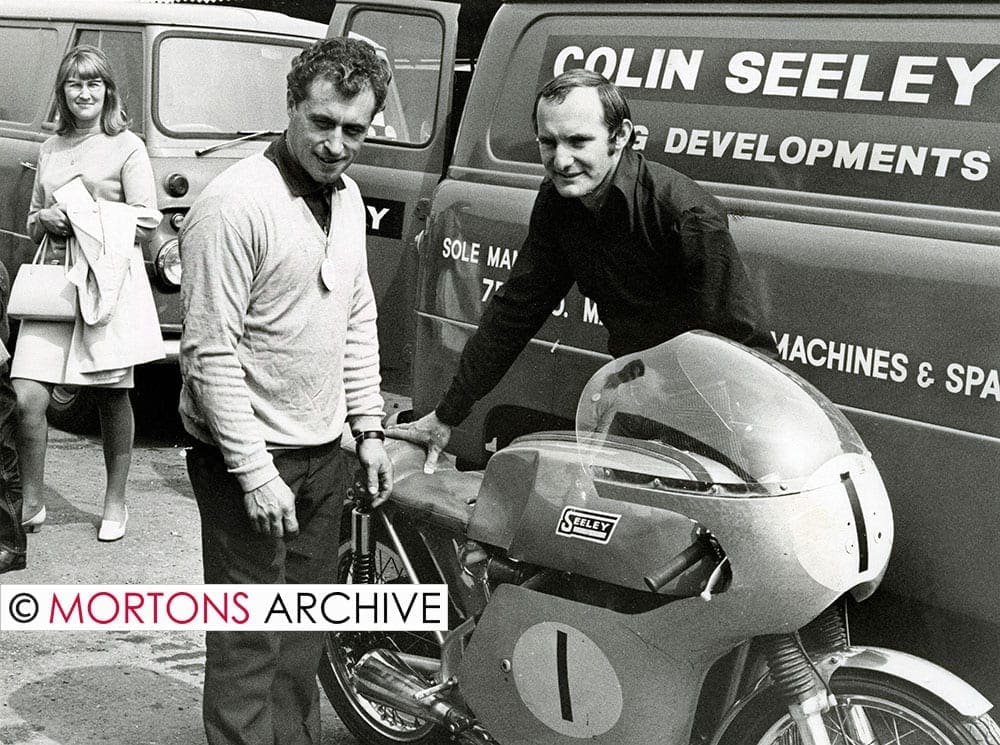 Motorcycle racing and manufacturing legend Colin Seeley has died at the age of 84. It is understood he had been unwell for some time.
Seeley was a successful sidecar racer in the 1960s and with Wally Rawlings won a number of British and World Championship races, including the 1964 Dutch TT, a race he called his biggest victory.
Nine years ago, The Classic MotorCycle had the pleasure to sit down with Colin Seeley about his career and achievements over six decades in the motorcycling industry.
How did you get involved in motorcycling?
I was determined to ride for as long as I can remember. I went to watch at Brands Hatch when it was first surfaced in 1950 and ridden the opposite way round. It was always the sidecars that impressed me. I remember Eric Oliver with his Norton but particularly works test rider Ted Davis with the Vincent.
How did you get started?
First, there were early off-road excursions. I left school at 15 and began an engineering apprenticeship. At 16 years old I passed my test on my father's Vincent, a 1939 Series A, one of which we have just sold at Bonhams for a record breaking sum. I could not afford to race until I was running my own business. I actually started riding in scrambles with a Triumph.
Until 1963, you were sidecar racing with AMC machinery. Were you officially attached to the factory?
As an AMC agent the factory helped me in my race endeavours. I can still remember how appalled Jack Williams was when he saw us fitting 16in wheels to a brand new G50 Matchless and welding a sidecar to it – I was a self-taught welder!
Any other memories of AMC?
My first wife, Joan, worked as a secretary in the sales office, where Jock West was in charge. We first met at the factory and married in 1962.
Who were your most feared or respected rivals when you were sidecar racing?
I didn't fear them, but my era probably saw some of the most competitive sidecar racing, with people such as Max Deubel, Georg Auerbacher, Pip Harris, Chris Vincent, Jacky Beeton, Helmut Fath, Fritz Scheidegger, Florian Camathias and so many more, all capable of winning on their day.
Is there any special event, or events you recall as a racer?
The Isle of Man was always special. I rode there seven times. Six times I finished in the top six and had three rostrum placings, but never made the top step. I believe I hold the fastest Island lap by a single cylinder sidecar outfit. Possibly the best victory was winning the Dutch TT in 1964, there was always keen rivalry between the British and the Germans but that day we were in front of them all.
Tell us about Wally Rawlings. Were you always teamed with him?
Unfortunately, Wally is no longer with us. He rode in the 1959 Manx Grand Prix, and even sold his bike to join me as a passenger, at which he was excellent. He worked in my businesses with me until 1973, when he moved to the West County. For my last races in 1967, I teamed up with Roy Lindsey.
Your books must contain the most comprehensive record of racing during that period. How long did it take to write them?
I didn't work full-time, but it was seven years in all. In spite of the ups and downs of my business career, I had kept a lot of records and papers that helped enormously in putting the books together.
You have had success as a racer, a manufacturer, a writer, a team manager and a charity organiser – which has been the most rewarding?
Everything has been rewarding in its own way. I have worked with, and been supported by, different people in each of those areas. I believed we could all take pride in what we had achieved as part of a team.
Do you ride on the road?
I haven't ridden on the road for some time – I can't find the time! I still demonstrate race bikes; I think I can still put on a good show and I find that very satisfying.
What about your relationship with Bernie Ecclestone?
I knew Bernie right from the start of our working lives. In the 1970s we worked t together in Motor Racing Developments (building Brabham race cars) and I consider I have dealt with that period fairly and openly in my book. The working arrangement is mentioned in other publications, but I have not always been asked to give my version of events. I have not spoken to Bernie for a long time.
Tell us something we don't know about Colin Seeley
The Joan Seeley Pain Relief Memorial Trust tries to help as many people as it can in gratitude for the treatment Joan, my first wife, received. The care she received went beyond the bounds of duty. Anaesthetist Dr Frances Sorrell, head of department at Greenwich Hospital, readily agreed to become chairman of the trustees.
---
How do we some up Colin Seeley's life, career and decades of involvement in motorcycling? He wrote in his second book 'Colin Seeley…and the rest' that it had been a fantastic journey from the early days. From passing his test on his father's Vincent HRD sidecar outfit, working as a mechanic at Schwieso Brothers to starting up on his own in 1954.
"I have been privileged to have known many British World Champions," he acknowledged. "Geoff Duke, Bill Lomas, John Surtees, Mike Hailwood, Phil Read, Bill Ivy, Ralph Bryans, Dave Simmonds, Rod Gould and, of course, Barry Sheene, not forgetting the three-wheeled World Champions Eric Oliver, Jock Taylor, Steve Webster, Darren Dixon and Tim Reeves, all fantastic."
Rest in peace, Colin Seeley.
Mortons Books is to publish a brand new book on Colin Seeley which will be released on March 7, 2020. Copies are just £7.99 each and 10% of profits will go to the Joan Seeley Memorial Trust (reg.278697). For more information about the homage to this industry icon, please click here.
---
Advert

Enjoy more The Classic MotorCycle reading in the monthly magazine. Click here to subscribe.
---