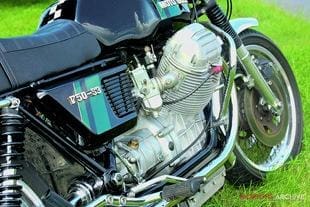 'Like a Lear jet parked alongside a Boeing 747' was the way journalist Mike Nicks described Guzzi's newly introduced 750cc S3 on its launch in 1975. The low, lithe S3 was the then latest Guzzi sports twin sculptured by Mandello Del Lario's ace designer Lino Tonti, while the 747 in question was Ducati's towering 861cc. There's no denying that with its huge V-twin engine and low 29in seat height the Guzzi looked every inch a refugee from the race track and even when parked, looked capable of attaining its claimed top speed of 130mph.
The fact that it was hard pushed to exceed 115mph or that the running gear shared much with its T3 touring sibling mattered little, for it had the lean, aggressive look of an uncompromising sportster and one which Bedwyr Evans fell in love with.
At that time, ownership of the Italian thoroughbred was pipe-dream for the 16-year-old whose teenage zest for speed had to be satisfied on an AP50 Suzuki, a little bike that didn't immediately meet with wholesale parental approval.
"My father rather begrudgingly agreed for me to have a moped, which he imagined would be a two-speed twist-and-go. You can picture his reaction when I turned up at home with a five-speed 60mph AP50! That said, dad quickly got used to my love of motorcycling and came in very handy with help insuring a 600c Norton Dominator!"
Ownership of the British twin taught the young Evans a lot about the mechanical side of motorcycling – knowledge which allied to the skills and precision he's learned from his 'day job' assembling aircraft engines has resulted in a superbly restored machine. But beauty of his S3 is not merely skin deep and as I would later find out the bike – which Bedwyr describes as 'joyously non standard' – is a very potent piece of machinery.
From those first tentative outings, riding the AP50 around his native Aberystwyth, he and partner Jennie have covered thousands of miles on Guzzis but he had to wait more 25 years before the object of his teenage lust, the S3, was turned into reality.
"Jennie and I were at the MAG 'Duck Dick' rally in Gloucestershire, where I bumped into fellow Guzzi club member Paul Baker – apparently a friend of Paul's had an S3 which he'd intended to restore but family matters had taken over and he was looking to sell, would I be interested?
"Upon viewing the bike I discovered that it was in what autojumblers would describe as 'large lumps' but it looked complete so I decided to buy it and took it back home to Bristol."

Article continues below…

Advert

"A cursory inspection revealed that moisture had attacked the engine; the chrome was starting to strip from the barrels and the hard-to-find black Lafranconi silencers were badly corroded. It was obvious that I was going to have to spend quite a lot of money returning it to its former glory. So, it sat in boxes for the next five years while I gathered money for the project."
Prior to restoring the bike, Bedwyr had decided that the finished article would be in his words 'a culmination of years of Guzzi ownership' – a machine that would go and stop well and also incorporate all the modifications he'd learned from two decades of touring and hill climbing the venerable V-twins.
I first witnessed it in action when Bedwyr and Jennie joined me for my annual trip to Coupes Moto Legende in France; the way it performed and accelerated alongside my standard SP1000NT indicating it was no run-of-the-mill 750 S3 and one I was keen to sample – but, before I throw my leg over the low seat, perhaps it's time to remind ourselves of how the Mandello V-twin evolved.
Founded in 1921, Moto Guzzi is undoubtedly Italy's most enduring manufacturer but it's sometimes easy to overlook that by the mid-60s the company was in dire straights; there was little in the way of new models to excite the bike-buying public and a very unhealthy bank balance. Their saviour would be the now famous V-twin, an engine which started life not in a motorcycle but in a bizarrely styled 3×3 lightweight tractor, initially designed as a go-anywhere all-terrain-vehicle for the Italian ministry of defence.
Work on the engine in motorcycle form began in 1964 and when the prototype appeared at the 1965 Milan show it was hailed as the star exhibit. The new bike, the V7, was the biggest and arguably the fastest bike to have rolled off the Mandello production lines but, despite its many attributes, was still a rather lardy heavyweight tourer and far removed from Guzzi's famous racing heritage.
By the late 60s Lino Tonti had taken over as chief designer and at last Guzzi had someone capable of filling the shoes of the legendary Carcano who had retired. Shorn of its belt driven generator – this replaced by a crank mounted Bosch alternator and, with the pots enlarged by an extra 50cc, Tonti was able to create his image in metal of what a sports Guzzi should look like; the V7 Sport.
First shown at the 1971 Milan Show, the Sport – which featured low, racy looks and multi-adjustable 'swan neck' clip-ons – created a sensation and enthusiasts went away drooling. Initially hand-made in the race shop, the first production models rolled out of the factory in 1972, superseded in 1974 by the disc-braked 750S and a year later by the S3, this new 'sportster' introduced alongside the 850T3 tourer.
Production of the S3 would last for some 18 months and of the 900 or so made around 200 were brought into the UK by Luton based importers Coburn and Hughes, where it retailed for £1,749. As previously mentioned, the S3 owned much to its T3 stablemate and it would be this technique of creating a stylish sports bike, using parts from a less glamorous models, which Guzzi would become masters at.
Bedwyr's nut-and-bolt restoration had taken him just over 12 months to execute and I was intrigued to find out what lurked inside the standard looking engine.
"Somewhat surprisingly for a big twin, most of the standard engine's horsepower is produced in quite a narrow band at the top of the rev range, so my intention was to build an engine with more power everywhere.
"The chrome had stripped off the original barrels but luckily I got a pair of 950s from Raceco who were selling off their stock of Guzzi spares. From the same source I also bought a standard 950 crank, a SS2 fast road cam and a pair of gas-flowed cylinder heads. Prior to reassembly, the crank, rods and pistons were all balanced by Bassett Down balancing and the cases were vapour blasted. I was concerned that with the extra performance the engine would probably run quite a bit hotter, so I fitted a deeper sump and enlarged the oilways for a better flow of lubricant. From experience I've found the standard Guzzi box to be durable but fairly slow, so while the engine was stripped down I re-profiled the selector drum, which has made for a much slicker, smoother gear change. I also did away with the twin points and replaced them with a 'fit and forget' Lucas Rita electronic system.
"I thought a lot about the carburation and experimented with a pair of Mikunis but they made the throttle action very heavy: I therefore reverted to the standard Dell'Orto VHB 30s and these have only required re-jetting and their needles raised a notch for a perfect fuelling."
In period advertising blurb, Guzzi claimed that the standard S3 would turn out a heady 72bhp and was good for 130mph, impressive if true but one would have to call into question both the size and strength of the Italian ponies and the accuracy of the factory's measuring instruments… However, in the real world, this is all fairly academic as Guzzis are bikes for riding and already Bedwyr's S3 has seen plenty of action. Since restoration it's been used to tour in France, Spain and Norway, been hustled at great speed around the former formula F750 track at Prenois Dijon and also embarrassed plenty of modern multis on track days.
You might not think that a bike which shouts 'sports' can possibly be used for touring but by fitting a pair of the multi (and easily) adjustable swan-neck clip-ons from the V7 Sport, it only needs a tank bag and set of throw-over panniers to transform it from a race-track refugee into a serious and comfortable mile-muncher. Bedwyr tells me that at 'normal speeds' it returns over 50 to each gallon of unleaded and thanks to the huge tank has a range of around 200 miles.
Viewed from any angle the engine looks monstrous, but this is rather deceptive due to the incredibly low seat height. Designer Tonti intelligently made full use of the transverse V-twin and the top rails of the frame actually run between the cylinders with even the well of the fuel tank below the top of the heads – this means that even the most vertically challenged of riders can sit with their feet firmly planted on the ground.
The bike oozes quality and is exemplified by the 'eggshell' finish paintwork, which was beautifully executed by Ultimate Paint in nearby Keynsham (remember radio Luxemburg and Horace Bachelor?).
All of the engine work, reassembly and wiring were carried out by Bedwyr himself, although he discovered many useful contacts along the way.
"Spares GB provided excellent service but most of the jobs I couldn't do myself – like the repairs to the petrol tank and paintwork – have been carried out locally by 'man-in-a-shed' Alan Brown and Ultimate Paint who were both extremely helpful.
"The switch gear was the usual rather 'naff' CEV snuff boxes so I ditched those in favour of those from a modern Ducati and also replaced the headlamp bracket and tail-light for those used on the V7 Sport – other Sport components used were the adjustable swan-neck clip-ons and the seat. At some time someone had discarded the air box but I managed to locate one from a dealer in Holland, who also came up trumps with a pair of genuine Lafranconi silencers. I replaced the rather ineffectual side-stand with a substantial one from a Guzzi Cali' and fitted a 'High Torque' starter motor.
"A standard S3 handles pretty well but it was shod with very narrow section tyres so it now sports slightly wider Akront rims with modern Battleaxe 110/80 and 130/70 rubber. To sharpen up the handling I've now got Koni shocks on the back, slotted some better quality dampers into the front forks and de-linked the brakes. With the adjustable clip-ons the riding position is spot on but I modified the gear lever and put some rose joints on the linkage which has resulted in a more precise gear change. The only reason I chrome plated the swinging arm and footrest carriers is that I thought it would blend in well with the overall look of the bike."
In my opinion, Tonti got things spot on with the design of the S3 and, as I soon found out, Bedwyr's 950 goes even better than it looks. I'd arrived in Bristol on my own SP1000, a proven mile eater… but an asthmatic slug when compared alongside the S3. Thanks to the high torque motor, starting was a one press of the button affair and it responded instantly to the twin-pull Tomaselli with a healthy but not antisocial (well, not to my ears!) bark through the Lafranconi silencers.
It was obvious that a lot of work had gone into balancing the engine – which not only picked up very quickly but was much smoother than that on the SP – although at a standstill there was some pronounced torque reaction, something which I took as a request to head for the open road. First gear on the S3 was fairly high so although it may not have the rip-roaring, rubber-smoking acceleration of many of its contemporary superbike rivals, the Guzzi processes an effortless ability to gobble up the miles – no small wonder that Bedwyr wears a permanent smile!
Gearboxes on the Mandello twins have a reputation for durability and longevity, but for anyone brought up on a diet of Japanese fours they would probably feel ponderous and even agricultural. A surprise then to learn that the numerous hours Bedwyr spent re-profiling the selector drum gear has resulted in 'a-knife-through-butter' gearbox and one of the best I've ever experienced on a Guzzi, including those on the very latest 1100cc twins.
In the 'real world' of motorcycling the top speed of a bike is fairly irrelevant but I understand that at the end of the long start-finish straight at Prenois Dijon the S3 was pulling an indicated 120mph with still plenty to come… The motor is red lined at 8500rpm so, by my rather crude calculations, top speed would be somewhere in the region of the maker's original claim of 135mph.Impressive stuff for a 30-year-old push-rod twin but its natural habitat is twisty A-roads, an environment where the torquey engine, precise handling and excellent brakes can be enjoyed to the full. The S3 and T3 were the first Mandello twins to appear with the company's now famous linked brake system and, while it undoubtedly has its merits, it means that the handlebar lever only operates a single front disc. The feeling of 500lb of motorcycle being under-braked can be a rather unnerving one and like many owners with sporty riding aspirations, Bedwyr has de-linked the standard set up in favour of a conventional one and the twin front Brembos now perform superbly.
After a lifetime of riding Mandello twins I can vouch that it's not only one of the smoothest, sweetest handling Guzzis I've ever ridden – in itself a fine testimony to both Bedwyr's creative and mechanical skills – but also a just reward for his long and patient wait.
Thanks to Bedwyr and Jennie for their splendid hospitality and allowing me to sample the superb Guzzi.