Details of a high-speed ride from Paris, to Geneva, and then on to Cannes.
Featuring in a special supplement with the May 12, 1955, issue of The Motor Cycle was the account of Cyril Street and his friend Brian, who took part in the Deuxieme International Trophée Cannes-Geneve-Cannes, on a brace of BSA Golden Flashes, one of which can actually be spotted in the accompanying picture, sporting a GB plate and the registration number OOV 694.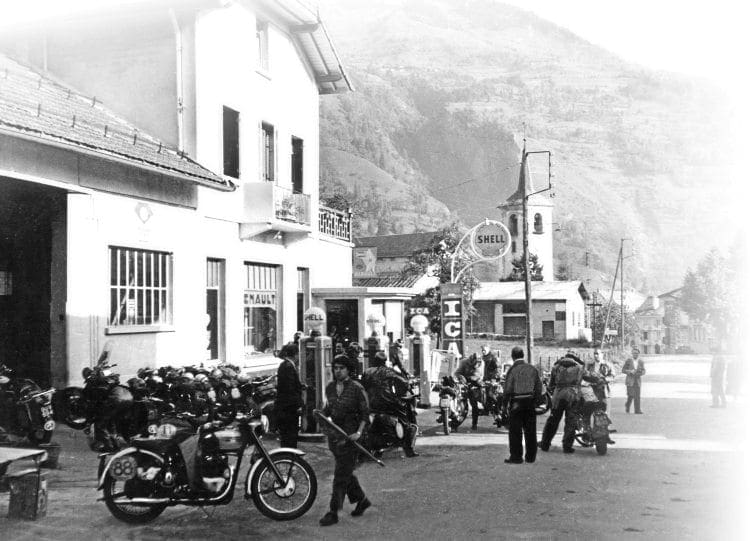 The event was run by the Moto Club de Cannes and was simply put, a '…fast night run on good roads, a break in Geneva, and then, the next day, zestful riding over the French Alps to Cannes.' Although there was a start in Cannes, there were others in Geneva and Paris.
It appeared though that Cyril and Brian left everything rather to the last minute and after being 'staggered' by the £5 entry fee they pitched up in Paris, their chosen start point, having not received either route cards or number plates. They had decided to press on nonetheless, surmising that they'd be issued with the necessary in Paris. In fact, on arrival they discovered that they were themselves supposed to have provided the number boards – which was easily rectified, with numbers painted on the pannier boxes and windscreens (both fitted prior to departure) of the BSAs, while their equipment – including compulsory crash helmets – was checked over too. The next shock came with the route card – there wasn't one! Simply they were given a list of time-check points and left to find their way there.
Read more in the April issue of TCM – out now!
Enjoy more The Classic MotorCycle reading in the monthly magazine.
Click here
to subscribe.