A Manx Norton ridden by motorcycling great Barry Sheene to victory in his last winning race will be one of the stars at Bonhams Autumn Stafford Sale on 15/16 October, featuring alongside a host of trophies won by the late World Champion. The latter are offered direct from the Sheene family.
ex-Barry Sheene 2001 FWD Manx Norton 500cc Racing Motorcycle 'FW02', estimate £55,000 –75,000 (photo credit James Mann)[/caption]
The 2001 FWD Manx Norton 500cc Racing Motorcycle 'FW02', specially prepared for the two-time World Champion by celebrated engineer Fred Walmsley, took Sheene to first place in the Lennox Cup motorcycle event for the 2002 Goodwood Revival Meeting.
Following his retirement from top-level Motorcycle Grand Prix racing in 1984, Barry Sheene, 500cc World champion of 1976 and 1977, took up historic racing in the late 1990s, competing in Australia and the UK.
Having ridden Fred Walmsley's modern Manx Norton re-creations since 1999, Sheene had scored two victories on a Walmsley motorcycle in 2002 before receiving his cancer diagnosis in July. He put in a last-minute request for Fred to provide a machine for the Goodwood Revival meeting which necessitated an overnight dash from the Czech Republic for the engineer to prepare a motorcycle in time.
A 2001 machine, used by Isle of Man TT rider John Cronshaw, was fitted with a 'borrowed' 90-bore engine, (the Norton's own unit being deemed unsatisfactory for the Goodwood meeting), which powered Sheene to win the second of the two Lennox Cup races and claiming overall victory for the trophy.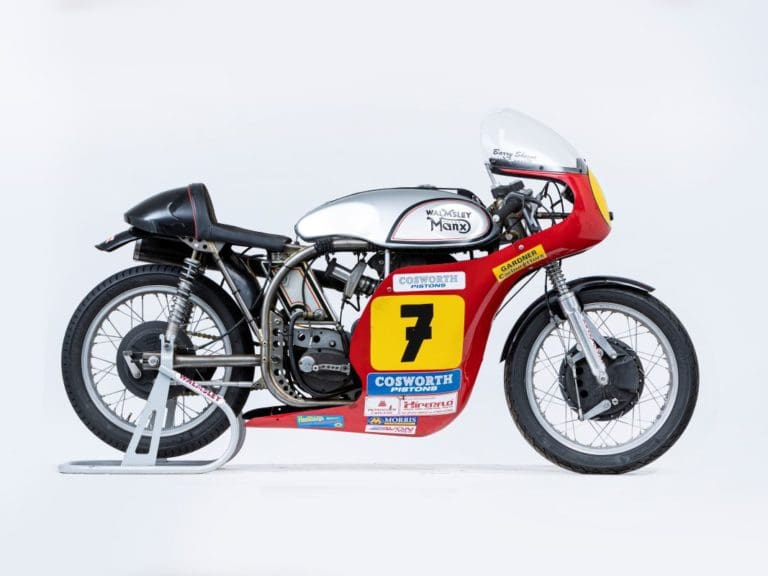 Following Sheene's untimely death the following March at the age of 52, the Lennox Cup was later renamed the Barry Sheene Memorial Trophy in his honour.
Meanwhile, FW02 was reunited with its original engine and then used by Cronshaw in the 2002 InCA European Classic Series. The machine was sold by Fred Walmsley in 2003 and run at Le­­ Mans the following year. Its final outing is believed to have been the 2005 Sheene Run charity memorial motorcycling event in Rugby.
The Norton is fitted with its original race fairing, emblazoned with Number 7 (Sheene's famous race number) and has an estimate of £55,000 – 75,000. The motorcycle will be on display at the Bonhams Goodwood R­­evival Sale 16/17/18 September in advance of the Stafford auction.­­­­
Also featuring at the Bonhams Autumn Stafford Sale, for the very first time, is a selection of trophies won by Barry Sheene at the height of his career, offered direct from his family: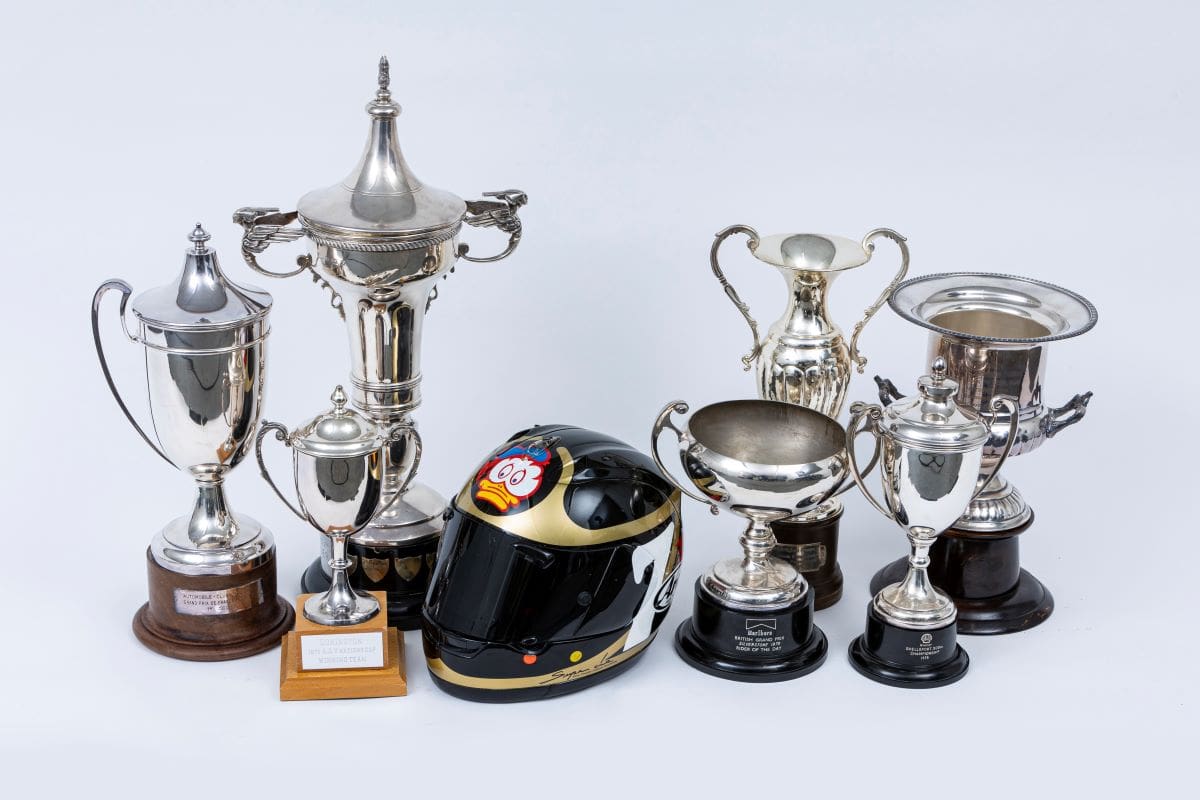 A 1st place trophy in the 4th International Grand Prix at Pesaro, 17th August 1975. Estimate £400 – 800.
The Automobile-Club L'Ouest Grand Prix de France Moto 1976, 1st place trophy awarded for the 500cc class. Estimate £600 – 1,000.
The Daily Mirror Winners Trophy for Great Britain vs USA race AGV Nations cup, Donington, 23rd September 1979. Estimate £400 – 800.
The MotorCycle Star rider trophy awarded to both Barry Sheene and Mike Hailwood. Estimate £500 – 800.
Several Barry Sheene race worn Arai helmets, including a helmet with blacked out visor and FIM applied sticker inside the helmet, together with a blue Arai helmet bag. Estimate £800 – 1,200.
Bonhams returns for its traditional Autumn Stafford Sale at The Classic Motorcycle Mechanics show on 15 and 16 October. Other highlights include the Forshaw Collection of speedway motorcycles, led by a 1934 Crocker Speedway 500cc OHV, estimate £100,000 – 150,000.
Contact the Bonhams Motorcycles team for further information or to register to bid: [email protected] – +44 (0) 20 8963 2817 or visit bonhams.com/motorcycles.
Sale: The Autumn Stafford Sale: The Classic Motorcycle Mechanics Show
Location: The Staffordshire County Showground, Stafford
Date: 15-16 October, 2022