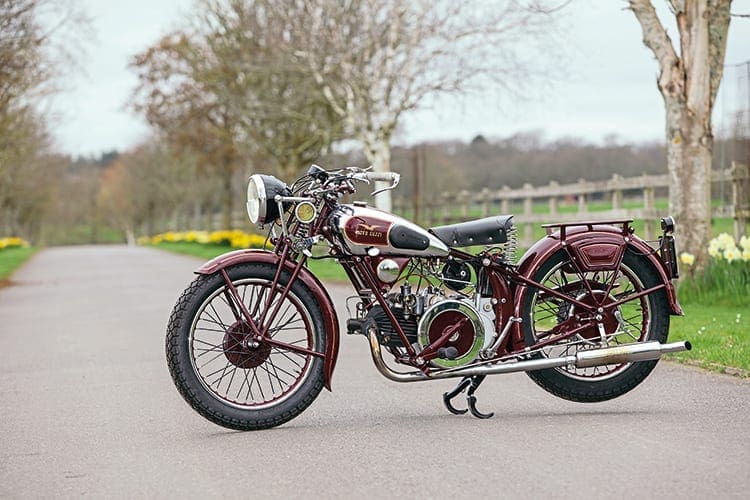 Engines with more or less vertical cylinders have always been so much the norm that only a few motorcycle manufacturers have consistently adopted a different layout. Harley-Davidson has stuck with its V-twins, which look and sound so good, BMW has persisted with its logical flat twins and sensible shaft drive, and for the last half century Moto Guzzi has espoused transverse V-twins, which combine the virtues of each.
It wasn't always like that, however. From its foundation in 1920 to the last Nuovo Falcone of 1976, Moto Guzzi championed single-pot engines with their cylinders laid down almost horizontally. And this layout also makes a lot of sense. It lowers the centre of gravity, which is always a good thing, it means you can have a neat and effective exhaust, and you don't have to fight gravity getting oil to the top of an engine. On the debit side, the spark plug and valve-gear are inevitably closer to spray and dirt thrown up by the front wheel, and the engine and gearbox need careful design if they – and the wheelbase – aren't to become excessively long.
The layout is perhaps best suited to a two-stroke engine, where the potential valve problems don't arise, and I haven't forgotten how Moto Guzzi exploited laid-down engines with its excellent little Zigolos. However, here we are concerned with bigger jobs, and by 1935, when the featured bike was made, Moto Guzzi had learnt all they needed to know about this type of engine. In fact, they got it pretty much right from the start and this motor looks remarkably similar to that of the first 1921 Normale, from its exposed flywheel and kickstart quadrants, right down (literally) to its apparently odd 'opposed' valve-gear arrangement.
Read the full story in The Classic MotorCycle September 2018
---
Advert

Enjoy more The Classic MotorCycle reading in the monthly magazine. Click here to subscribe.
---