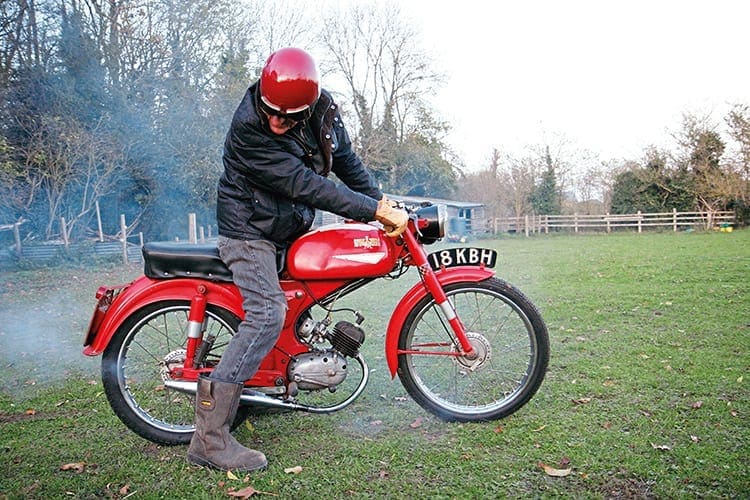 On my way to examine Adrian Coole's unmolested-looking Bianchi Gardena 75, I once again ask myself a question that always stumps me when I go and report on a sub-125cc motorcycle from the past. What is it that's changed so much over the decades that small capacity, lightweight motorcycles have so dropped out of favour with motorcycle manufacturers? Is it simply because there are no willing paying customers for them? Or is it because the amount of traffic on our roads nowadays simply prohibits the use of motorcycles with a reasonably low top speed and less than rapid acceleration?
Whatever the reason might be, it's a shame, because lots of fun can be had in small packages, and the Italians in particular were experts in putting together an attractive, well-built 'motociclo leggero.' I've been lucky enough to have ridden many classic Italian lightweights over the years, and most of them were stunning – the Maserati SS50 'Rospo' and Mondial 50 Sport come straight to mind, but the Bianchi Gardena is just as handsome, with just the right amount of exotic Latin flair.
Adrian, a 76-year-old retired electronics engineer and now furniture restorer, is the owner of this 1959 version, and is in complete agreement – the fact he's owned it for 56 years is proof surely that these little jewels of engineering and style can definitely get under your skin. In fact, Adrian is only the second owner out of two.
"It was registered on September 30, 1959, by the supplying dealer, W G Hoar, 'cycle specialist' in High Wycombe," explains Adrian, "and it was my friend Kenneth Tapping who bought it new, and his is the only other name on the old original logbook. I then bought it from him in 1961, and, well, I've had it ever since!"
It's always fascinating how years and years of ownership of a motorcycle is usually also accompanied by a thick folder of notes, documents, manuals and of course, loads of anecdotes, and Adrian's Bianchi is no different. From the original registration document, in those days issued by the local county council (Buckinghamshire in this case), and an original well-used manual in Italian, there are also many drawings made by Adrian's own hand to reference certain components, and some interesting certificates of insurance documents from the early 1960s. There's also a precious black and white photo of Adrian on the Bianchi that dates from around 1962, and it's the only shot of him with it from those earlier days. There are also slightly faded colour prints of the Bianchi during one of the rolling interventions that Adrian has undertaken over his almost 60 years of Gardena ownership.
And then I ask why he bought the Bianchi all those years ago – did he just simply love Italian bikes? His reply partly explains one of the reasons why these small machines were so popular in their heyday.
"No, I didn't care that it happened to be Italian – I just needed wheels to get to work. My car, an old 1947 Hillman Minx, had broken down yet again, and the police had called round to knock at my door at 6am to advise me to kindly move it off the highway. I had no money, and I had previously owned a Douglas Dragonfly, and had a helmet and a bit of suitable gear, so I thought of getting a bike again. My friend Ken offered me the Bianchi as he was moving on to a car, so I probably paid him something like 20 quid for it. It was only a couple of years old and hadn't done many miles, and most importantly, didn't require any work, so I bought it and started using it at once.
"The journey to work was three miles each way across High Wycombe to Cressex, but it was my only transport, so I'd be out on it at weekends too. We'd go two-up to places like the Hellfire Jazz Club, and my girlfriend Diana (now Adrian's wife) hated it, but, I tell you what, it used to go very well even with a pillion. It has a really rorty motor and so could cope with it no problem," laughs Adrian, though Diana, who is with us, doesn't look so convinced. "I then made you buy car as we then got married and bought a house," she reminds Adrian.
Read the full story in The Classic MotorCycle August 2018