I have always enjoyed reading the AJS articles published in The Classic MotorCycle magazine over the years.
The August 2020 edition about your father's AJS, and how to identify with letters and numerals on the various models was very interesting.
The June 2018 edition featured Bryan Lingard's 500cc AJS R8, on reading this article again, I realised that the registration number was near to my 1929 350cc, as you will see from my photograph.
My AJS is unrestored and original, with the pinkish panel on the petrol tank. I bought it in 1967, and had to do a few small jobs for an MoT, in order for it to be roadworthy. I rode it for about a year, and have not used it since, due to other interests.
I built a racing 1275 Mini Cooper S, and raced for several years, until family responsibilities took over. In the mid 1970s my interest turned to 1930s Austin Sevens, when I built an A7 Ulster Sports, and also acquired a Ruby Saloon. My most recent restoration is a 1969 Wolseley Hornet, building and fitting one of my old 1275 'S' racing engines.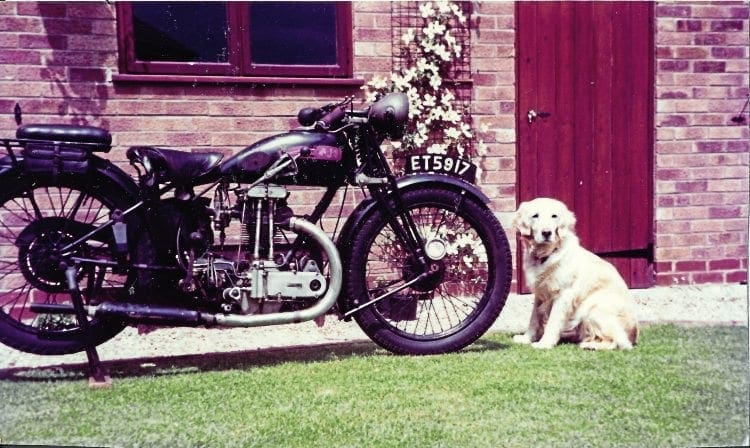 The AJS is now nearing the top of the 'list of jobs' to be completed, hopefully when I have finished my current Austin 7 project it will get some attention.
The date on the back of my photo is June 1986, which is probably the last time the Ajay was outside. We had recently moved to our current house, and I had to build a lean-to behind the garage to store the AJS, along with car parts, lawn mowers and bicycles etc., an accumulation of 'stuff' over the years now hides the bike.
I do recall when working on it many years ago that it has alloy valve spring caps, and carbjector silencers, and wonder if they were fitted in the 1930s.
Michael Shearer, Leicestershire.
Read more Letters, Opinion, News and Features at www.classicmotorcyle.co.uk and in the December 2020 issue of The Classic Motorcycle – on sale now