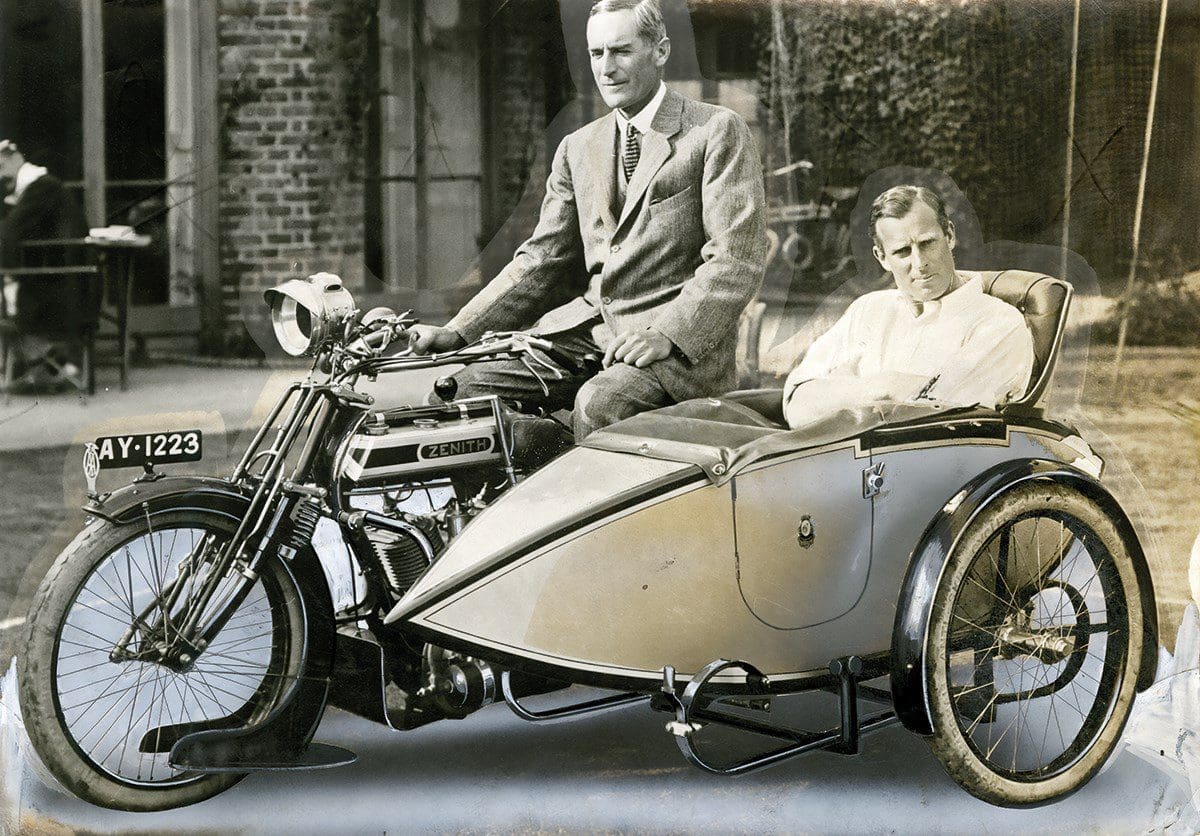 Fabulous Zenith V-twin transporting a Wimbledon tennis champion and steered by an Olympic gold medal winner.
Image: Mortons Archive
Published in the May 20, 1915 issue of The Motor Cycle, this picture was shown with the caption: "The late Captain A F Wilding, in the sidecar of Lieut-Commander G W Hillyard's 10.8hp Zenith machine. Both were keen motorcyclists, although, of course, they were known best as lawn tennis players, especially Wilding. The latter was killed a few days ago."
Alongside the picture came an obituary, explaining: "Undoubtedly Captain Wilding, R N D, who was killed in action recently in France, was best known in the world of sport as a lawn tennis champion, but the part he took in the motor cycle pastime was by no means inconsiderable.
"From the earliest days he was an enthusiastic motor cyclist, and the first important competition in which he took part was the Land's End to John O'Groats trial in 1908, in which he gained a gold medal. His next feat was to attempt to get from London to Constantinople on his Bat, to which make he was very faithful. He succeeded after many trials and troubles in getting as far as Nish, in Serbia.
"Wilding was a splendid specimen of humanity, a fine sportsmen, and a genial companion. Owing to the fact that he had travelled the world he was cosmopolitan in his ideas and had little of the British insularity about him."
His obituary goes to mention that Wilding was a fine cricketer and also born in New Zealand, the latter fact puts him in a class of one, as the only Kiwi to win the Wimbledon tennis championships, which Wilding did in 1910. He defended his title at the next three Wimbledons, too, on his way to becoming a true world sporting icon.
Tony Wilding was born on October 31, 1883, in Christchurch, to wealthy English parents, who'd emigrated to New Zealand. Anthony's father Frederick was a tennis doubles champion and also represented New Zealand at cricket; Anthony was a first class cricketer too, but tennis was Tony's real game. He (partnered by Norman Brookes, from Melbourne) was responsible for Australasia winning the Davis Cup (then the International Lawn Tennis Challenge) in 1907, 1908 and 1909. Wilding was ranked number one in the world in 1911, won a bronze medal at the 1912 Olympics and his record of 114 career outdoor records, shared with Rod Laver, still stands, as does Wilding's 23 titles in a single season, in 1906. The duo of Brookes and Wilding won the 1914 David Cup; it was Wilding's last sporting conquest. He was killed at Neuve-Chappelle, France, on May 9, 1915.
George Hillyard was at the time of the photograph secretary of the All England Club, and had been a tennis player of some repute himself, though he never won a Wimbledon title, twice finishing runner-up (1889 and 1890) in the doubles. In 1905, Hillyard lost to Wilding in the final of the Bad Homburg tournament, in Germany, but won (at the age of 44) gold in the 1908 London Olympics. An ex-Navy man, Hillyard rejoined for the duration, surviving and living to the age of 79. Interestingly, as well as both being first rate cricketers, Wilding and he were the same height – at 6ft 2in, they'd have not come across many taller contemporaries.
The picture reproduced here was first published in The Motor Cycle of July 10,1913, with the heading and caption thus: "TENNIS CHAMPIONS AS MOTOR CYCLISTS" going on to say, "A F Wilding last week retained his title as All England tennis champion by defeating M McLoughlin. He is seated in G W Hillyard's Zenith-Gradua [custom-built Millford] sidecar. The engine is a special cycle car type JAP of 90mm bore by 85mm stroke, 10.8hp."
Sporting a Leicestershire registration, Hillyard's Zenith (alas, no longer on the DVLA registers) used one of the ohv '90 bore' engines, with a capacity of 1082cc, making it just about the fastest thing on the road in its day, plus what a fantastic and stylish combination it is – a suitable choice of transport for its illustrious cargo.