The theme at the last of Elk Promotions' 2019 events was celebrating 70 years of Royal Enfield's seemingly evergreen Bullet model, and there were numerous examples of the marque in attendance at the South of England Showground at Ardingly, Sussex, on October 27.
Oddly, no Bullets made the awards, but a 1938 Royal Enfield 500 JM was runner-up in the pre-1950 class, while 'Best Royal Enfield' was declared to be a rare 1971 'Gannet'.
As a brand, Royal Enfield may already have vanished, Japanese competition was intense, but Enfield specialists Gander & Gray had taken the learner favourite Continental GT and pushed the 'cafe racer' styling to a new level.
For students of matters AMC, there was a fascinating display of 'what might have been'.
These were prototypes that never made it into production. Best pre-1950 was a 1948 Norton P6A, one of only two survivors after it was decided the Model 7 would become Norton's take on a half-litre twin.
From 1965 was the 650 Norton 'Unified' twin, but parent company AMC was in financially straitened times by then.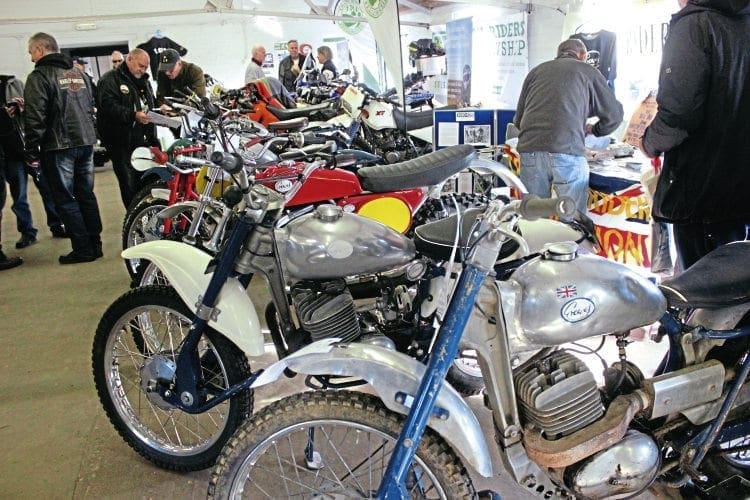 'Best British' was awarded to a 1914 BSA. Joe Stanton's Model K was one of the earlier 500cc versions, making a first visit to Ardingly. Class runner up was a 1927 Norton Model 18 from Steve Elston's collection.
Personalities always feature at Ardingly and long distance travellers Gordon May, Zoe Cano and Jacqui Furneaux have all published books on their respective adventures.
A true stalwart of off-road sport was Johnny Giles, a Triumph works rider for many years and still working hard on ideas to improve the Meriden twins in which he delights – all that at 90 years old!
The British Owners' Club of Essex have become Ardingly regulars and always have a variety of mainly classic machinery. This time, it merited the 'Best Club Stand'.
Alan Turner.
View more images of this event and read more News and Features in the January 2020 issue of The Classic Motorcycle –on sale now!