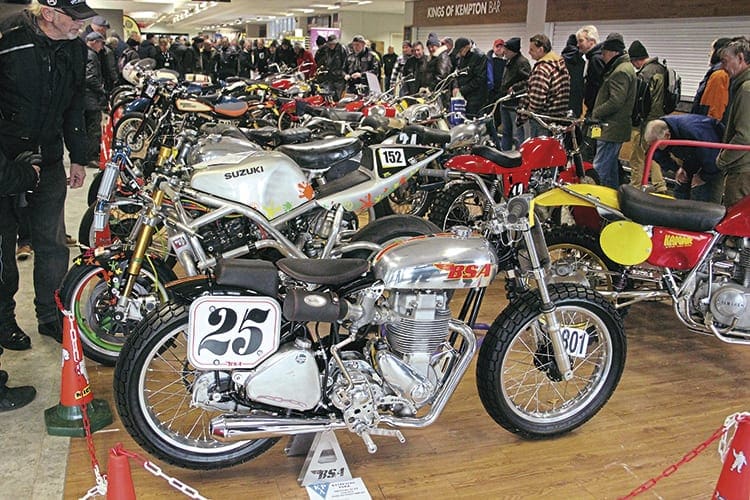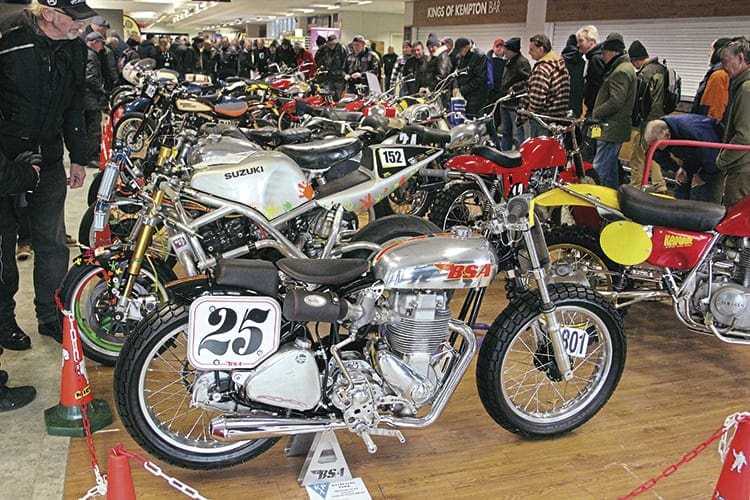 Held beneath one of the huge grandstands, the Southern Classic Off Road Show & Jumble brought the season at Kempton Park racecourse in Surrey to a close in December. The long line of jumble stalls at the show offered projects and pre-Christmas bargains, all eagerly pursued by those who took advantage of the 'early bird' admission.
Clubs and a sprinkling of trade stands filled much of the space, with a fine mix of machines covering just about every discipline.
In recent years, American flat-track racing has served as an inspiration for those with a creative streak looking to build something that looks as if it could be competitive 'over the pond'. At Kempton, the practice received positive encouragement with a specific class sponsored by the Ace Cafe. This year, the award went to Wayne Holtam for his Harley-Davidson Sportster.
Among the one-make clubs were showings from Ariel, Cotton, Greeves and DOT. The Hayes and Southall MCC had some of its bikes and a TV explaining motoball to the curious. The club would dearly like to find opponents for its enthusiastic team.
The mud-encrusted bikes that were part of the Golden Valley Classic MCC display demonstrated the club's off-road interests.
BRT Racing, the family effort of Neil Brailsford and son Martin, looked as if it could add considerable presence to any race grid. All the bikes are superbly prepared and BRT's Ducati TT2 secured a 'highly commended', only capped by their Seeley Suzuki, which took second place in the best in show competition.
Another large area was given over to entries by individuals. It was easy to spot the best in show, awarded to the flat-track style Gold Star of Julian Wigg. Julian was a former top grasstrack rider and now a Kempton regular. He had assembled the BSA as a tribute to American race legend Dick 'Bugsy' Mann. A special short-stroke 500cc Gold Star engine was installed in a rigid frame with finishing touches sourced from grass and speedway components, or hand-made, such as the oil tank and the exhaust that was so neatly tucked in.
Reflecting the variety of the show, the awards went from the pencil-slim 50cc Itom of Jaden Darwell to Andrew Proctor's 'highly commended' sidecar cross Yamaha Wasp outfit.
Words and photographs: Alan Turner.