Sleep deprivation is a fact of life for the parents of small children – and long distance trials riders – who keep going through the night as the rest of the world slumbers.
Words: Richard Rosenthal Photographs: Mortons Archive
Friday, May 20,1904, saw the first competitor, Mr C W Brown, 2¾hp FN, await the starter's pleasure for the inaugural MCC London-Edinburgh, the club's first long distance trial. Brown should have departed from the General Post Office, near St Paul's Cathedral, on time at 10pm, but MCC Captain Mr J A Jackson was so overcome by the moment, he flagged Brown's FN away eight minutes early, so by that time, he was already threading his way through North London.
As the last rider headed across the capital, officials leapt into hansom cabs, one likes to imagine with the famous instruction 'Don't spare the horses!' as they made haste for King's Cross station to take the 11.38pm to Grantham, in the certain expectation the steam train would outpace entrants, enabling them to oversee the control point.
Today, this seems an overkill of organisation, especially as all check points on the way to Edinburgh were staffed by able enthusiasts, but both the organising team, led by Jackson, and the MCC committee were extremely worried. Why so concerned?
The organisation of the first MCC long distance trial was a huge undertaking, both financially and in terms of manpower.
If few entries were received and most starters had broken down before the first checkpoint at Grantham, the MCC would publicly have egg on its face, and the press were out in force, pencils sharpened. In the event, the MCC logged 70 entries with full payment which resolved the financial concerns, but of these, only 46 started, which was worrying.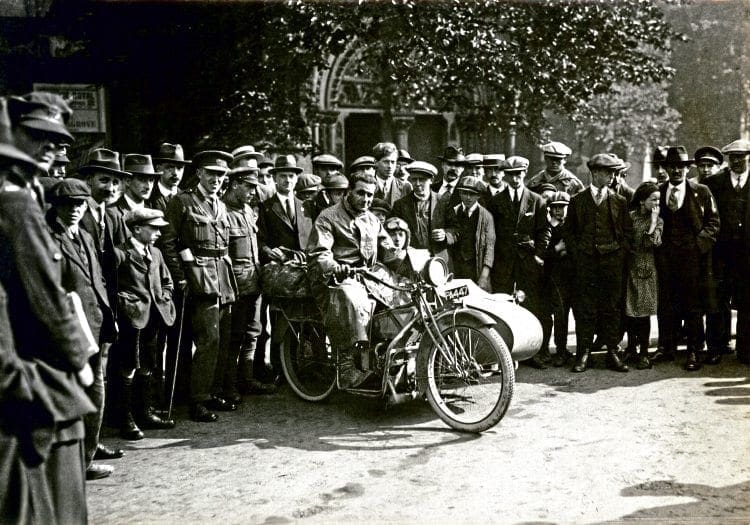 Happily, most made it to Grantham, easing the weight on Jackson's shoulders, and of the 46 starters 34 completed the 400-mile run within time. Overnight, MCC long distance trials became 'must do' events for riders, motorcycle makers, accessory houses and spectators.
Read more and view more images in the July 2019 issue of TCM – on sale now!