Contents:
Archive photograph 6
News 8
Pioneer Run 12
Letters 16
Subscribe and save 22
BSA Gold Star 24
DJ Rally 32
Gilera B300 34
Triumph special 40
Velocette KSS 46
Tom Arter story – part two 52
Speedway show 58
ISDT Triumphs 60
Closer look – military lightweights 66
Mick Ofield interview 72
Men who mattered – Rob Fitton 74
Triumph unit rebuild 76
Roy Poynting column 80
Jerry Thurston column 82
Sketchbook travels 84
You were asking 86
Restoration guide – Triumph 3TA/Tiger 90 90
Technical feature – MoT testing 92
Classic components AMC Teledraulics 98
Diary 110
Next month 113
Editor's Welcome
With a variety of other magazines also in our group, the guys putting them together really struggle with letters and correspondence, in that they don't receive much of it.
We, thankfully, are the opposite, with our letters pages going to three this month, to try and clear some of the build-up, though I've still lots outstanding.
It's brilliant, so please keep sending them in, but also, bear with us a little, as we will try and print them all, eventually, it just may take some time. Though as I say, it's a great (and rare, from what I can tell) position to be in.
Otherwise, I've managed to get out for my first club run of the year, 100-plus miles on a vintage motorcycle, starting off in just above freezing temperatures, and then largely in pouring rain all afternoon.
Which made the fact I had a (relatively tiny drum) front brake that's never been particularly good and a dummy belt rim back stopper, (that in the dry works reasonably well, but in the wet not so much), somewhat interesting. Still, no harm done or encountered, and in the way of our sometimes masochistic pastime, it was all rather enjoyable. Especially the warming cuppas at the end.
What was interesting was once again the diversity of machine that had turned out.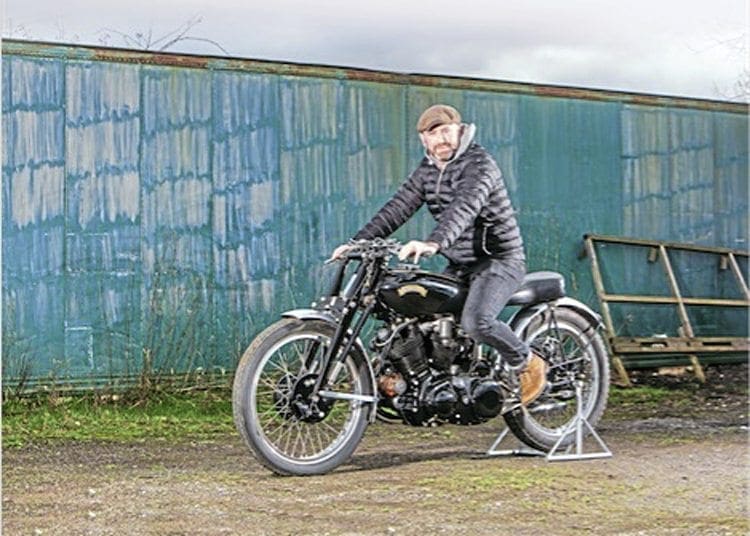 From approximately 30 motorcycles in attendance, there were five of us on prewar machinery, then from there on every decade of eligible machine was represented, plus some more modern 'tag alongs.' So it can't really be levelled as a non-inclusive event; in fact, all were welcome and there's no evidence of prejudice among all those taking part. Great stuff.
Otherwise, I have been playing in the shed with various things, including my swinging arm Velocette 'project' – which is taking shape, slowly – plus getting a few more plans into order.
The Morini I acquired last year (it's 1978, my birth year; I was born September 9, it was registered September 11) is pretty much ready for a summer's riding, including our annual trip to Cadwell Park for Morini Day (it'sJuly 11, at Cadwell Park) and so I'm looking forward to putting some miles on that too.
The side-valve Sunbeam is still sick, owing to its broken oil pump, but hopefully it may be remedied for later in the year, as that's become a staunch favourite.
It has totally changed my perceptions of side-valves (there's no way it's a steady slogger) and has a performance which belies its appearance, which makes it even more satisfying to ride.
And although the reading, writing, restoring and so on is enjoyable too, it's the riding that makes this interest what it is. Even in the freezing cold, pouring rain, with no brakes…
James Robinson
Editor
---
Advert

Enjoy more The Classic MotorCycle reading in the monthly magazine. Click here to subscribe.
---