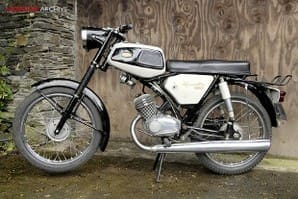 For those of us of a certain age this nutty 90 would have been the motorcycle of our dreams as we sent off for our first provisional licence. Instant acceleration would have equated to instant fun and with its Jikov carburettor set at 90 degrees down draught and porting directly into the crankcase it would certainly have cut the mustard. Thanks to Isle of Man resident Job Grimshaw's offer I've the chance to be a teenager again. I know the 90 will live up to expectations, I only hope I can…
By the late 1960s Jawa and CZ had built a reputation for their top value two-stroke single and twin roadsters, world beating speedway 500s, all conquering scrambles machines and a decidedly useful racing history, albeit marred by the death in 1969 of former World Champion Bill Ivy practising for the East German GP at Sachsenring on the 350cc V-four two-stroke. At first glance Job's Jawa 90 is so unlike most other factory road going models current in the period you'd be forgiven for wondering why. But take another look at the 90 and Jawa's two-stroke racing programme of the period – both have carburettors porting into the crankcases with valve control, both deliver aggressive performance relative to their size and there are frame similarities in that some racers used spine-like frames, albeit of space frame type, while the tiny roadster employs a single tube design.
Although Jawa roadsters were imported into the UK in relatively small numbers compared with the products of Honda, implying modest production levels from a small concern, this couldn't be further from the truth. Initially located in Prague, Frantisek Janecek's National Arms Factory entered an agreement in 1929 to build under licence German Wanderer 498cc machines leading to the name Jawa ('Ja'necek and 'Wa'nderer). A year later Englishman George Patchett joined the company to design a succession of new models including a unit construction 500cc racer. Although most 1930s models used Patchett designed engines, Jawa fitted Villiers units for its first two-stroke models.
By WWII Jawa had a number of factories including the Prague-Nusle and Tynec sites. After the war Jawa was nationalised and a new designer, Vaclav Sklnenar, replaced George Patchett, who'd returned to the UK in 1939. Rapidly new models appeared including the 250cc unit construction single with automatic clutch, operated as the gear shift lever is actuated and a feature for decades to come, a 350cc twin cylinder two-stroke and dohc parallel twin cylinder racers in 250, 350 and 500cc capacities with and without superchargers. Business wise Jawa took over the Oger factory in 1947 and two years later was combined under the control of Czech Auto Industry (CSAZ) with CZ.
Significantly for the subject Jawa, CSAZ controlled a number of other concerns hence Jawas could have been assembled at a number of sites across Czechoslovakia if demand warranted. As an example of the Czech Auto Industry position and control within the country, the famed marque ESO was established in 1949 at Divisov, again under the control of CSAZ, to build 250/350 and 500cc speedway and scrambles motorcycles. While many models became renowned nationally and to a lesser extent internationally, the DT5 speedway machine became a world beater which by 1965 developed over 50bhp running on dope. A year later the model became the Jawa 500DT type 680.
During the 1950s and 1960s the CSAZ generally marketed smaller road going models as CZ and the larger examples as Jawa. Thus CZs were usually of 125, 175 and 250cc plus the Cezeta scooter and utility ranges, while the Jawa brand was reserved for the 250 and above models. However this form was changed to suit specific export markets. During the late 1960s CSAZ overhauled its road going motorcycle range and stuck to the existing branding scheme except for a new range of nippy 50s, which bizarrely were marketed as Jawas. These models although from the same controlling parent company were designed and built in factories away from the regular Jawa/CZ production.
Despite their tiny engines of just under 50cc the new models were fast, tough little machines capable of carrying two average adults at speeds way above those of normal mopeds. The bottom of the range type 23 three speed tourer with a relatively conventional two-stroke engine developed 4bhp@6500rpm to give a 50mph solo top speed.
The two faster models had rotary valve single cylinder two-stroke engines, with barrels inclined marginally forwards. Developing 6bhp@7500rpm, the five speed models were sold as either the type 5030 Cross or 5031 Roadster. Both were good for 88kph (55mph). Despite their impressive type numbers and model names the only difference between the two was the Roadster had a low level exhaust pipe while the Cross wore an upswept fitment. Nonetheless there was no doubting these were, for the late 1960s, hot little motorcycles.
This 50cc development work and production took place at the Povazske Strojarne (NC) Povazska Bystrica factory site where a range of conventional Babetta and other mopeds were designed and built. At the same site in the early 1970s the featured 90cc Roadster and its mate the 90cc Cross were developed and produced. They were similar to the 50 but with an enlarged engine.
Their rotary valve engines with slightly inclined cylinder barrels were of 88.7cc (48 x 49mm bore and stroke) with 8.5:1 compression ratio, initially tuned to produce 9.5bhp at 6500rpm. Further development gave the 10.5bhp at 6500rpm engine most production models including Job's Roadster used. Like the smaller 50s, the 90s scaled 76kg but were faster, the factory claimed a top speed of 100kph (62.5mph) ridden solo. Again like the 50s the major difference between the two models was the exhaust system style. No battery is fitted, the electrical system comprises direct lighting generated by a flywheel set-up with lighting coils while a further coil generates power for an external HT coil, triggered on Job's machine by mechanical ignition points. Some later models are believed to have a similar flywheel generated ignition system with electronic control. All are of 12V.
Bought privately by Mr Grimshaw only three months before The Classic Motorcycle's recent visit to the Isle of Man, the Jawa 90 Roadster was in good order and as photographed. Job rolled it into his workshop for the once over plus a thorough clean and happily discovered the machine was exactly as described by the vendor: in good running order. The eagle eyed amongst you will notice its UK mainland registration number predates the machine by six years. We can offer no explanation but when appropriate the 90 will be re-registered with a Manx mark.
Humour aside size remains a funny thing and one dimension can create an illusion of size, or lack of it, in another plane. With a seat height of 30 inches the Roadster should seem, in height at least, only marginally smaller than the 32 inches of that famed giant, the oil in frame BSA A65, yet in comparison the Jawa 90 appears tiny despite my posterior being only two inches nearer the ground. The illusion is created by the machine's diminutive length and as can be seen from the accompanying photographs, a six-footer completely dwarfs the Roadster 90's rolling chassis.
Despite this clear size problem the engine itself couldn't have cared less, making light of a 13 stone rider with off the mark performance to thrill any teenager 35 years ago. Regardless of angle of slope encountered, no engine screaming or clutch slip was required. Instead, spin the engine, feed in the clutch and despite its near extreme state of tune the engine possessed an unexpected degree of flexibility giving smooth rapid getaways devoid of drama.
Although there isn't that much flywheel effect, the engine proved difficult to stall and the usable power band ran in the region of 2500-7000ish rpm, perhaps even higher. Certainly as revs increase so does power output but lower down the range there was sufficient power for normal touring-style riding. Yet as with any highly strung small capacity performance motorcycle the more use that is made of the performance end of the power band the more fun. While this nutty enjoyment is great for a burst between towns or even on a 30 or 40 mile jaunt, I'm sure most would want something larger and more relaxed for the touring role.
Some express concern with regard to engine life when such machines are used for their maximum performance. In many cases two-strokes appear to thrive on revs and with a tiny engine like this Jawa unit, the reciprocating mass of the moving parts is minimal. As a result the engine at speed is vibration free and supported on generous roller, ball race and needle roller bearings it will withstand such use for a very long time. While it may be difficult to seriously damage the engine's health with performance work, it has a most efficient way of pulling up riders who change up gear to early or hang in a high gear for too long… it simply dies and any amount of throttle opening won't save the day. Instead, knock it down a couple of cogs and try again.
The gearbox has a conventional type clutch, rather than the device which works automatically on actuating the gear lever as found on larger CZ and Jawa models. No amount of gear changing for the endless passes for the photographer followed by clutch slipping turns in narrow IoM lanes caused it a moment's distress and after all this abuse, neutral was selected instantly from second or first gear while stationary. Left foot gear change operation was switch-like and precise.
The large diameter single top tube frame was surprisingly rigid, which, combined with its tiny wheelbase and low weight, made sharp cornering terrific fun. As the test was carried out under conditions featuring a typical supply of IoM weather (mist hiding penetrating rain) the tiddler couldn't be pushed to its handling limits, but on a dry day terrific would give way to outrageous. Braking proved good but in truth thanks to the weather the 5in drums couldn't be given a good handful, but viewed with regard to the machine's weight and braking area they appear as though they'd pull the machine up rapidly in an emergency.
Surprisingly the seat and suspension were comfortable… but quite how such a small short seat is supposed to be a dual rather than 'duel' seat is beyond this scribe. Add to this the fact the pillion footrests are mounted in Italian lightweight fashion on the swing arm would make for a less than comfortable two-up trip. But then if you were 17 (rather than 57) and your girlfriend was snuggled up tightly behind you, one can assume this 90 would have been perfect.
Lighting wasn't truly tested other than to switch them on. In typical direct lighting fashion they dim markedly as engine revs drop but once at the operational 2500-plus rpm they were bright and thanks to size, reflector design and the 12V bulbs, give a good beam of light. Both rear and brake light were bright even at low engine revs. The tiny horn was truly tiny in terms of decibels. At speed there would be no point in using it as the exhaust note would drown it, but happily it is loud enough to satisfy the MoT tester or an over inquisitive police officer.
The model represents a vastly different concept by Jawa from its regular fare which won't appeal to everyone but if outrageous two-strokes are your thing, then you ought to bag a Roadster or Cross 90.