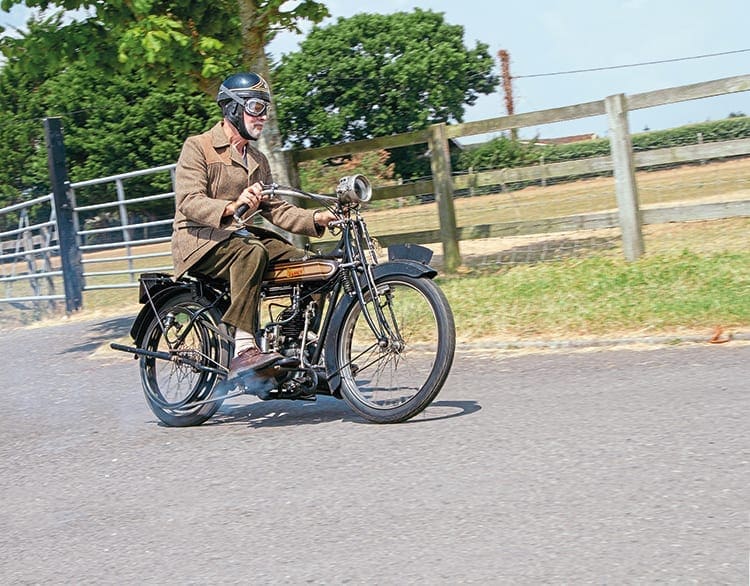 Of its time
There was a range of James' known as Pineapples in the pioneer period. This is a lightweight survivor that gives a valuable insight into the period in which it was built.
Words: ROY POYNTING Photographs: TERRY JOSLIN
It's an unfortunate fact that financial constraints usually delayed the application of advantageous developments to the motorcycles most in need of them, and many of us remember riding weedy post-Second World War tiddlers struggling with two or three-speed gearboxes when much torquier four-strokes had the benefit of four ratios. 
It was no different in the pioneer years and it would be a mistake to think the apparent simplicity of motorcycles like this little veteran James made them more user-friendly. On the contrary. The lack of features like a clutch and kickstart – already becoming available on more expensive heavyweights – makes riding them more of a challenge.
Why? Well, if you have no kickstart you have to push start, and when/if the engine fires, a clutch allows you to keep it going while you prepare for the off. With no clutch, running and jumping is the order of the day, and if you miss your footing when the engine starts you could easily land on the floor while the bike takes off on its own – embarrassing, uncomfortable and expensive!
On the other hand, if the engine doesn't catch, it's not easy to decide why. For one thing there's no kicking it over in a darkened room to see if there's a spark, and looking for a flicker of light from the plug while you push a reluctant machine along in daylight is tricky to say the least. So, if this article is accompanied by photographs of tester and restorer in head-scratching engineering mode, you now know part of the reason.
The James' owner, Dave Watson from Bedfordshire, is under no illusions about any of this. "It's a bit of a learning curve for me," he admits, "my main interest has been in bubble cars where my background as a welder and fabricator came in handy, and I've restored a Vespa, but it was just chance that when I saw this bike for sale in November last year, and made a cheeky offer, it was accepted straight away. I didn't even know what the vendor meant when he told me it had a Pioneer Certificate, but I'm really glad now that I own a genuine veteran and I intend to use it."
That raises the common dilemma with old machines – especially for purchasers who are skilled at restoration – of whether to refurbish or leave well alone. "For the moment I've decided on the latter course," says Dave, "especially after spectating at the Pioneer and Banbury Runs and seeing how many of the veterans there still had an undisturbed patina. The James was a bit too tatty for use as it was, though, so I consigned it to Sammy Miller's museum workshop for a bit of tidying, like having the saddle and toolbox recovered, and getting the engine running properly."
And that's where I came in while Bob Stanley – Sammy Miller's main man – was finishing the sorting out procedure. It happened to be the day before the Goodwood Festival of Speed and Sammy had taken the powered rollers away, but as I trotted alongside the bike while Bob pushed, I could see a refurbished magneto plus new spark plug provided a nice visible spark. That left too much or too little petrol as the likely cause of an initial reluctance to fire-up, and the problem turned out to be nothing more serious than a blockage in the supply pipe (newly made plain main bearings had already ruled out crankcase leakage as a cause of a weak mixture). Thereafter the James behaved itself except for an adjustment needed to ensure it stayed in first gear. Hey ho, these things are all in a day's work for people like Bob, and they show the wisdom of comparative novices employing their services.
Before the rivet-counters get typing, I'd better admit to a slight simplification when I refer to 'first gear' because there isn't actually a gearbox. Instead – as with some other pioneer machines – the James has two primary chain drives with different sprocket ratios and either can be selected by a dog-clutch on a countershaft. As you can probably see in the photographs, the chains are deployed on either side of the crankcase with the nearside one behind the exposed flywheel still wearing a protective cover, while the offside one is exposed to view.
Digressing slightly, I was talking to a self-professed motorcycle enthusiast recently and I was surprised to hear him say he'd never heard of James motorcycles. I can only assume his enthusiasm didn't stretch back very far, because James was one of the longest-lived of all the British manufacturers, lasting from 1902 until the mid-1960s. Like many pioneer companies it grew out of a business that initially made bicycles. Founder Harry James started manufacturing Ordinary (penny-farthing) cycles in Birmingham in 1880 and successfully made the transition to safety cycles similar to those we see today.
Read more in the November issue of The Classic MotorCycle – on sale now!