Held at Canada Heights in Swanley, Kent, in December, the Jack Thompson Trial is a celebration of diversity.
Words and photographs: ALAN TURNER
The Talmag Trial has achieved an enviable reputation for evoking the time when big four-stroke singles ruled the roost in postwar mud-plugs. The Jack Thompson Trial has a more liberal approach. There is a similar focus for the main competition, but it also welcomes two-strokes, up to those of the 1960s Spanish invasion.
In 2019, the 30th Jack Thompson took place on its traditional date of the first Sunday in December. With bikes (and riders) of assorted capabilities, two laps of 20 sections and the inevitable shortage of daylight, the event is no easy undertaking.
However, once again this year, the organising Sidcup & District MCC proved it could rise to the occasion with a very enjoyable day out for 118 entries (and a further 10 sidecar passengers) – healthy numbers that confirm the trial's format has been successful so far, but this year there were further tweaks to keep it that way.
It is no longer necessary to turn a blind eye to the machines based on continental bikes, including some of those brought over by riders from the other side of the Channel. There has been a welcome European presence in recent years.
Among the entries will be found genuine over-the-counter trials or competition models, some almost as they left the factory all those years ago, but others subtly, or not so subtly, modified.
With the escalating prices of genuine classic trials bikes, creating a special is often a cost-effective alternative.
It's no surprise that Bantams are a popular choice, but the unusual MVs of Vic Allan and John Bull proved to be competitive, where modern technology (and keeping within the Jack Thompson regulations) has provided a competitive steed from unlikely bases.
Perhaps most striking was Roy Haines' Ariel Arrow/Leader. He described the twin-cylinder engine as 'surprisingly effective'.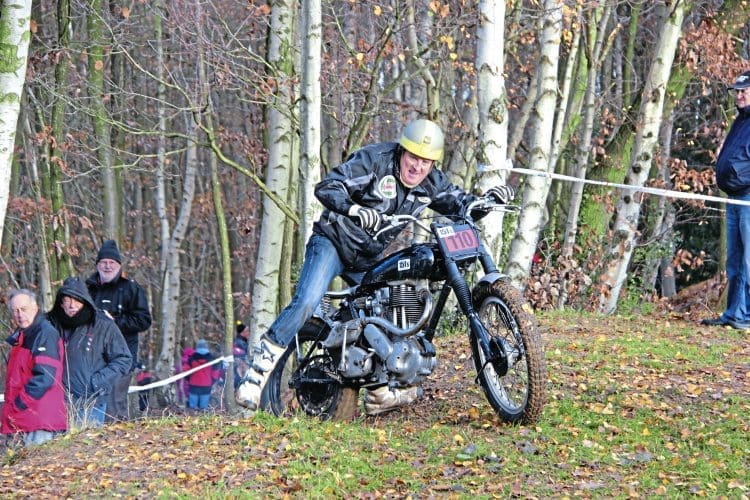 A new class has been instituted for 'Gentlemen and Lady Riders', taking the easiest (yellow) route riding anything except rigid-framed bikes, where two or four-stroke rigids continue to contest their own respective classes.
However, the premier award still goes to the four-stroke rider tackling the white (hardest) route on a pre-unit bike. Mark Watmore, on a Triumph twin, was the only exception to the big singles.
Originally, there were two entries from riders who had ridden in all 30 previous Jack Thompsons.
Sadly, Joan Westbrook was still recovering from a lengthy stay in hospital and had to withdraw, leaving Velocette MAC campaigner Bob Onley with a remarkable, and now unique, record.
There were some different sections this time, avoiding the regular Canada Heights mud-holes but with plenty of climbs involving often tortuous routes among the trees.
A test of concentration, losing a five for straying off-course was enough to put the unfortunate out of contention in an event that is notable for its low scores – at least among the front-runners.
For the third time running, Phil Wiffen (400cc Matchless) claimed the Jack Thompson Trophy, but his zero score was matched by Daniel Carter (490cc Norton) so these two share the trophy this year. Neil Osman (410cc AJS) claimed the First Class Award, losing just four.
The Unit Four-Strokes were just as close, with Dave Shave (350cc Grumph) and Steve Monk (350cc Royal Enfield) also recording clean sheets. Dave Plumb's loss of three on a 250cc Tiger Cub won him a First Class Award.
Although riders of rigid-framed, girder fork bikes also get the yellow route, the necessary compromises still leave quite a challenge.
Dave Blanchard secured another win as he wrestled his Triumph Tiger 70 into steering where he wanted it to go in the girder-fork category.
He had a comfortable margin over Bob Onley. Rigids with telescopic forks got the red route and Adrian Mountain's six-mark loss netted him the Vinall Trophy, with Ian Hayward (350cc AJS) losing twice as many for the First Class Award.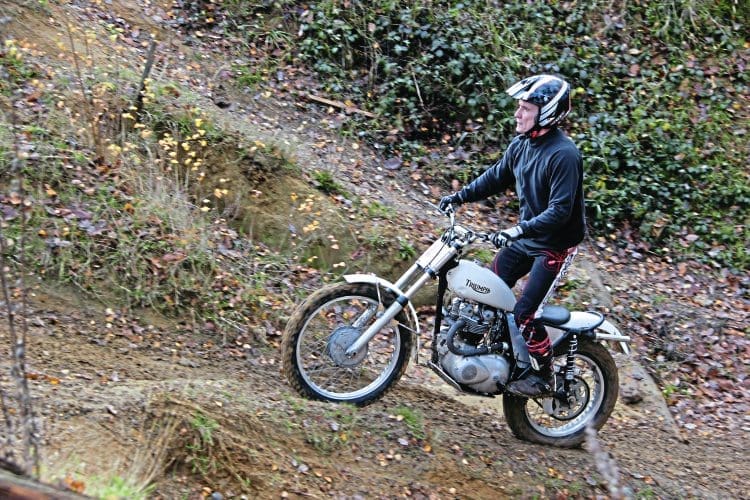 The Sidecar Class is always popular, especially with the spectators, when the sound of Ariel singles or Triumph twins being blasted up the steep sandy banks adds welcome nostalgia.
This was another close contest. Peter Pesterfield (Ariel) has won six times in the last 13 years. Paul Randall won four times consecutively (2013-17) and Paul Fishlock had two wins.
This year, Peter Pesterfield/Deborah Smith (Ariel) needed a steadying foot on the twists of Section 12 and that one mark was their only loss. However, Paul Fishlock (Ariel), with Debbie Merrell in the chair, managed all 40 sections without losing a mark to claim the Burlingham Cup. Paul Randall (Triumph) had inveigled his stepson Harry into the passenger's role but his lack of experience kept the crew in a relatively lowly sixth place.
The toughest two-stroke class saw last year's winner Tom Bartrum (185cc Vantage BSA) lose a single mark. However, Bryn Matton (250cc Francis-Barnett) was clean all the way to take the premier award, while Trevor Baker (250cc James) recorded three separate dabs for his second-class success.
Graham Hayward (250cc Greeves Scottish) completed his first lap on the red route totally clean, his nearest competition coming from Dean Latter (250cc Sprite) who had dropped just one. Next lap, both riders recorded losses of three, leaving the Greeves man with a one-mark winning margin.
Transport problems for the Belgian contingent meant no show for them this year, so the international interest was centred on a five-strong Netherlands entry.
Unfortunately, Jan de Klerk managed only three sections on his Norton 16H before he was forced to retire. Rob van der Ham (350cc Matchless) and Peter Weeink (200cc Triumph Tiger Cub) managed second and fourth respectively in the 'Gentlemen and Ladies' class.
Tjeu Schrers (BSA B40) got a 12th, while Martien Vermeulen on his rigid/tele 450cc FN got a fifth.
The riders can be at a disadvantage as it appears the subtle alterations found on many British bikes would not be acceptable under continental rules.
While the aces might be scoring single figures, others had found their capabilities duly tested. With the back marker closing sections soon after 2pm, it had been an intense, but enjoyable morning's sport for just about everyone involved.
View more images of this event and read more News and Features in the March 2020 issue of The Classic Motorcycle – on sale now!