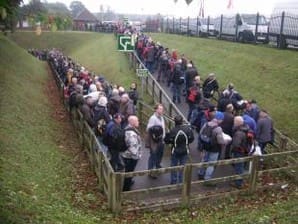 There's a whole host of highlights throughout the weekend for visitors to enjoy, with multiple time world champion John Surtees and two of his championship winning machines surely the star attractions. There's display bikes aplenty too, traders and autojumblers offering all manner of motorcycle related items and even live action in the form of the world famous Wall of Death.
If you've not made weekend plans yet, then it is the place to be.
Here's what you need to know…
Whether attending the show or following the action online, there are plenty of ways to keep right up to date with everything going on.
Classic Bikers Club will be posting regular news, photo and video updates throughout both days of the show, with of everything shared across our Facebook and Twitter pages.
The Classic Bike Shows app is available to download on all Apple and Android devices, and contains all the latest news from the show along with site maps and daily schedules.
If you've not already bought your tickets then a one day adult pass is available on the gate for just £13. Parking is free.