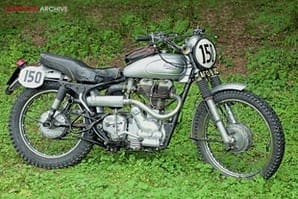 The 1967 International Six Days Trial at Zakopane could only be described as an embarrassing debacle for Great Britain's National teams. Motor Cycle magazine's report screamed; 'ISDT; IT'S EAST GERMANY AGAIN – BRITAIN'S TROPHY TEAM THRASHED IN POLAND', and that was certainly not overstating the case. Only two members of the National Trophy Team finished the event, putting GB second from bottom, while our two Silver Vase Teams finished in 16th and 21st places out of 23 entries.
Out of this carnage only three British riders won Gold Medals on British motorcycles – Johnny Giles (Triumph), Gordon Farley (Triumph) and a certain W Mills (Royal Enfield). The first two were household names and works riders, but who on earth was W Mills, and why was he riding a machine that had been out of production for years?
Well, to answer my second question first, the Royal Enfield Bullet was effectively brand-new, even though its design and tooling had been passed onto Indian manufacturers a decade earlier. Since 1962 Redditch had concentrated on its trendy twins and quarter-litre jobs, but that didn't mean that nobody loved the big singles any more, and trials riders were especially fond of it. The Bullet had been instrumental in popularising rear suspension for off-road sport in the late-1940s, and had remained a popular choice for the diminishing number of four-stroke enthusiasts ever since.
But if you were such an enthusiast, and wanted a new Bullet, the only option was to make your own, and nobody was better qualified to do so than Welshman W (Billy) Mills. He was the workshop foreman at 'The Automobile Palace' in Llandindrod Wells – an emporium described by motorcycle photographer and off-road sport authority Don Morley as the Welsh equivalent of Comerfords – and had been responsible for preparing many machines which he and others rode in national and international events. He obviously had an affinity with Royal Enfields as he had successfully campaigned a 350cc Bullet for many years, and in the mid-1960s – with the Redditch factory on the ropes – Billy decided to apply his accumulated knowledge and skills for the final time, and he assembled the last long-distance trialler ever made with new factory parts.
We can be certain of that detail because, in a letter that came with the machine, his widow describes how he bought the special engine in Enfield's closing-down sale. She suggests it was destined for a works scrambler but was never used, and that's no surprise as – while Bullet scramblers were listed for a while in the sales brochures – they were never highly regarded, and even the factory didn't seem very interested in them. For instance, the Rickman brothers were briefly supplied with them in pre-Metisse days, and their complaint that they had to return them for frame repairs every week was met by the suggestion they only enter scrambles fortnightly!
But while the Bullet might not have been up to the mark for top-class professional scramblers, it was about as good as the non-works rider could buy off the shelf for ISDT-type events, especially when put together by an expert like Billy Mills. His frame evidently came from a 350cc Bullet roadster, and it's not known when it was made or if it had been used previously. No matter, it was common to both capacity classes and was little modified when used on the competition versions – so the licensing authorities accepted the Bullet as a new machine, and issued it with a 'D' suffix registration.
I'm sure it was at least as good as new, and probably significantly better on account of its special motor and careful assembly. Billy Mills certainly didn't stint on its preparation, and thoughtful little touches can be seen everywhere.
The rear wheel spindle nut and other similar parts, for example, have tommy bars welded onto them to save time and to reduce the size of the tool kit. The front wheel spindle on Enfields is held by fork-end clamping blocks and a small spanner to undo their four retaining nuts is still taped to the right-hand fork leg.
Rather surprisingly, Mills opted to use the double-sided front brake offered on Redditch-built twins around 1960, rather than the simpler single-sided one normally seen on Bullets. It was fairly heavy and not particularly effective, so its use on an ISDT bike possibly reflects availability rather than a deliberate choice, especially as it complicates wheel removal and increases the number of spare operating cables that have to be taped in place ready for emergencies.
In fact, for an established rider and mechanic, Billy Mills was surprisingly ready to accept the factory's ideas. The frame, for example, still has the pillion footrest mounting loops that betray its roadster origins, when hacksawing them off would have saved a few valuable ounces. Similarly, while Mills replaced the original and rather vulnerable forged footrests with sturdy triangulated steel ones, he put them in virtually the same place – generally accepted as being too far forward for off-road balance and control – and he also bolted a weighty duplicate set onto the frame for emergencies.
Billy kept the original frame geometry, too, shunning the chance to increase ground clearance that was meagre even by contemporary trials standards. He even kept Enfield's little bash plate, although it does nothing to protect the most vulnerable part of the engine – the oil filter at the bottom of the timing cover. The petrol tank is of the standard competition type, made in steel – no doubt its extra strength and lower cost justifying its greater weight – and it has loops welded to it for attachment of the typical tool bag. It might seem surprising a roadster dual seat is fitted, instead of the lighter single saddle normally seen on trials Bullets, but that's what Enfield used on its scramblers, and Billy Mills presumably felt ISDTs were more akin to scrambles than trials.
He did make one small but significant change to the cycle parts – reflecting the way ISDT riders almost inevitably need to cope with punctures – and replaced Enfield's aluminium centrestand with one fabricated from tubular steel. It raises the machine enough to get either wheel out easily, but Mills must have been pretty strong to heave the heavyweight Bullet up onto it. He'd also have to carefully choose where to use it, as on anything less than very firm ground the stand's narrow feet would sink straight in. For that reason, the Bullet's present owner has added one of Enfield's own 'shooting-stick' sidestands, so perhaps it's just as well that the unnecessary original frame lugs were not removed.
You might think I'm bandying the word 'original' around rather freely, but one important aspect of ISDT machines is that the paint marks, used to prevent fraudulent changes during the event, also serve to authenticate them years later. In this case, the Bullet is liberally daubed with off-white patches into which is scratched '150' – the competition number it wore in the 1967 ISDT.
Looking over it at Tony Masters' garage, in fact, it is evident that only a couple of changes – like a new silencer – have been made in the ensuing 40-plus years, and I can't wait to get into the saddle to discover exactly why Billy Mills built the Bullet as he did. It doesn't take long to be convinced. Admittedly the bike would have trouble just getting to the start of a present day trial, and even in 1966 it would have been regarded as too heavy, low and unwieldy for a one-day event, but that wasn't what it was all about.
The ISDT and similar events – like the Welsh Three Day Trial – entailed riding to a schedule, and it would have done you no good to 'clean' the trick-riding sections if you were late getting to them. What you needed was a machine with the ability to travel fast wherever possible, and to trickle controllably in the awkward areas, and the Bullet has both abilities in spades.
In fact, all Bullets are like that to a certain extent, because their respectable power output is achieved despite a longish stroke and heavy flywheels. And the characteristics are aided by gearbox ratios presumably developed for just such use in the multi-purpose Bullets used for commuting and competition before WWII, and during the war models were expected to perform equally well on Tarmac and battlefield. On purely road bikes, the big gap between third and fourth ratios is an occasional irritation, but it is ideal for an off-roader, as top gear provides something of an overdrive.
In addition, this particular motor – whether it was destined for a works scrambler or not – is noticeably superior to the commonplace roadster jobs. It is of the fabled 'Big-head' design that could have been a worthy successor to the moribund Gold Star if Redditch had only developed it properly, and with an alloy barrel it is definitely something out of the ordinary.
It also has the ISDT/scrambles Bullets' special timing cover with a small removable plate that allows quick and easy retiming of the magneto. Bullet fans will appreciate what a huge benefit that must have been, as to expose the sprocket nut normally involves the unscrewing of almost a dozen small screws before the cover can be removed, whereupon half a pint of oil pours over the hot exhaust pipe. Afterwards you have to remake the timing cover's seal between the crankcase oil compartment, oil pump and big end, and nobody would fancy doing that in the middle of nowhere during a long-distance trial.
Without taking the motor apart, we'll never know what specification it was prepared to as there was no such thing as a standard scrambler, and factory options included compression ratios of 7.25, 8 or 9:1. Whatever, it is a superb unit that pulls like the proverbial train at low speed, but packs a real punch if you let the revs rise above a couple of thousand rpm.
Whether such a motor suits you depends on your riding style, of course, but I'm with Mr Mills here. His bike's current keeper also owns the Triumph twin Roy Peplow rode in the same ISDT, and I'll shortly be reporting on that. Riding one after the other, however, I'm struck by how much more forgiving the Bullet is, and how I can make rapid progress without having to think about which gear I'm in. Incidentally, the Albion gearbox gives much faster and more precise changes than its reputation suggests. Like many aspects of classic motorcycles that are maligned by people who 'know somebody who had one and said it was rubbish', the Albion box is absolutely fine provided it is set up properly, and the curious neutral finder comes into its own if the clutch does start to drag.
The Bullet's cycle parts were of course pretty dated by the mid-1960s. The 1948 design had been refreshed a decade earlier, but the so-called 'welded' frame still carried several heavy cast iron lugs, and the suspension movement had never increased. But here again, it was set up properly in 1966 and has not been used much since, so the Bullet has a nice taut feel about it, and is always predictable even if it doesn't soak up the bumps like a modern trail bike.
Billy Mills gave his machine an impressive debut in the 1966 Welsh Three Day Trial, where he won a Gold Medal, and in 1967 he took it all the way to the Polish ISDT. His week began badly, when he lost 20 bonus points for a slow start, but as the days wore on, the machines of the more fancied runners (including Roy Peplow's Triumph) failed one by one, while the Bullet kept faultlessly thumping away, and Billy's expert riding kept a clean sheet. At the finish, the handful of points forfeited in the first few minutes of the event – six days earlier – initially appeared to have denied him the ultimate award, but an appeal was successful and he was given the coveted Gold Medal he so richly deserved.
Sadly, Billy Mills never became a household name or was given a works ride, because he tragically died just a few months later. Fortunately, his Royal Enfield survives almost exactly as he built and rode it, and what a glorious finale it provided to both his own and the Competition Bullet's careers.