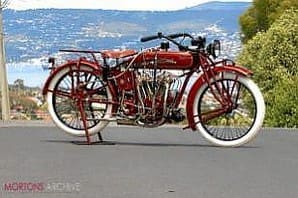 A man walks into an agricultural workshop and says: "Can you make me a compressor from this engine please?" It should be a joke and it should have a punch line but instead of it being a couple of lines, it turned into a tale of epic proportions.
Mark Williams was just a lad when the old boy wandered into Port Houn Fruit Growers, a Tasmanian agricultural company where his father, Ashley, worked. It was 1961 and clutching an elderly V-twin engine, the gent of a similar age asked if it could be used to drive a compressor pump. There was a knowing nod and as there was no hurry, the engine was deposited in a corner, waiting attention.
The months rolled by but sadly the company rolled away too and when the old chap returned, he shrugged and told them to keep it. Williams senior brought it home and it sat on a dirt floor under Ashley's house for more than 30 years before Mark simply confiscated the engine.
It was a decision that would have a serious impact on Mark. At first he just cleaned it up but was enthralled to see the embossed name Indian. With no background knowledge, he stripped it to every last component part – and then put it back together again. Realising he had an Indian engine on his hands, his inquisitive mind got the better of him and his research began. The more he unearthed, the bigger his dreams became with a captured vision of riding through the American west on this bright red steed.
As time passed, he began to become more serious about the quest, discovering for instance, that the engine belonged to a model called the Standard, previously (and subsequently by enthusiasts) known as the Powerplus. Whatever else happened with the rest of his life, Mark just knew that he would turn his treasured engine into a fully functioning Indian Powerplus.
More years rolled by and then, right out of the blue, he discovered another Tasmanian with an Indian frame, complete with ID. What's more, it could be bought. Mark's offer of A$300 was rejected but within the month the owner came right back and the bid was accepted. Mark sat outside the school where he now worked with what looked like a pile of junk. But he had the main ingredients for his machine and the mission began.
Parts or catalogues
Of course, there was no list of parts or catalogues to order from, so almost of more importance than the gathering of parts was the gaining of knowledge. One fact Mark picked up fairly early on was that Indian widened the frame in 1922 for the renamed Standard. On checking his bargain buy, he was astonished to discover that the frame was the correct, widened type. Could this have been the frame that carried his engine in the first place?
The grapevine started to get a pounding as Mark literally scoured the world for bits. And then a saviour revealed itself in the form of the internet. Suddenly, the scope for communication opened up in a way previously undreamt of. With a growing confidence, work began. The frame was blasted to reveal quite a bit of surface pitting. It was a long and tedious chore to lead fill and knock back to shape before it could be re-finished.
Some parts Mark turned up were good, others not so. Like the toolbox he found. Although original, it was badly rusted. So he made a direct copy himself. In fact, Mark did a lot of things himself, learning skills of the past to adopt today. How about doing all the nickel plating at home for instance? That is way beyond the call of duty. He was to acquire a lathe, milling machine and many other tools for the specialist work he would be undertaking. But acquiring tools is one thing – knowing how to use them is quite another.
A similar bike was advertised for sale in New South Wales so Mark made the trip over to Australia to get as much valuable information as he could. The bike was extremely original and had been owned by the seller's grandfather. Lessons learnt like this proved invaluable and soon it was all slowly coming together. Mark discovered that the kick-start was specially altered for the Australian market to sprout out of the right-hand side of the machine, so that sidecars could be used without hindering the kick-start.
What keeps coming to the fore is how absolutely dedicated Mark became. He constructed his own CNC machine, made his own nuts and bolts from stainless steel with 23 threads to the inch and then buffeted them to replicate the original and constructed the correct type of speedo cable with the right covering. The level of this guy's skills becomes bewildering after a while. Sometimes though, he had to contract out. Like having the cylinders plated. He wasn't sure if his own system could deal with being subjected to the levels of temperature produced by the engine.
Inevitably, some compromises had to be made along the way. The front mudguard is from a Chief, on duty until the correct one can be found. There was quite a bit of trading too. Mark needed a speedometer; another Indian owner needed a 101 mudguard. Each had a surplus of the others needs and both were happy with the swap. When a parts book was sourced, it yielded a lot of information too. It was here that Mark learnt when the Powerplus became the Standard. Apparently, with the Indian Chief being the top model, the exotic sound of Powerplus was thought to undermine the new model. And so the Powerplus became the standard model and was called so.
Become a reality
This Herculean task actually started to become a reality. The correct red paint was applied and badges sourced – although Mark is not happy with the transfers but they will have to serve until something better is found. Likewise the flashy all-white tyres. They might look good but the rubber soon cracks as Mark reckons the compound is not up to much. Then he had to pay A$140 to get the gold pinstriping done.
Incredibly, after so many years of the engine lying dormant in the dirt, it has been reunited with a number of other dormant parts to grow into that gleaming red motorcycle Mark dreamed about. He couldn't have the Wild West to ride but the deserted roads of Tasmania are a worthy option. Its first public outing was to Indian Day in Hobart in March 2005 where it was running but not finished.
In truth though, this machine has gone beyond the point of disappearing into any sunset no matter how beautiful. It has been built to such a high standard that it is really a show bike. Even wheeling it out of the garage will soil those gleaming white tyres. But it has made a number of star appearances, being in great demand at premiers of the Fastest Indian movie.
So how does this incredible machine ride? To be honest, I haven't a clue. I might have ridden a bizarre assortment of devices but there was no way I was going to wobble out on my own, riding a work of art that has become a chunk of somebody's life. I'd need to be schooled and practiced first… The throttle is operated with the left hand – as is the brake. The right hand takes care of the advance retard, while the clutch is both foot and hand operated. Shifting gears by hand I'm OK with, the rest is just too much! So I watched Mark instead and listened to his narration.
Turn on fuel and prime the carb if cold. Then close the high speed air shutter and pull out the choke. The throttle should be set at just above idle with the spark advance set at TDC. It helps to make a reference mark on the bars and handgrip for this. Engage the hand clutch and with the gear in neutral, push the decompression lever. With the remaining energy, give the kick-start a mighty heave. With luck, two or three kicks should shake the heroic V-twin into life. After 30 seconds or so, the choke can be shut off.
Time to ride. Operate foot clutch, ease back the hand clutch and select a gear through the tank-mounted lever. Bring in the hand clutch until it bites then move off on the foot clutch at which point the hand clutch can be fully released. Phew! The hand clutch is actually a kind of adjustment, used to preset the clutch ready for engagement by foot. Mark reckons that once on the move it is more a question of getting acclimatised to the different positions than actual difficulty of operation. The right hand advance is handy for any inclines – of which there are many near Mark's home. Braking – rear only – is more wishful thinking than an actual event but it is wrong of us to decry them for how can we possibly stand judge and jury over matters we are so distant from?
Somehow we must erase all memories of modern systems or even not so modern. Back in the early 1920s, even a single leading shoe Triumph front end would have been considered a miracle. Then we try somehow reboot our minds to the level of post-WWI development. Boy would this Indian seem different then. We would be talking about breathtaking power, class-leading handling, superb brakes and generally eulogising over every advanced aspect of this incredible machine.
It doesn't matter which country you're in, motorcyclists invariably end up sitting in the shed or on the kerb, mug of something similar in hand talking about the whatever piece of wondrous machinery happens to be leaking oil in front of them. On that day, it was Mark Williams and his Indian. He had told me about his plans of riding hundreds of miles but in truth, the bike has exceeded even his expectations so it will probably travel more miles on the back of a trailer. He may well ride over a fine sunset one day, but it will not be on this Indian. Now, incredibly, he is thinking of making a sidecar to hang on the Indian. He hasn't located one, he'll have to do it from scratch.