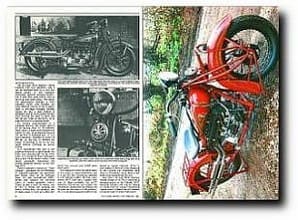 Peter had in fact first set eyes on the 1937 four-in-line about 24 years ago, at which time it was owned by a Commander Hare who had an engineering business in Wrington. Little did he realise than that some three-odd years later he would become the next owner.
However, by then the engine was nearing the time when a complete overhaul would be needed. The bike had been around Britain since first entering the country in 1937, and in the course of its travels it had acquired a list of owners that read like a telephone directory.
Peter's intention was to set about a total renovation, but that didn't happen because he changed his occupation and, with no capital and all the attending problems, started in business for himself. The early years were a struggle, with no small amount of hardships, and meantime the Indian project had of necessity to hang fire.
But once the infant company began to thrive and pressures were eased just a little, thoughts turned again to getting the in-line four back into good shape. Now, though, there was a different problem; that of finding time to undertake the rebuild, while running a business flat-out.
So Peter did the next best thing. He entrusted the complete restoration to concours standard to Bill Healing of Northfleet, Kent; Bill, he knew, had the experience and could be relied upon to produce a really first-class job.
The machine took eight months to complete, during which time 293 new parts had been made, 1,287 parts had been plated, 52 parts painted — and the astounding total of 1,826 new parts obtained and fitted. Most of the new parts had to be hunted down in the USA, the search extending to the states of California, Iowa, Nebraska, and Kentucky.
Trickiest job of all was renovation of the crankshaft, which ran on five white-metal main bearings; yet during reassembly, so precise had been the work that only 0.0015in had to be eased off one small tight spot, before the cranshaft would rotate easily without binding. As the photographs show, the finished machine speaks volumes for Bill Healing's expertise.
Why is it called an 'upside-down' four? For the answer we have to trace the design back to the formerly independent Ace four, an inlet-over-exhaust machine that had been acquired by Indian in 1927 (together with its development engineer, Arthur Lemon) when the struggling Ace concern, after a couple of changes of ownership, went to the wall.
Right up to 1935 Indian retained the Ace engine configuration though, of course, putting it through a programme of steady refinement. For 1936, however, the design underwent a major redesign to emerge with overhead exhaust and side inlet valve arrangement. This was the exact reverse of the previous layout and, in consequence, it was dubbed 'the upside-down engine' by fans.
By that time Art Lemon had left Indian, to set up his own business, and the factory didn't give the credit (or debit) for the new engine to any particular designer. Yes, debit, because although it was claimed that the new valve arrangement would boost the power, in the eyes of enthusiasts accustomed to the symmetry of the old Ace engine the new job was an ugly duckling.
Even more damaging to sales, the new valve gear tended to require more frequent adjustment and, according to Indian historian Harry V. Sucher, there was just a hint of unreliability. But having tooled-up for the new model, the Indian factory at Springfield, Mass, was stuck with it, and they had perforce to continue it into the 1937 season in an effort to recoup costs. As an enticement to the customer, a twin-carburettor kit (in place of the original single instrument) was now offered, the kit including also the necessary inlet manifolds. Carburettors on the Sparkes model are of Zenith type.
Sucher's view is that only about 1,600 'upside-down' fours were built at Springfield in 1936 and 1937 (the engine was again completely redesigned for 1938, returning to overhead inlet and side exhaust valve layout, but in a stylish and very different design). It is not known how many 'upsidedown' models were shipped to Britain, but it cannot have been many, and only two or three are known to have survived over here.
On the road, Peter Sparkes' rebuilt machine runs very smoothly, and it can be throttled back to a very low speed thanks to the twistgrip-controlled ignition advance/retard but it does first need a little time to warm up and settle down. The standard specification includes a foot-operated clutch and – perhaps the most difficult control of all to appreciate – a left-hand twistgrip throttle; reason for this is that Indians so equipped, and in use by police authorities, permitted the rider to draw and fire his gun while on the move, or to grab the reins of a runaway horse!
To anyone unaccustomed to a left-hand throttle, the system takes a lot of getting used to. In practice, Peter tends to work both twistgrips in unison so that, as he throttles back so the ignition is retarded also. It is a heavy machine, weighing in excess of 500 lb, so one has to develop the knack of hoisting it on to its rear stand without suffering an instant hernia.
It is appropriate that such a rare machine should be in good hands, for Peter was a leading light in the formation of a group of local enthusiasts with a love of old motor cycles, from which eventually blossomed the present Somerset Section of the Vintage MCC.
Peter's company, known as 'Gear Change', specialises in the rebuilding of manually-operated car gearboxes and fitting them on an exchange basis. He also reconditions differentials and replaces the universal joints in sealed propellor shafts. Today he has a staff of twelve, one or two of whom are catching the motor cycling bug, too (already, one of them comes to work on a BSA B31 which has covered only 3,000 miles from new!).
The Indian will form the centre-piece of his stand at trade exhibitions, but it is not the only interesting machine in the Sparkes stable. He has, also, several NUT-JAPs and I suspect that one of these – probably the ex-TT machine – will be the next subject for restoration. Meanwhile the Indian will be used on the road in full measure, for it is no mere museum exhibit to be dusted at regular intervals. When it was ridden to Bristol to be displayed at the Custom Car Exhibition held there in November, more than a few heads were turned along the way.
And that's the way Peter Sparkes intends things to be. He is planning a welcome return to the Vintage MCC Somerset Section — the one he helped to found — and his unique red-painted 'upside-down' Indian Four will become a familiar sight in future club events.