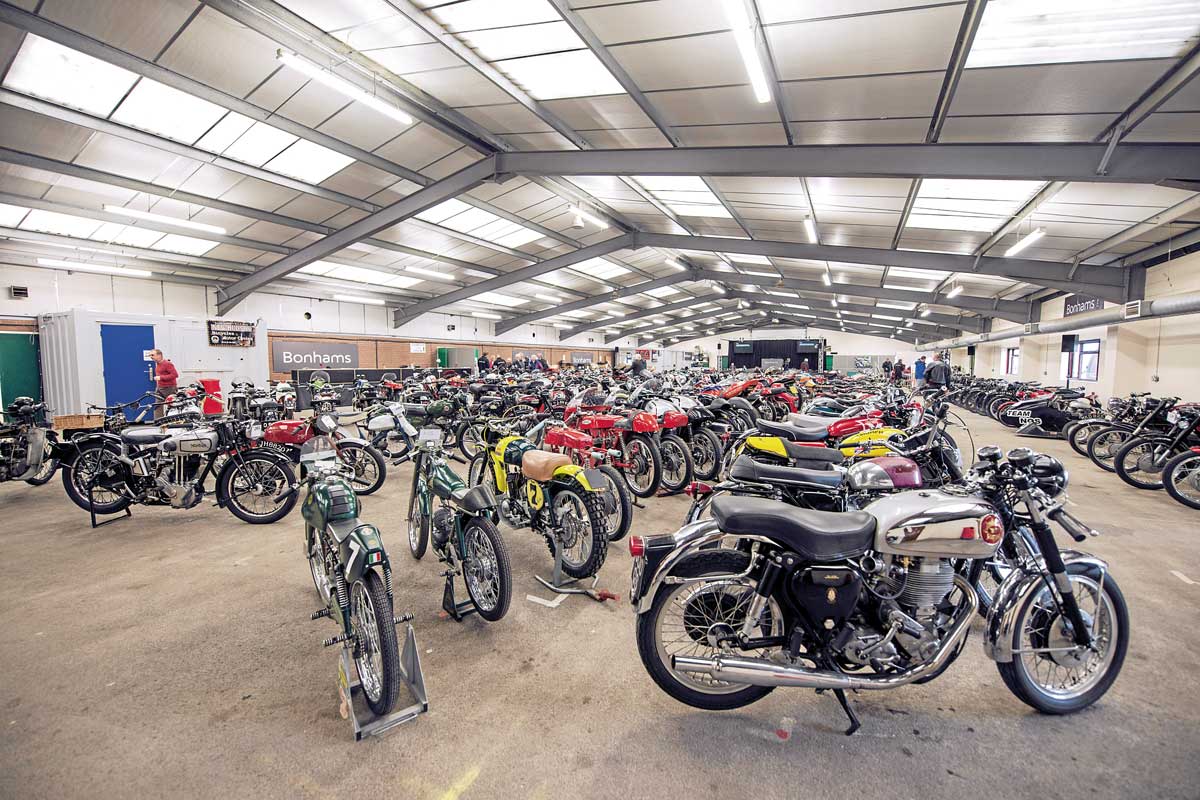 Few folks appear to recognise this, but selling your classic bike involves exactly the same thought processes as buying one from someone else. All the advice you'll be offered applies just the same – except in reverse.
Try to consider your own bike – the bike you're selling – through the eyes of the buyer.
Presentation
First impressions count for a lot. You do not want the bike you're selling to be lost in a crowd of shiny temptation – or even the rather more fashionable tatty temptation. Your first task is to make your bike catch the famous eye of the beholder – and we all know what lies in that eye. So give the thing the best clean it's ever had. Even if you're intent upon taking advantage of the current craze for patina, and the fabled 'barn find' there is no reason why a well-worn, unrestored machine shouldn't be clean. So… clean your machine.
Advice occasionally offered to prospective buyers should always include the suggestion that if a bike is dirty, lathered in oily grot, the reason might well be that there's something to hide. Buying a rusty, oily wreck for the entirely entertaining purpose of restoring it is not the same process as finding a bike in that legendary barn. Finding a bike in a barn involves a conversation with the owner of the barn, which is not the same conversation as a conversation with the guy who bought the bike from that owner. Several auction houses offer a cleaning service. Your own elbow grease is free.
Preparation
Unless the bike you're selling is making a virtue out of its originality – and especially if you're selling your bike as 'ready to ride' – then there is no excuse for bald or flat tyres. Would you buy a bike to ride which came with flat, bald, cracked, wrongly-sized tyres? Let's hope not.
It's the same with cables. And lights. If they're fitted, they need to work. And it's easy enough to make sure the chain is clean, lubed and tensioned.
As we've suggested, walk around the bike you want to sell as you would a bike you want to buy. Never forget that if it's a reasonably common roadster from any of the major manufacturers, then it's likely that there will be others available – if not at the auction you're paying to provide you with a selling platform, but elsewhere, in private ads, on eBay, in showrooms everywhere. Yours needs to stand out, and it needs to offer recognisable value for money, too. Having the most expensive T140 Bonneville currently for sale in the whole world is rarely much of a sales incentive.
A friend in the trade always 'spoodles' any bike he has for sale, whether it's offered in his showroom, at an event or at an auction. He knows how to do it, and his bikes are always immaculate – or immaculately clean, which is not entirely the same thing. The other side of this knowledge is that he often buys stock at auction and is completely familiar with the effect of a little glitter. Use professional polishes on paint and plating. Very thin chrome will look brilliant, like new almost, for several days after an enthusiastic application of a posh chrome cleaner followed by a good dose of polish to stop it rusting as soon as you stop shining it. The same with paint. Unless you're offering worthwhile originality and patina, dig out the T-Cut, then the posh polish. Make things clean and gleam. The more chrome there is, the more brilliant the paint work – think any of the four-pipe fours which flooded from all the Japanese majors through the 1970s – and make your machine shine.
And always wipe off any excess polish. Try to pretend that you've not just shone it to the point of radiance, but that you've always kept it like this.
Things mechanical
Few indoor auctions offer an opportunity for an interested party to fire up an engine, but if you're describing the machine in the catalogue as being an easy starter and a good runner, then any auction house jealous of its reputation for honesty is likely to want to see and hear evidence of this. So: battery charged; recent fuel in the tank, and clean fresh oil.
Whenever we look at a bike in auction which claims to be a runner, we always dip a finger into the oil, just to see whether there is any, and what state it's in. Clean and golden makes a decent impression. Does your bike drip a little lube? Does it ooze a bit, maybe from the pressed steel primary chaincase, or from a tacho drive? Lots of older machines do, particularly if they are genuinely on the road, and anyone who expects otherwise does not need your bike to provide disillusion, especially if there are several similar machines standing nearby with a spotless floor beneath them.
If your bike drips a little – and most of our own oldsters do – then be honest. A could of shiny golden drops on a clean drip tray should not be a worry. Or you can fit a tap into the fuel line. If you do that, remark on it in the description, sharing with the potential punter that as your machine is often parked, you would expect a little sumping. Turn a minor vice into a demonstration of your own open honesty.
The clutch and throttle and brake, ignition advance and choke levers should all work nice and smoothly. If they don't… make them. It takes hardly any time, and will help that punter buy your bike instead of another one.
Provenance
Provenance is a big word which means that you can provide evidence that your bike is what you say it is. It is impossible to have too much provenance, especially with older, more exotic and more unusual machines. However, few things entice a punter more easily than a folder containing the bike's history. Old MoT certificates, the original documentation – if you have the original 1960s bill of sale for a machine, quite suddenly a fairly ordinary Triumph T100A becomes worthy of more serious consideration.
Relatively complex oriental machines always sell more easily if you can provide a service history to match the stack of MoTs, and receipts for work done, for any enhancements you may have fitted, will never go amiss. In these strange days, a bike with all of its original numbers, including its original registration and old-style log books, handbooks, spares lists and old road tax discs will always sell better and more readily than a similar machine which doesn't have them. If you've got them, display them.
Accessories
Original is best. That appears to be a buyer's mantra, particularly where a bike is older and more unusual. A Velocette MSS which is as it left the Hall Green works will sell better than a MAC of the same age which has been fitted with the entire catalogue of Thruxton parts and is labelled as 'possibly a factory sports prototype'. It just will. Trust us on this.
Which is not to say that there isn't a ready market for well-built specials. There is. But you need to understand the true and complete meaning of 'well-built'. Earlier comments about provenance apply. All receipts, preferably including invoices from the engineer who built your special, all help the punter pay up.
Whether or not a set of period touring kit will help to sell a bike is an open question, but it does need to be period. A 1980s Powerbronze fairing will not enhance your BSA Golden Flash, so you're better off removing it. You can always sell it on eBay. Likewise with 'wrong', out of period panniers. A good set of ancient Craven panniers (or even new ones, as they're available exactly as was), or those handsome steel Rodarks so often seen on touring Triumphs in the 1950s should do your sale no harm. But please do tidy up the wiring inside the fairing. Rats' nests heading for the headlamp rarely attract the wallet.
Unless the bike's seat is the original and is in half-way decent condition, fit a new one. If it is original, or is desperately rare, then clean it, and patch any rips.
We see loads of bikes – particularly 1970s sports fours – which are badly let down by their exhausts. That lovely Honda CB750 K6 in original deep maroon and with clean, shining and original chrome on its rims and handlebars… and with a brush-painted black 4 into 1 with no baffles. It might be a bargain if you're buying, but you do not want to sell a bargain: you want to take home the maximum cash…