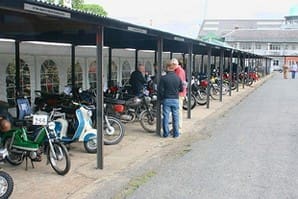 The variety of machinery on offer had attracted interest around the world. As well as commission sales, bidders from the US and Australia kept in touch via telephone or the i-bidder on-line service. Quite a few lots remained unsold, in spite of the best endeavours of auctioneers David Bridger Stille and Fabian Hines and their different styles, but the sale held plenty of surprises.
After a Castrol lubrication station (no garage complete without one?) moved on for £300, the first major item was a 1940 Indian sidecar body with alternative chassis allowing fitment to either side of the bike. A hammer price of £900 was a good start. Commission of 10 per cent, plus VAT, was applied to all lots, meaning the sidecar buyer had to find a four-figure sum.
A 1977 Guzzi Le Mans Mk I looked like a potential bargain for a bold restorer. Although showing less than 3,000 miles, the bike was complete, but 33 years of storage had done the motorcycle no favours. However, bidding went back and forth and someone eventually handed over more than £5,800! Next lot was a very tidy 1972 Triumph Trophy Trail. It failed to reach its reserve, but was sold later to the final bidder for £4,350.
An unusual 1960 Italian Mi-Val 125 was a former Stafford Show winner and sold, just, at £1,600 on the hammer. A project B175 Bantam was on its way at £450, but, soon after, a 1958 HT5 Ariel peaked at £4,500, with a sale still some way distant. A 1967 Matchless G12 project was sold on behalf of the Brooklands motorcycle volunteers. Donated to the Museum, the £1,600 raised will be very useful in progressing other projects.
An AJS V-twin might be a (relatively) poor man's Brough, but perhaps buyers' caution was a result of the indeterminate year of manufacture of this example and £18,500 wasn't enough to secure it. Bidding was keen for a 1940 Zundapp KS600 and this sold for £10,000.
A CRMC-registered 1972 350 Saxon Ducati race bike almost made it, but the vendor wanted more than the £5,600 top bid. Next up was a 350 Gold Star, but this was the earlier BB model and without the kudos of the later models the bidding stopped at £6,200. However, the vendor accepted this sum later.
Bidding petered out on a rare 1957 Montesa Brio before attention turned to another BSA, a restored A10, it looked good and appeared realistically estimated at £4-6,000, but interest faded at £2,500. The next lot did change hands, an early Sunbeam S7 was supplied as a rolling chassis and a separate engine. With parts missing, it looked like £3,500 bought a ticket to many hours of character-building. Following the sharp result of the earlier Guzzi, a very nice 1979 Mk II Le Mans, ready for the road, sold at £3,700. Then an A65 BSA met the same fate as the earlier pre-unit 650 model.
Next, there was a trio of well-presented Royal Enfields. Neither of the Model K big twins sold, although one was close. A 1911 325cc Model 160 was the oldest bike in the sale. All ready for the next Pioneer Run, a final bid of £10,500 must have been very close.
It seemed no-one was looking for a BSA. A nice example of the less-common B33 500 single needed only very minor cosmetics. It was followed by a Clubman's DBD34 Gold Star, one of the very last. Both were near misses. Next real source of interest was a 1958 Ariel Square Four. Obviously enthusiast owned at one time, it was estimated at between £16-20,000, but bidding ground to a halt at £11,000.
A rare Ducati racer (said to be one of only six built), the 350SC had been rebuilt some time ago and never been used since. It topped out at £20,000, some way short of the £28-33,000 estimate.
'Star billing at the auction went to a pair of Vincent twins. A Black Lightning, all but unused since a complete restoration attracted bids over the phone, via the Internet and from the floor.'

Article continues below…

Advert

Star billing at the auction went to a pair of Vincent twins. A Black Lightning, all but unused since a complete restoration attracted bids over the phone, via the Internet and from the floor. Eventually, a £95,000 floor bid should have secured it, but it's understood the sale is still not concluded and negotiations continue. The other Vincent was a Rapide said to be to Lightning spec. although other modifications were intended to make this a usable road bike. Perhaps the lack of purity made bidding less enthusiastic and £75,000 was a long way short.
After that, it was back down to earth and a well-used 1949 Ariel 350 NH that was said to run and had never been restored went to a new home for £3,500 (£3,920 with the add-ons). A few lots later offered another chance for a Square Four, a 1951 Mk I which moved on for an £8,000 hammer price.
Buyers remained unconvin
ced by a Bonneville cafe racer, but the 1967 Triumph Daytona that followed had lived on the Channel Islands, showed a modest mileage and it looked a very reasonable buy at £3,000 (£3,360). The BSA presence at the auction was finally vindicated when a post-auction deal secured a fully restored 1959 A10 for an all-in £9,800 and soon after a 1965 ex-Government-issue BSA B40 was presented nicely enough to convince someone to part with £2,300.
A 1947 Harley-Davidson civilian model was some way short of its reserve, but the £9,250 final bid seemed to have been enough to see it change hands. A 1958 Sadrian was a Spanish import, with a Hispano-Villiers engine, bidding must have been very close to closure, but back it went. We moved on to a very nicely restored 1939 Triumph Tiger 70 (the 250 version of Val Page's range of seminal singles) that seemed to be in the critical zone at £6,700, but it has yet to be confirmed that the deal was concluded. A later Triumph, a 1966 3TA 350, was one of a batch supplied to the Dutch Army. Apparently complete, it was knocked down at £1,500.
There were more British bikes to round off the sale, singles from AMC, Ariel and BSA, 350 and 500 Triumph twins. All attracted strong bids, but all failed to sell, although for most the margin of failure must have been frustratingly small, as it had been with many of the lots on offer.
With the surroundings of Brooklands offering far more in the way of ambience than many other sites, the auctioneers were probably wishing more of the legendary 'right crowd' had been in attendance, but this was, after all, a first attempt.