Two items in recent copies of The Classic MotorCycle have prompted me to drop you a line; one is the article about the Harley-Davidson VL published in April 2020 and the second your request in the May edition for a bit of sunshine.
My father bought a new Harley-Davidson 1290cc Model 80 direct from Harley-Davidson Motor Co Ltd, London, W1 on September 5, 1938, for £140-0-0.(£140.00) plus £19-6-0 (£19.30) for a couple of extras, a reconditioned sidecar and registration.
A short time later, it was road tested by Mr A Menhinick of Motor Cycling and a report was printed in the November 30, 1938, edition of the magazine.
My father, seen in the sidecar, kept a copy and I've attached the article in full. I've found signed correspondence to my father from the editor Graham Walker, who was reluctant initially for the magazine to test the outfit; it seems that machines for test were normally provided by the importer, not a customer.
Eventually, Mr Walker relented, because he was unable to get any response form H-D.
The machine, registration number FGO 554, is still listed on the DVLA website, unlike any of my cars or bikes which have probably ended up in a blast furnace somewhere.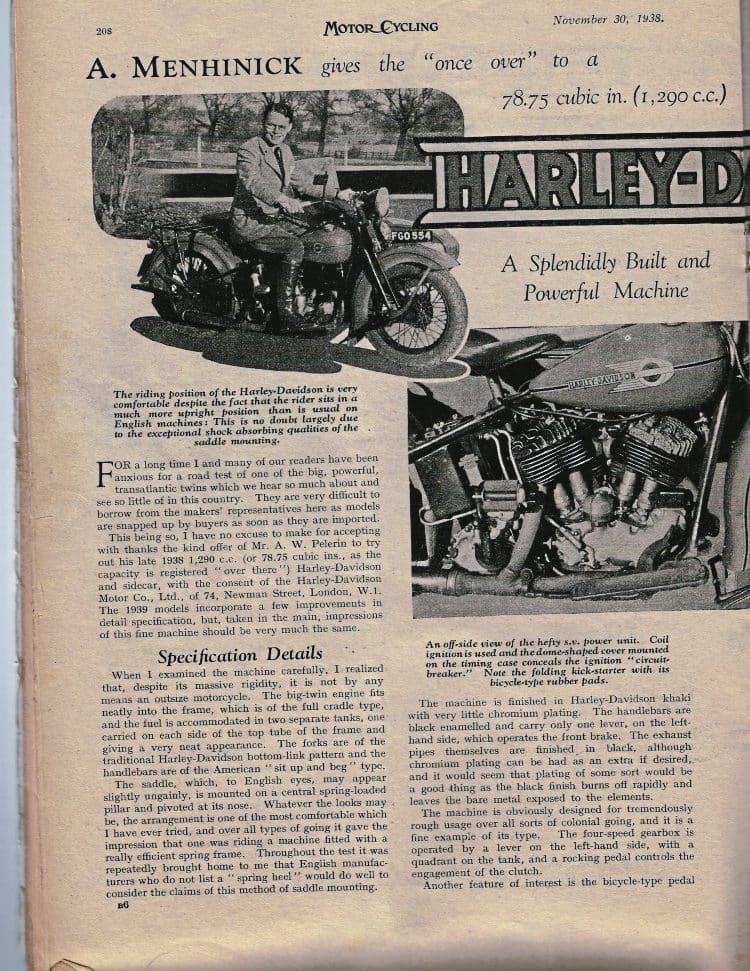 I'm keen to trace it but apart from the DVLA record, I have no idea where to go next. Therefore, I would be grateful if you could help by printing this letter and hope it might jog someone's memory.
My father was an enthusiastic magazine correspondent to many trade publications including the 'Blue 'Un' and the 'Green 'Un.'
During the Second World War, when motoring magazines were probably short of copy, perhaps like now, he penned an article, which may or may not have been printed.
I found it a few days ago when rummaging through piles of yellowing papers looking for information about the H-D and my sister has kindly transcribed it.
The last Harley he mentions is the Model 80 and I just remember it – I was three when he sold it in 1950 – but only because we got a puncture in the sidecar wheel which for some reason I found funny; perhaps the final chapter in my father's list of motorcycling mishaps.
Congratulations on always producing a really interesting magazine and all the best to your team and readers during the present difficult times.
Clive Pelerin, Harrow, Middlesex.
Ed note: The article by Clive's father will appear in a future issue, most likely next month.
Read more Letters, Opinion, News and Features at www.classicmotorcyle.co.uk and in the June 2020 issue of The Classic Motorcycle – on sale now!