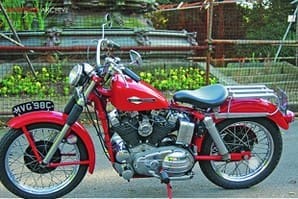 True, Harley's XLCH was expensive compared to other large motorcycles and would hold its value, either intact or in pieces. It was also showy enough to stand out in any car park and had a reputation as a hot-rod, at a time when its performance – and especially acceleration from rest – made it a highly desirable machine to obtain, by any means. Never mind that its manufacturer had a relaxed attitude to making its machines tamper-proof or traceable, this bike was always destined to be ridden like it had just been stolen.
From its inception as the model XL in 1957, the Sportster was destined to become an icon, its marriage of an overhead-valve top end to the side-valve KH model's unit-construction bottom end resulting in something more than a hybrid. It was designed as a long overdue riposte to the lightweight and powerful British parallel twins that had been seducing American riders since the end of WWII.
Fifty years later, an 883cc Sportster remains the entry-level model, authentic enough to deliver the Harley-Davidson riding experience to new owners, most of whom trade up to a big twin after a few years. But the Sportster has its own fans, like Ray Cooper, who not only chose to follow the route to Harley ownership in reverse, but also bought the same bike twice.
Ray, 52, is an analyst for BT who relies on cold logic to solve business problems. Yet, both heart and head have influenced his love affair with the American marque, which began in 1976 when a brand new FLH Electra Glide caught his eye.
"I was a boy racer in my early 20s," he confesses. "Raised and blooded on tuned BSA A10s and Triumph twins outside coffee shops. One day, as I was carving through traffic at a fair lick on my Norton Commando, I spotted this huge, shiny motorcycle in a local showroom. I stopped for a glance, wandered away for a fag, returned for a good look and became hooked on Milwaukee iron. I bought the Harley-Davidson three days later."
I should mention that Ray had recently fallen under the influence of the film Easy Rider, which led a whole generation (myself included) to trade in their clip-ons and rearsets for buckhorn 'bars and forward controls. In Ray's case, a general interest in Americana extended to membership of a Western re-enactment society and the sort of lifestyle changes that often accompany ownership of the most respected motorcycle brand in the world.
Ray has since owned several big Harley-Davidsons, which have all performed to his expectations. Nevertheless, 25 years after buying his first V-twin, he hankered after 'something to play with'. An advertisement in a local classifieds magazine seemed to answer his wish, listing a 1960s Sportster in bits to suit an enthusiast. Characteristically, Ray didn't delay, but haggled the price down to £1200 for several large boxes of bits.
"It was an act of faith," he admits, since the 'basket case' 1965 XLCH that he acquired in kit form had obviously soaked up a deal of money and time already, evidenced by numerous new but unfitted components in the boxes. He spent six months identifying, assembling and rewiring it all. The only specialist work needed was to reline both cylinder barrels to match new pistons, which Ray entrusted to local specialists Newtons Engineers.
Two essential items
As the build progressed, Ray obtained one or two essential items, such as a magneto, from the States. With assembly complete, he was faced with the task of starting the beast. The early XLCH Sportster has something of a bad reputation in that area, for which a combination of an under-geared 6v magneto and 9:1 compression pistons are largely responsible. Ray began to fear for his knee ligaments as the beast spat, locked up and kicked back, frequently refusing to start at all. It seemed that this was not a bike to play with…
In 2003, within a year of completing the rebuild, the call of a big twin (with electric starter) lured Ray once more, and he exchanged his Sportster as part of the deal. However, relief turned to longing as he soon began to miss the bad-tempered brute for its unpredictable character and the sheer excitement that it offered when running on song.
They do say that old magneto Sportsters never die, they just frustrate any attempt to start them, and Ray was elated when he saw his old XLCH re-advertised for sale, just two years later. A further bike swap secured the deal. To his secret relief, the top end had now been modified with compression plates inserted beneath each cylinder barrel, reducing compression to a cartilage-friendly 7:1. Ray says that he will eventually remove the plates in the interests of originality, admitting that, "I'll just have to keep kicking the thing until my leg falls off."
I follow Ray through the suburbs of Liverpool on my own Harley Super Glide Sport, our two stripped-down hot rod motorcycles squirting off the line in a series of noisy traffic-light sprints. We home in on Sefton Park, one of the largest urban recreational areas in England, which was part-designed by the wonderfully named Lewis Hornblower. Following a pause for photography on the iron bridge spanning the Fairy Glen, Ray invites me to take over the smaller Harley's controls. But first, before I can experience this piece of history for myself, I must follow the time-honoured ritual for starting magneto-equipped Sportsters.
It goes like this: with the fuel tap on, twist the throttle a couple of times to activate the fuel accelerator jet in the Zenith carburettor; three full swings on the kick-starter prime both cylinders; setting the ignition retardation lever (an aftermarket alternative to the twistgrip control) fully back on the left handlebar, feel for top dead centre – there's no decompressor – and brace for a fully committed swing at the pedal.
'Thankfully, an ice bag is not required for my right knee on this occasion, as the engine fires willingly'
The motor feels taut and eager to rev, warming up quickly. A tiny 'peanut' fuel tank reveals the power plant shuddering beneath, sounding like a BSA A10 on fast tickover. Below the projecting carburettor on the right side, a Fairbanks-Morse magneto sits prominently atop the timing chest, its casing incorporating an ignition key and an outlet for connecting a rev-counter cable.
Comparisons with lesser engines fall away shortly after I engage first gear with a dip of my right toes. The dry clutch has a light action that is quite sharp, resulting in a brisk getaway that's lively enough to lift the front wheel from the tarmac.
Not wishing to alarm the bike's owner, I short-shift through the remaining three gears and switch into cruising mode to skirt the perimeter of the park on a long circular route. The bike's suspension soaks up the city's bumps and potholes effectively, even though the rear preloads are on their hardest setting.
The solidly mounted V-twin engine feels surprisingly smooth at medium revs, but relative smoothness has always been an endearing characteristic of 883cc Sportsters compared to later versions of 1000cc and more. The lesser capacity still offers plenty of low-rev torque with a snappy throttle response, which is ideal for hot rod antics. That is, after all, what the XLCH was designed for.
With the first XL Sportster of 1957, Harley-Davidson created a comfortable all-rounder with a modest power output of 40bhp. To some eyes, mine included, the bike looked halfway European, its slim profile contrasting with a bulbous fuel tank, large chromed headlamp, fork-top shrouds and siamesed exhaust. Dealer feedback from frustrated owners led to a power increase for the new XLH model the following year to compete with Triumph's 47bhp T120 Bonneville. However, it was with the tuned street scrambler XLCH version that things got serious.
The XLCH was a bold exercise in minimalist design for such a large capacity multi-cylinder motorcycle. Given road legal trim late in 1959, it weighed 25lb less than the XL but looked even lighter, thanks to a tiny headlamp mounted high under a distinctive 'eyebrow' bracket, low and wide handlebars, a cut-down rear mudguard and 1½ gallon fuel tank, the latter appropriated from the manufacturer's 125cc Hummer lightweight.
Best of all, it really delivered the goods. A 120mph top speed and standing quarter mile time around 14 seconds put it ahead of the British pack, in spite of a considerable weight handicap. High compression pistons and bigger valves allied to new camshafts did the horsepower trick, although problems with starting the 55bhp-plus motor would eventually prompt the introduction of an electric starter for the XLH in 1967. Nevertheless, the kickstart-only XLCH continued to outsell the XLH by two-to-one. In 1969, a coil ignition system finally replaced the magneto.
Originality for individuality
Ray's 1965 bike gives me a taste of how exciting the XLCH was in its raw form. Like most Harleys of any vintage, it has sacrificed some originality for individuality and improvement. The chromed oil tank is a neat replacement for the original black 'horseshoe' component and the cartridge oil filter is a sensible addition to a motor that runs hot. The speedometer is a later item, the handlebars lack internal wiring and the Zenith carburettor post-dates the model, although the chromed air cleaner housing and luggage rack are authentic period accessories. The leather toolbag came courtesy of one of Ray's fellow Wild West fans and holds spare spark plugs to help overcome starting problems.
For all that, it still has the integrity of clean design that has come to epitomise the Sportster look, which was refined to extremes in racing by the XLR of 1962 and XR750 of 1970. The AMF era that followed brought a capacity hike to 1000cc in 1972 and an unpopular experiment with café racer design in 1977. Although the XLCH designation was dropped before the end of the decade, the Sportster endured with its lean profile and high performance intact.
The Sportster celebrated 25 years' production in 1982 with a limited anniversary edition. Displacement grew to 1100cc with the all-alloy Evolution engine in 1986, and to 1200cc in 1988. All models received belt final drives and five-speed gearboxes by 1993, with the major improvement of rubber engine mounts for 2004 creating a truly outstanding roadburner that handled and stopped better than ever. The XL50 anniversary limited edition model commemorated 50 years of production this year. Eight models comprise the new Sportster range for 2008, all with Electronic Sequential Port fuel injection, but the engine capacity of half of them remains at the original 883cc.
Willie G Davidson once said that he was always searching for that special look in his motorcycles. The XLCH Sportster has that look and Ray Cooper's 1965 example sums it up nicely.