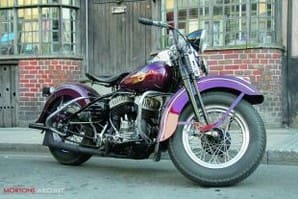 Tony moved west from Birmingham in search of a better quality of life. He has built a business making electronic components for tattoo machines and wanted a bike that would reflect the slower pace of life in a rural neighbourhood.
"I've owned several Harleys since I began riding in 1977," he tells me, "But never a side-valver. This bike is my antidote to the 'weekend warrior' mentality of using our roads as a racetrack. I prefer to simply chug around at a steady pace, minding my own business while enjoying the scenery.
"I get the typical Harley rider's reaction whenever I park up," he adds. "People who may not know a flathead from a two-stroke recognise the name on the tank and nod approvingly."
In fact, Tony's flathead is perhaps the most important and versatile model in Harley's long history. The side-valve design was produced for 45 years in various forms and sustained Harley-Davidson throughout the Great Depression. Along the way, it brought racing success, helped to win WWII, adapted itself to three-wheeled use and ultimately passed its genes via the unit construction K series to the XL Sportster, a model that is still current today.
The 45 cubic inch (750cc) V-twin entered the Harley-Davidson range in 1929 with the D model, which used side valves for both intake and exhaust, operated by pushrods that were enclosed within distinctive tubular covers on the timing side. Although the Milwaukee factory was racing eight-valve engines in an overhead configuration at this time, its great rival Indian was busy dominating US national championship races with highly developed side-valvers.
Everyday functionality
The D model's contrasting appeal lay in everyday functionality, with adequate rather than exciting power. The motor was quiet, reliable and inexpensive to build – virtues that proved vital when the American stock market collapsed, mere months after its launch.
Even so, the new twin, known popularly as the Forty-five for its engine displacement, struggled to gain acceptance in the middleweight market, where Indian's 101 Scout led the pack. Numerous modifications, including a stronger frame, were incorporated during 1930 and 1931, while tuned versions such as the high-compression DL and sports DLD models hinted at a potential for Harley's flathead that would turn the tables on Indian by becoming the foremost competitor in production-based Class C racing by the end of the decade.The D range became the R series in 1932, when its engine base was substantially revised. By this time, the Forty-five served no less than 3000 police departments plus many commercial businesses in both solo and newly introduced three-wheeled Servi-Car form. However, the following year, the Great Depression knocked production back to just 10 per cent of plant capacity and so effectively curtailed further development that Harley-Davidson resorted to different tactics in a bid to entice buyers.
Traditional olive green paint gave way to bold new colour schemes with art deco-inspired graphics, such as the highly stylised 'comet' design that graced fuel tanks of the third generation W series from 1937-9. The Forty-five's overall styling now mirrored the modern overhead-valve V-twins in Harley's range. For example, the fuel tank comprised a left section for petrol and a right section for oil, the whole topped by a raised instrument panel that contained a large speedometer dial, ammeter and ignition switch unit.
Proven durability
As the national economy recovered and sales picked up, the Forty-five's proven durability appealed to US military procurement chiefs, who were mindful of the war looming in Europe. The Mechanised Cavalry Board desired a solo mount that could attain 65mph without overheating at slow speeds in treacherous battlefield terrain, while army tradition dictated a left-hand throttle to permit the rapid handing over of dispatch documents and saluting while riding.
Harley responded with a variant of its WL model, having improved the design with a stronger clutch and gearbox, better engine lubrication and longer front forks. Required to keep going under brutal conditions (not the least of which was heavy-booted treatment by GIs), the US Army-specification WLA was modified several times during production to encompass metal legshields and crash bars, an engine bash plate, a heavy-duty rear rack capable of carrying a radio, full blackout lighting, a dustproof oil bath air filter, leather panniers and an ammunition box mounting. A fork-mounted leather scabbard for a Thompson submachine gun prompted relocation of the front brake lever to the left handlebar, to permit a quick 'draw'.
Around 88,000 military WLs were built during the war years, along with spare parts to build 30,000 more. Many were exported to Allied and Commonwealth nations, those destined for Canadian forces bearing the WLC designation to reflect a British Army specification that included a handlebar-mounted clutch lever, first aid box over the front mudguard and interchangeable wheels. Tony's bike was one of 9825 WLCs built and exported during 1942, when it was posted to active service on an airfield in Canada.
Following the D-Day landings of 1944, Harley-Davidson motorcycles outnumbered Sherman tanks in the Third 'Spearhead' Armoured Division, a WLA rider from which was the first allied soldier to enter occupied Belgium from France.
Civilian production
With Germany and Japan defeated, returning servicemen were eager to take to two wheels again as social barriers began to fall at home. Civilian production resumed at Milwaukee in 1946, however most WLA and WLC army surplus remained intact and could be acquired very cheaply from depots and dispersal sales.
The bikes were pretty easy to convert to civilian trim and indeed, most new owners could hardly wait to cover up olive drab camouflage paintwork and restore the proud Harley-Davidson name (visible upon only the spark plugs on military models). Consequently, the majority of these bikes underwent cosmetic updates as their role shifted from basic pool transport to something more personal.
Tony's machine was no exception. It soon gained a new coat of red paint and discarded all its cumbersome military accessories but, like many an old soldier, seemed undecided about its new role in life. For example, although its 18-inch military-specification wheel rims were now chromed, they remained beneath high-clearance mudguards. Furthermore, the clutch demanded unorthodox and heavy-handed operation from its handlebar-mounted lever.
An arrangement between aviators led to the re-export of Tony's WLC to England. It ran for a time on a former USAAF airfield near Ashford in Kent and was then laid up, until Kieran Shortall heard about it. Kieran runs War Department (01233 860564) and is a specialist in the restoration of 1936-48 side-valve Harley-Davidsons. He also lives next to the former airfield, which is how he came to hear about this particular machine.
"The guy who owns the strip had noticed me riding around on all this period stuff," recalls Kieran. "One day he told me that he had an old bike for sale – it could hardly have been more convenient!"
Kieran's first task was to decide whether the WLC wanted to be an ex-military bike or a fully civilianised one. He chose to complete the process of demilitarisation, basing his refurbishment scheme on a combination of pre-war graphics and carefully chosen post-war components.
A thorough mechanical inspection of the engine and gearbox internals confirmed that all was in order, so Kieran left well alone, apart from returning the clutch operation to a left-foot pedal. Although 18-inch wheels were listed as an option for post-war models, he rebuilt both wheels on 16-inch rims and sourced matching, valanced mudguards. He then repainted cycle parts in an authentic shade of red and applied pre-war 'comet' transfers to the fuel tank sides.
Kieran replaced the tank-mounted instrument panel with a post-war 'cat's eye' item that houses oil and generator warning lamps along with an ignition/lighting switch and a speedometer with a reproduction 'bull's eye' face. He used genuine components wherever possible for detail work such as the headlight, horn and 'tombstone' rear light. Sparing use of chrome added to the period style, with a headlamp shell finished in austere black.
This ex-military machine had never been road registered, nor had it ever been allocated a unique frame number by its manufacturer. Kieran therefore obtained a provenance letter from the Invicta Military Preservation Society to satisfy DVLA requirements before listing the bike for sale in The Classic MotorCycle.
Tony fell in love with the WLC as soon as he saw the ad. He recalls that, "Kieran advertised it as being not 'restored', but 'fully refurbished'. His description of the bike convinced me that he operates to meticulous standards, so I said if it's as good as you say, bring it straight up and I'll have it!"
Kieran took the trouble to explain the machine's workings to Tony, advising him to set a couple of days aside for riding around a field, in order to get used to the machine's quirks. Apart from the hand gearchange and foot clutch, there was the small matter of the front brake being mounted on the left handlebar.
"I'm sorry to say that I made a grab with my right hand and, finding nothing there, depressed the clutch pedal in a panic," admits Tony. "Well, the bike eventually came to a stop on its side and I resolved there and then to shift the front brake lever onto the right bar!"
Experience of riding with every possible configuration allows me to adapt quickly to the WLC's modified control layout. Tony lives at the meeting point of three counties, presenting me with scope for a circular route that touches Shropshire, Herefordshire and Powys without encountering a major road.
Crossing the River Lugg by an ancient bridge, I rumble through the border town of Presteigne without troubling the three-speed hand gearchange. The Harley carries considerably more weight and bulk than the Indian 741 that I tested for the October 2006 issue, while exhibiting a softer temperament and more forgiving nature. The result is a quieter, less exciting ride, but engine capacity and horsepower advantages mean that it's not nearly such hard work to sustain progress.
The bike will happily cruise all day long close to its maximum speed, restricted by a low compression ratio and primitive carburation. Prolonged clutch slipping on very steep gradients prompts neither protest nor overheating, while low gearing allows progress at walking pace without the transmission snatching.
The engine feels particularly well set up: almost bombproof, as befits its origins. By the time I complete my tour, Tony is enjoying a pint outside the Duke's Head public house in Presteigne. He relates tales of his own rides, then wrinkles his brow as he confides: "People around here call it a 'pretty' bike; I'm not sure that's the word I'd use. Maybe it's got something to do with the colour, but it could just be the regional way of saying things…"
Pretty or not, the Harley effortlessly blends its military past with the pastoral tranquillity of its landscape and Housman would surely have liked that.