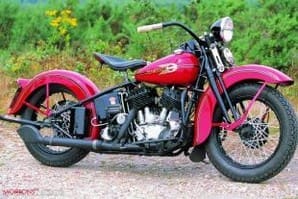 Imagine, if you can, that you are a novice rider who has just been hoisted into the saddle of a horse. And I mean a proper horse, too. Not a cute little Shetland pony, not a staid old dray horse, but a fast and powerful hunter. Now imagine (bear with me, this is stuff you can't describe in facts and figures) that the half-ton of sinew and muscle you are straddling is just a tad too aware of his own importance!
Sure he'll respond to a twitch of the reins, but he might saunter away as if he were promenading in the park, or he might do a 'Hi-Ho Silver' and leap away with his hooves pawing the air. And he'll pull up if requested, but there won't be any digging of horse shoes into the turf, he'll gently come to a halt when one more step would have both of you tumbling into the Grand Canyon.
Got the picture? Good. Now you'll have some inkling of what it's like when you have your first ride on a pre-war Harley-Davidson big twin. Until you develop a whole new understanding of coordinating the throttle and clutch, you never know if it'll stutter away from junctions like an asthmatic tractor, or catapult off with you hanging from the bars like a yacht's pennant in a gale.
It's not that there's anything wrong with the two bikes on test here – far from it – it's just that they're very different. For one thing, the throttle is controlled by a piece of piano wire, rather than a Bowden cable. A spiral mechanism in the twist grip moves the wire inside a conventional sheathe, and it pushes the carburettor open and pulls it shut. I can't feel any play in the mechanism, but as the push/pull system is not working against a stiff return spring, it doesn't actually have any feel at all.
Fairly natural
A left-foot pedal controls the clutch, so that should feel fairly natural to anyone who drives a car, even though it has a rocking motion, which means you press the heel portion of the lever to disengage drive, and step on the toe portion to re-engage it. Unlike a car, though, a friction device keeps the lever in whatever position you select, and the action is, again, curiously lacking in feedback. Until the engine note drops, or the bike lurches forward – or both – you can't really tell what's happening.
My inexperience is masked by the sheer grunt of the mammoth V-twin side valve engines, and it is to their credit that I only stalled an engine once in an afternoon's riding. Owner Peter Reeves, naturally makes it all look easy, although I note that even he part-engages the clutch, and then controls forward motion with the front brake, as he fishtails his way out of his gravelled drive. "If I get it wrong, I just give it its head and hope nothing's coming down the road," he admits nonchalantly. "It's easier than trying to get things under control again on the loose surface."
To be honest, controlling slow speed manoeuvres is about all the front brake is good for. As six inchers go it is quite effective, but it'll never stand a post-vintage superbike on its nose! I'm sure Harley's designers could have made a decent brake, but with plenty of road space and immense engine braking, rapid deceleration was low on their list of priorities. Peter tells me I should be grateful for small mercies, because it wasn't until 1929 that Harley Davidson felt the need to fit front brakes of any kind.
This side of the Atlantic, few motorcyclists are better qualified to give their opinion on such things than Peter, even though he is relatively recent convert to the allure of Harley-Davidsons. "I never even thought about them in the old days," he admits. "I came in at the tail end of the Ace café period, so I was interested in Bonnevilles, Commandos and Lightnings, that sort of thing." In fact he majored on Triumphs, and still has one he built from spares after selling his 'best bike' when he got married.
American muscle-bike
It wasn't until the Nineties that he succumbed to the American muscle-bike thing. "A couple of friends were mad on Harleys," he remembers, "so I thought I'd better see what made them so enthusiastic." Not wanting anything off the shelf, he customised one with the late 'Evo' engine, and it duly cleaned up the Custom Class virtually wherever he showed it.
Restorers and customisers will know that as soon as they have finished one project, their friends ask what they are going to do next. So Peter obliged by buying an ohv 'Knucklehead' and made it into a 'Bobber' with bobbed tail flat track styling. This is where he really got into the marque lore, because he subsequently discovered that his base machine was an ultra-rare military model ELC. And then he had to do a second restoration to put it back into army trim.
By now he was getting into his stride, and at Netley Marsh autojumble he bought the Model VLD featured here. "It was a bit of a mistake, really," he admits ruefully. "It had been brought in from Poland, and turned out to be a hotchpotch of parts, just slung together." As the photographs show, the parts are certainly put together properly, now, and this is a seriously attractive and very useable machine. The 'Orlando Orange' finish Peter has chosen was an option for 1934 only, and he reckons it might have been introduced to combat Indian's massive choice of colour finishes, offered during the period when the rival company belonged to the DuPont Corporation. He has clearly immersed himself in the history of the 'World's best-known motorcycles,' and his conversation is peppered with such historical titbits. Comment on the white rubber handlebar grips, and he'll tell you that; "On the assembly line they were protected by little bags." Mention the kick start, and he'll come out with; "When Harley-Davidson abandoned bicycle pedals, they used a square-section rubber on the lever for just one year, and then reverted to the flat 'start pedal."
High compression engine
The second test machine is Peter's 1938 Model ULH, which is a direct descendant of the VLD. In both cases the 'L' refers to a high compression engine, while the 'D' suffix means that the '34 engine is in the highest 'TNT' state of tune ('TNT' being the Thirties' performance buzzword – equivalent to 'Turbo' in the Eighties), and the 'H' suffix means that the later one has the gargantuan 80cu in engine. Peter bought it in response to a 'ULH 'project for sale' advertisement in Old Bike Mart. "I was lucky," he remembers, "because it was about the only time I've ever read OBM on the day it arrived, so I was able to phone up and go round to see the bike straight away." By the time Peter got there, the seller had had 15 other calls, so he bought the project on the spot, even though he subsequently had to buy another (from South Africa) to complete its restoration.
Study of the gorgeous restoration Peter has produced from the 'project,' reveals that his effort and expense was clearly worthwhile. Finished in 'Flight Red,' it complements its older sibling, and at first sight appears very similar in design. Looks can deceive though and with somebody as knowledgeable as Peter on hand, you can soon start to pick out the differences.
These demonstrate both Harley-Davidson's rolling improvement programme, and the fact that they were no less prone than contemporary British manufacturers to put an inadequately developed motorcycle into production. Even William G Davidson apparently admitted that the clutch and engine were bad on the early V models, that the frames were too weak, and that the flywheels were too small.
These shortcomings were gradually sorted out and both these models come from a period when reliability had been achieved, but even so, significant changes and improvements continued. Most noticeably, a drastic redesign was undertaken in 1937, with the existing single down tube frame being replaced by a duplex chassis, and the up-dated motorcycle being designated the Model U.
Model V
As significant as the frame change, was the total revision of the lubrication system. The Model V has a theoretically simple total loss oiling system jazzed up with a variable stroke pump linked to the throttle. In practice, it has turned out to be anything but simple on Peter's bike, because he has cured the engine's tendency to burn oil by fitting a front piston wearing an oil control ring. "It turns out that the engine relies on burning oil to get a throughput of clean lubricant," He admits ruefully. "Now, too much collects in the crankcase, so I have to drain it off every 50 miles or so, and then re-prime the case with a precise amount of fresh oil from the tank-mounted manual pump." No wonder the later model was switched to conventional re-circulating lubrication! Mind, you, Harleys still made things difficult for themselves, by leaving the battery in its central location, and wrapping a complicated oil tank round it. Mechanically, the most significant change was probably the extra gear in the box on the 1938 bike, and the flywheels seem to be a bit lighter, allowing the engine to rev more freely to take advantage of it.
Some detail changes are obvious but trivial, like the optional chrome package on the wheels, handlebar and exhaust of the Model V, and the more stylish silencer on the U. Other features need closer study, like the subtle re-design of the front fork friction damper. It looks like an afterthought at the top of the V's forks, but is tucked away more neatly on the U. The toolbox is also repositioned from the front forks on the earlier model – where die-hards still strap their tool rolls – to the side frame of the younger one. From the rider's point of view, the most apparent change is the fitting of a speedometer in an art deco panel – also housing oil pressure and generator warning lights – in the petrol tank. This 'styling cue' became so associated with the big twins that it features on present-day Harleys.
Perfectly complement
On both bikes the rider is faced with a set of handlebars like the archetypal cow-horns. Anything else would look out of place and they perfectly complement the enormous pan saddles and the footboards. These must be some of the most comfortable motorcycles to ride. . . ever. The front forks were so good that George Brough copied them for his Superiors, and the saddles have such a long soft movement that you simply don't notice the lack of rear suspension. Photographer Terry Joslin – who is following us in his car – says that the Harleys' back wheels were hopping about on poor surfaces, but it all felt totally serene from the saddle. Everything feels so well balanced that, as soon as you are moving, you forget that you are astride something with almost twice the weight – and double the capacity – of what we in the UK normally consider a big motorcycle.
And then there's the comforting feeling that the engines are so unstressed that they'll be totally reliable. The machines will sit on their side stands (Peter says the rear stands are; "a bit feeble and using them spoils the paint on the pivot bolts") ticking over steadily for as long as you want. They'll respond cleanly to their throttles, and – at a cruising speed of 50 or 60mph – rumble away contentedly, like a tiger having its ears scratched. It's very easy to believe Peter when he says that after riding home from a Continental rally he has felt fresh enough to make the trip all over again.
You see, these Harleys are that all too rare commodity, concours restorations that work better than new, and which are actually used. Peter stresses that in the world of old American bikes, concours competitions are quite different from the chrome-and-polish culture that has grown up in this country. Of course, the paintwork is better than new, because it would take scientific analysis to prove otherwise, but the emphasis is on returning the machines to factory specification. Hence useable bikes are what it is all about, and 'trailer queens' are discouraged.
These two Harley-Davidsons are undoubtedly somewhere in the upper reaches of the top bracket, and I wouldn't pretend to have an inkling of where they might fall a fraction of a point short of perfection. I can tell you, though, that if you were looking for crowd-pulling looks, allied to comfort, stamina and ability, they'd get top marks every time.