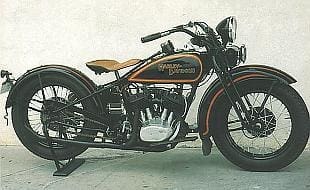 Tough, dependable, and not very fast, the 45 cubic inch Harley-Davidson side-valve was what American motor cycling was all about from 1930 to the early 1950s.
A product of the terrible depression and then the war years that discouraged creativity and innovation of design, the 750cc Harley catered to a market of hard core motor cyclists who lived in a social environment noticeably hostile to the motor cycle.
Fostered by a government that interfered little with the business of business and nurtured by a land that was remarkably rich in natural resources, America witnessed its living standards rise by the day through the 1920s.
This was great for the people, of course, who were all caught up in the newfound surge in material possessions, but it did raise hell with the motorbike industry.
The number of motor cycle manufacturers, nearly 100 before World War I, fell to less than half-a-dozen in the early 1920s when American society acquired an attitude that only "poor white trash" rode motor cycles.
One firm which survived was Harley-Davidson. One of the pioneers of the American in­dustry with roots dating back to 1903, the Harley went on to become a legend in its own time as well as becoming the defender of the vee-twin design in a world, that by the 1960s, had pretty much given up the vee-twin as being anything but modern.
Spawned in a culture that has always placed a premium on size, strength, brute power, and dependability, the Harley-Davidson has always reflected the American penchant for longevity through massive construction rather than through sophisticated tech­nology.
While no thoughtful historian could ever perceive the trad­itional Harley as an international leader in technical excellence, it is equally true that no truly knowledgeable person could ever equate the fragile British and European machines of the vintage and classic years with the sheer durability of the Harley vee-twin.
Early 1950s
I can, for instance, vividly recall the days of my youth in Boise Valley, Idaho, during the early 1950s, when so many BSA, Norton, Triumph, and Velocette classics passed through my eager hands. Used both on the street and in the dirt for all types of play, we hard-riding Yanks could wreck the best that England could produce in less than 10,000 to 15,000 miles.
A British bike with 20,000 miles on it was more than a rarity then—nobody ever got one to stay together that long as we truly destroyed our bikes in drag races, hill climbs, fast road use (anything British then was a "racer"), scrambles, turkey runs, trials, and playing in the dirt.
Despite the technical superi­ority of our British bikes with their ohv and ohc engines, light weight, four-speed gearboxes with a nifty foot shift and hand clutch, and superior suspension systems, there was one motor cycle in town we knew we could never stay with for a really long haul—the W Model Harley.
A clumsy beast of a thing compared to our "limey" bikes, the side-valve Harley would run for 25,000, 50,000, 75,000, and even 100,000 miles and still be alive to serve more.
During its early years, the company ignored the racing game, only to reverse this in 1915 with the first of their famous eight-valve 1000cc racing models.
Used over the high-banked board tracks and the big one-to­-two mile dirt ovals, these alcohol-burning Class A racers set speed records of up to 120 mph on the boards during the 1920s that are still respectable today.
Motor cycles plummeted
Change, however, was in the wind. During the 1920s the sales of motor cycles plum­meted. Without the high sales rate, the profits weren't there to field the Class A racers, which motivated the American Motor­cycle Association to develop a new Class C formula for 750cc side-valve models on which few modifications were allowed. This became the official national formula in 1933, when both Harley and Indian had well-established roadsters which could be tuned to meet the new formula.
Despite its reputation for durability, the side-valve Harley reflected the design stagnation that was a feature of the American scene from the late 1920s to the 1950s.
It is costly to tool up for new designs, of course, so that when sales are at a low ebb it is prudent for companies to refrain from new designs and plod along with just small improve­ments to a very basic model.
Indian kept trying to produce some really advanced designs, but a combination of poor development, a fickle market, and bad management finally bankrupted the once-proud company in 1953.
A more innovative company than Harley, Indian paid the ultimate price for intellectual curiosity in a market that would probably have rejected their ideas anyway.
Perhaps the most conserv­ative manufacturer to remain in business from the pioneering days until the present time, Harley alone survived by pro­ducing unexciting bikes of exceptional durability in an era when these were the ingredients for success.
Often overlooked by class­icists who revel in the more technically advanced machines, the venerable old side-valve Harleys are now coming into their own as superb classics of the 1930s and 1940s when design was so typically American.
One such machine is the beautiful jet-black 1931 DLD model restored by Bill Hoecker of Whittier, California. A member of the Antique Motor­cycle Club of America, Bill has a superb classic that well repre­sents the USA of the 1930s.
The heart of the DLD was a 45 degree vee-twin engine with a bore and stroke of 2 3/4 x 3 13/16 inches. The compression ratio was a modest 5 to 1 on the Dow metal pistons, since any higher ratio than this masked off the flow of gas to and from the valves.
The standard roadster used a Schebler one-inch carburettor, but the DLD Sports Special used a larger 1 ¼ inch size for a little extra power.
The husky engine was dropped into an equally husky frame fitted with a leading-link front fork that provided about two or three inches of travel. This fork, incidentally, was similar to the fork used on the legendary Brough-Superior.
Due to the broad spread of power, the three-speed gearbox was adequate then—a concept that H-D was destined to retain clear into the 1950s on their 45.
Foot operated
A hand shift lever was used with a foot operated clutch, Harley also keeping this idea in production until the 1950s! Despite the entire British in­dustry switching over to foot change in the 1930s after Velo­cette pioneered the idea in the 1928 Junior TT, there is little evidence that American riders desired such a tricky system un­til the foreign invasion began in earnest after the war.
As has been pointed out, innovativeness rejected in the market place can bankrupt a company. Indian didn't produce a foot shift, the American riders weren't agitating for one, so why take the risk and try some­thing that might be rejected?
Other quaint features on the 1931 DLD included total-loss lubrication in which a throttle-controlled oil pump fed oil to the engine. Here again, H-D were slow to cotton on to the European idea of a circulating lubrication system, with the new 61 inch ohv model finally getting a return oil line in 1936, and the flathead models one year later.
Braking was by a 6 ¾ inch internal-expanding brake up front, and an external band brake at the rear. The vintage rear binder was finally changed to an internal brake several years later, but even then the braking power was pitiful for a motor cycle that weighed over 400 pounds.
Finished in either olive-green, black, silver, or blue, the 1931 DLD was a handsome machine that exuded the rugged look, so admired in America.
Riding on 4.00 x 18 inch tyres and with a 56½ inch wheelbase, the 45 was a stable machine that possessed a surprising amount of comfort due to its long wheelbase, heavy weight, large section tyres, and solo seat mounted on a long tele­scopic spring.
Packing tall gear ratios of 4.59, 6.88, and 10.32 to 1, the twin would run about 65mph on its 23hp, 4500 rpm motor. The DLD would cruise all day at 55mph, and the broad power band gave it a delightful turn of acceleration about town.
For sheer performance or technical excellence, it didn't compare with a cammy Norton or Velocette, but then for sheer durability and maintenance-free running, the British iron couldn't compare with the rugged Harley.
The British and Continental manufacturers weren't sitting still, however, and therein lies the tale. The 1930s and 1940s were the most stagnant years the American industry has ever known. Time, including Harley-Davidson, stood still in America.
Consider, for instance, the yellow 1951 W Model that was restored and is ridden regularly by Dean Stuart of Fruitland, Idaho. Discovered several years ago in a barn with 47,000 miles on the clock, the W model needed but a new set of rings, a decoking, new tyres and bat­tery, and some paint to be on the road again.
Such is the advantage of slow revving engines—the bore wear was only about 0.0003 of an inch! The gears showed no signs of wear, and all the massive bearings in the gearbox and engine were in perfect condition.
Perhaps even more remark­able, considering how advanced the British and Continental bikes were in 1951 compared to their 1931 counterparts, was the similarity of the 1951 Harley to the 1931 DLD model.
Indeed, the major changes were alloy instead of cast-iron heads, a circulating lubrication system, a 25hp output at 4500 revs, fat 5.00 x 16 inch tyres for increased rider comfort, an internal expanding rear brake, and a more generous "buddy" seat.
The performance was listed by the factory at 75-80mph, but most W Models could only ttain the 80 per mark with either a downhill run or a wee bit of a tailwind.
No one bought a 45 inch for its performance, of course, since even my cobby little 1947 350cc MAC Velo, stripped of its electrical system and front fender and with a straight-through exhaust, would devour a W Model in a stoplight grand prix.
By the early 1950s British bikes were outselling Harley something terrible, which motivated Harley-Davidson to throw off their conservative shackles and design a new motor cycle. The shackles weren't thrown too far, how­ever, since the new 1952 K Model was still a 750cc flat­head, though it did have a totally redesigned and faster engine, unit-construction, and a four-speed, foot-change gear­box. With swinging-arm frame and telescopic front fork, H-D timidly entered the modern age.
With the advent of a faster K Model and subsequent side-valve racers that went on to win until the end of the formula in 1969, the vintage years of American motor cycling came to an end.
A few years later the K Model lapped the Daytona outer bowl at 150mph and the roadster became a 900cc ohv Sportster, after which America forgot all about flathead engines. By then we Yanks had become truly international in our thinking.
The old Harley side-valvers have refused to die, however. Long ignored by American antique enthusiasts who prefer the really early bikes, and scorned by the post-war crop of riders-turned-collectors who cherish the more exotic British and Continental machines, the 45-inch side-valvers are now showing up in increasing numbers as a greater number of classicists begin to appreciate the heritage that is America's.
The rugged and durable 45s may not have been the cutting edge of technical progress, but they did possess a virtue of maintenance-free longevity that would be respectable even today.
This virtue is especially appreciated by those who discover an-old relic in a barn. Unlike the restorer of less durable designs who must spend great sums to replace broken and worn out parts, the Harley 45 restorer mainly con­cerns himself with little more than an aesthetic restoration.
The 750cc D and W Model Harleys are thus the true American classics. Produced in an era when time tried to stand still, they are a monument to an engineering ideal that has now passed into the past.
View original article