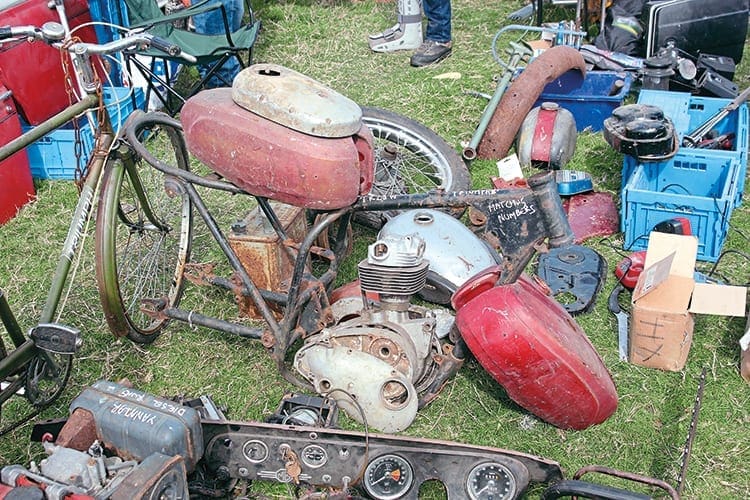 The Kent village of Hamstreet is approached by interesting, mainly minor roads and given fair weather, the Elk Promotions shows and jumbles prove a popular destination, demonstrated by the long lines of parked bikes that stretch across the generously-sized event field.
Years of experience has enabled the Elk team to hone the near-perfect jumble, that successful mix of tradespeople, specialist suppliers and services, the amateur dealers and those seeking domestic peace by selling the complete contents of their stalls at any price. As well as wondering where the oddities for sale might have been hidden for years, there's always plenty of interesting machinery ridden in for the occasion.
The focal point at Hamstreet is the huge marquee, usually featuring literature and other weather-sensitive items. This time, on September 16, one display was given over to 'Vintage to Voltage', a unique trail ride that was scheduled to begin a couple of days later. Elk organiser Julie Diplock represented the 'Vintage' side of things with a 1926 500cc Triumph Model Q, while Carla McKenzie had a modern 'Zero' electric bike.
Sadly, Julie did not make the trip. A back injury while starting the Triumph meant she was no longer fit enough to face the tough five-day scheduled ride, but she hopes to try again in the future. Happily, the rest of the team, on a mix of modern petrol-engined trail bikes and electric motorcycles, completed the mission.
They rode from Westminster to Newhaven via Brooklands and after the ferry crossing to Dieppe picked up the TET (Trans European Trail). It was far from an easy ride, but the trail took them close to Paris leaving the final kilometres on tarmac to the French capital.
Donations for three worthwhile causes will be gratefully received at: uk.virginmoneygiving.com/CarlaMcKenzie1
Progress on the run appears on: www.vintagetovoltage.wordpress.com  I think it proves the point: you never know what you'll find at a jumble.
Alan Turner.