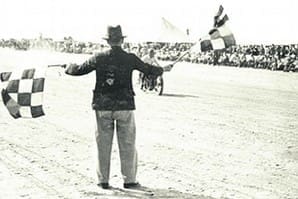 This 1932 meeting (organised by the Middlesbrough Club) was held in brilliant sunshine, and The Motor Cycle commented: "The course really was at Saltburn and not a mile or two up the coast at Marske, as it has been on occasion."
Much of the crowd had come to see how local hero Ron Parkinson would do. Clad in his trademark white overalls, Parkinson had two Ajays at his disposal – a 500cc cammy and a 350cc job, which one presumes to be his famous 'Big Port' 350, which although ageing, was still a real flying machine. This machine was written about in Motor Cycling, August 11, 1960. It's still about, in private ownership. You can read the report on this machine by clicking on the AJS link in the right hand column.
First race of the day was a 350cc outing over one mile – Parkinson duly, comfortably won. Scotsman Clarrie Wood (an excellent all-rounder, fourth in the 1922 Senior TT on a Scott, fifth in the same event in 1925 on an HRD) wheeled out his Freddie Dixon prepared 600cc SW6 Douglas to beat Parkinson (500cc R7 AJS) in the 600cc race, then Jack Carr, the 'Skipton Butcher', clinched the unlimited race on his well-used 1000cc Brough Superior. Wood was second in that one on a 750cc Dougie.
Next race (now over two laps), though, there was an upset – Parkinson was only third! Actually he had clutch trouble but Edmondson, a 'crack' from the north-west, was no mug either, and his KTT Velo' was borrowed from Harry Meageen, 1928 Amateur TT winner and now 'supported' rider and front runner. Hey (Rudge) came second. Parkinson won the next two, though, on his half-litre cammy Ajay; Wood chased him in the 600s, Carr the unlimited.
In the 20-mile Yorkshire championship 350cc race, Parkinson again hit trouble – and Keswick's Edmondson won, but only after Lancastrian Hey (Rudge) overshot and lost ground.
Parkinson won a dull 600cc 20-miler, from Langton (Rudge), then, in the unlimiteds, Carr took the lead, though Parkinson was soon out in front. But Allan Jefferies (596cc Scott) was in determined mood and oh-so-nearly won – on the final run to the line, Parkinson shut off to take the acclaim, Jefferies kept it 'pinned' and nearly pipped Parkinson to the post. So unsure was Parkinson, he went straight to the race officials, to check he'd won. Phew. Tommy Hatch was third on another Scott.
Final race was a 10-lap handicap, but the handicapping 'was not so good as usual' and it was a non-contest, won by Roberts, on a 350cc Velocette.
? View all the images from this article in the May, 2014 of The Classic MotorCycle.
? View pdf from 1960 Motor Cycling.